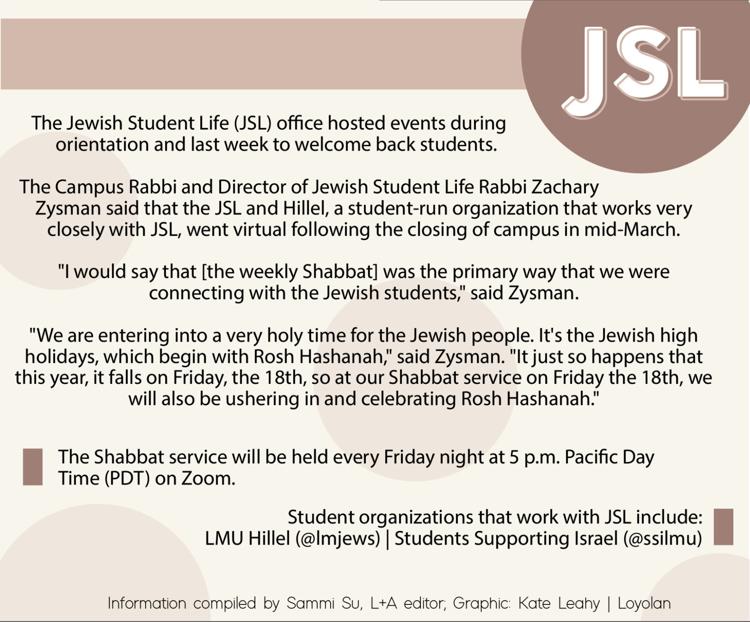 As we enter the third week of classes, the student service offices are continuing to provide resources to the community. The Jewish Student Life (JSL) office hosted events during orientation and last week to welcome back students.
Rabbi Zachary Zysman, the Campus Rabbi and Director of Jewish Student Life, said that the JSL and Hillel, a student-run organization that works very closely with JSL, went virtual following the closing of campus in mid-March.
"I would say that [the weekly Shabbat] was the primary way that we were connecting with Jewish students [through a] weekly Shabbat service," said Zysman.
Previously JSL would host Friday night Shabbat dinners every week. Due to limitations of being remote they are now unable to host such dinners. However, the gatherings will continue in the form of Zoom meetings.
"We are entering into a very holy time for the Jewish people. It's the Jewish high holidays, which begin with Rosh Hashanah," said Zysman. "It just so happens that this year, it falls on Friday, the 18th, so at our Shabbat service on Friday the 18th, we will also be ushering in and celebrating Rosh Hashanah."
Zysman thinks these Shabbat services will be a good time for Jewish students to connect with each other and their community while apart.
The Shabbat service will be held every Friday night at 5 p.m. Pacific Day Time (PDT) on Zoom.
Join the service on Zoom here.
Visit the Hillel Leo page for updates.
Student organizations that work with JSL include: