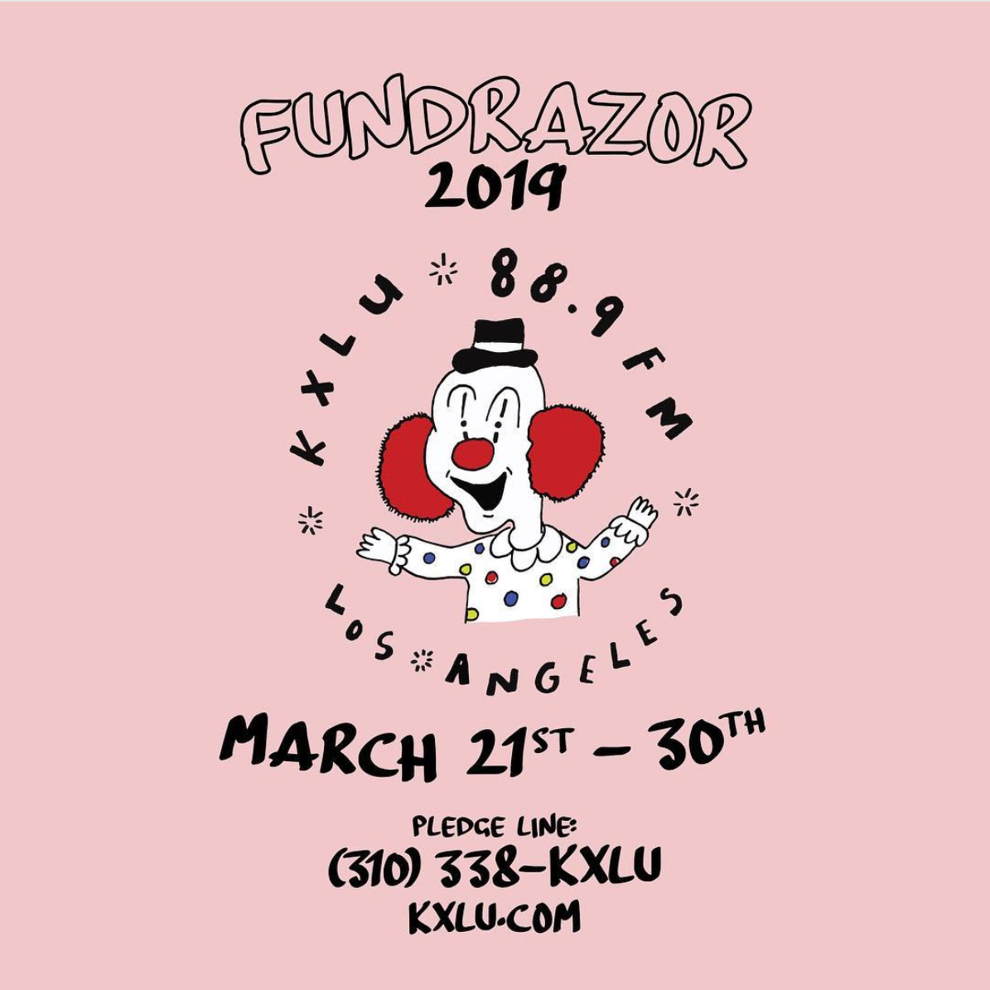 KXLU's annual fundraiser—stylized "FUNDRAZOR"—kicks off this Thursday, March 21 at 9 a.m. Fundrazor runs 24 hours a day for the entire week, ending on March 30 at 6 p.m. Donations from listeners and fans of the station, many of whom have been tuning in for decades, can be made either online or by calling the Fundrazor pledge line, which is in operation 24/7 throughout the week of the drive.
Donors have the option of purchasing merchandise—including KXLU t-shirts, crewnecks, hats, beanies, skate decks, lighters, blankets, Nalgene water bottles, etc.—or giving a monetary donation. The pledge lines are operated by KXLU DJs who volunteer their time to take donations for their station.
KXLU operates as an independent radio station, even though it is technically part of LMU. The station is run completely on donations, most of which are made during the Fundrazor drive, and which go straight to KXLU's budget that funds the station's operations.
KXLU's current general manager, Ricky Barocio, a senior business management major and Chicana/o and Latina/o studies minor, explained where the donation money goes: "Our Fundrazor dollars go directly toward our operating expenses such as our FCC and FM licenses and online streams via our website and online app."
KXLU also uses these funds to host two annual music festivals. "KXLU indie and salsa festivals are free to the public and take place on campus," Barocio said.
This year's Fundrazor is a little different, as it is taking place in the spring semester rather than in the fall. "With this change, we expect more people to contribute as it will be springtime in Los Angeles and people will generally be happier," Barocio explained. "We will also be offering special premiums that the director team and I have been working on, so people will definitely jump on those."
The station celebrated its 60th anniversary during the 2017-2018 school year with the goal of raising $100,000 during Fundrazor. "Our last drive actually took place in October of 2017 which was a really great year as we surpassed our goal on the seventh day," Barocio said.
KXLU is a commercial-free and student-run radio station with a commitment to representing lesser-known artists and genres. According to the station's website, "KXLU is committed to maintaining consistently high programming standards throughout its schedule by striving to give under represented artists and musical genres, who do not have a voice on the traditional mainstream circuit, an alternative and supportive forum in which to showcase their talent."
The station also broadcasts LMU sports games, which began with the broadcast of men's basketball games in the 1950s. KXLU is also considered the flagship station to LMU Athletics.
KXLU is unique in that it is one of the only opportunities for students in Los Angeles to learn all aspects of radio, including broadcasting, programming and production.
Freshman film studies major Lauren Cassiano has only been a KXLU DJ for a few months but has already seen how many doors the station has opened up for her, including connecting with new friends and learning about LMU's new Music Industry Society. "All of my experiences have been positive at the station and hopefully throughout my next few years I can get more involved and use my resources at KXLU to the fullest potential," Cassiano said.
LMU recently approved a request to replace the station's transmitter and antenna. The project will be completed in May 2019 and will only affect the FM broadcast for a few days, and the online stream will be unaffected.
The station also recently rolled out a new and updated website, designed by junior film production major, studio arts minor and KXLU's social media and web director Nate Rynaski.
Donations can be made online at kxlu.com/donate, or by calling the pledge line (310) 338-KXLU (5958). The station's programming schedule and DJ bios, as well as the live web stream can be found at KXLU.com.