This week, sophomore mathematics and theology double major Raymond CangKimVo shares LGBTSS resources with students for the remote semester. CangKimVo is the program assistant at LGBTSS, lead of QTPOC (Queer and Trans POC) Space, co-founder of CRIME (Caring Radically in Marginalized Environments) and president of Transcendence.
Since the transition to online in March, LGBTSS has been actively promoting all events through their LEO page and Instagram. "Students can go onto the LGBTSS Leo or Instagram and be able to find out about all the other things. This semester is the kick-off to brand new spaces advised by LGBTSS: Black Queer Space (BQS), QTPOC Space (QTPOC), and CRIME," according to CangKimVo. All organizations will be meeting bi-weekly.
Upcoming Events include:
Sept. 22: QTPOC + BQS Community Hour at 9 p.m. PDT
Sept. 23: CRIME General Meeting
Sept. 24: QFC presents: "LAERTE_SE"
Sept. 28: Queer Brunch
Sept. 30: Transcendence General Meeting
Oct. 1: BQS General Meeting
Oct. 2: QTPOC General Meeting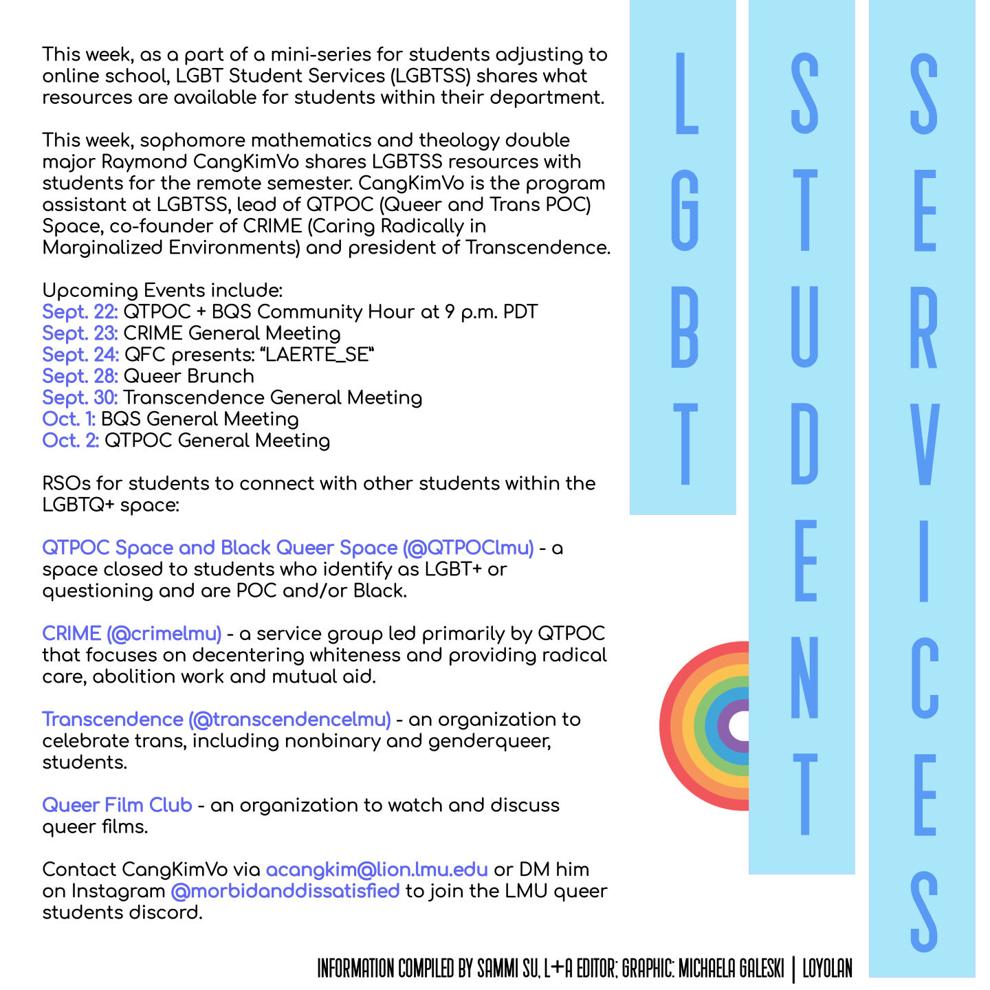 Follow the LGBTSS LEO for more resources here.
Meet other members of the LGBTQ+ community by joining these spaces:
Contact CangKimVo via acangkim@lion.lmu.edu or DM him on Instagram @morbidanddissatisfied to join the LMU queer students discord.
According to CangKimVo, these are groups for students to connect with other students within the LGBTQ+ space:
QTPOC Space and Black Queer Space (@QTPOClmu) - a space closed to students who identify as LGBT+ or questioning and are POC and/or Black.
CRIME (@crimelmu) - a service group led primarily by QTPOC that focuses on decentering whiteness and providing radical care, abolition work, and mutual aid.
Transcendence (@transcendencelmu) - an organization to celebrate trans, including nonbinary and genderqueer, students.
Queer Film Club - an organization to watch and discuss queer films.
Somewhere Under the Rainbow (LEO link here) - an organization for queer students and allies to hang with each other online (especially discord). Join the Discord server here.