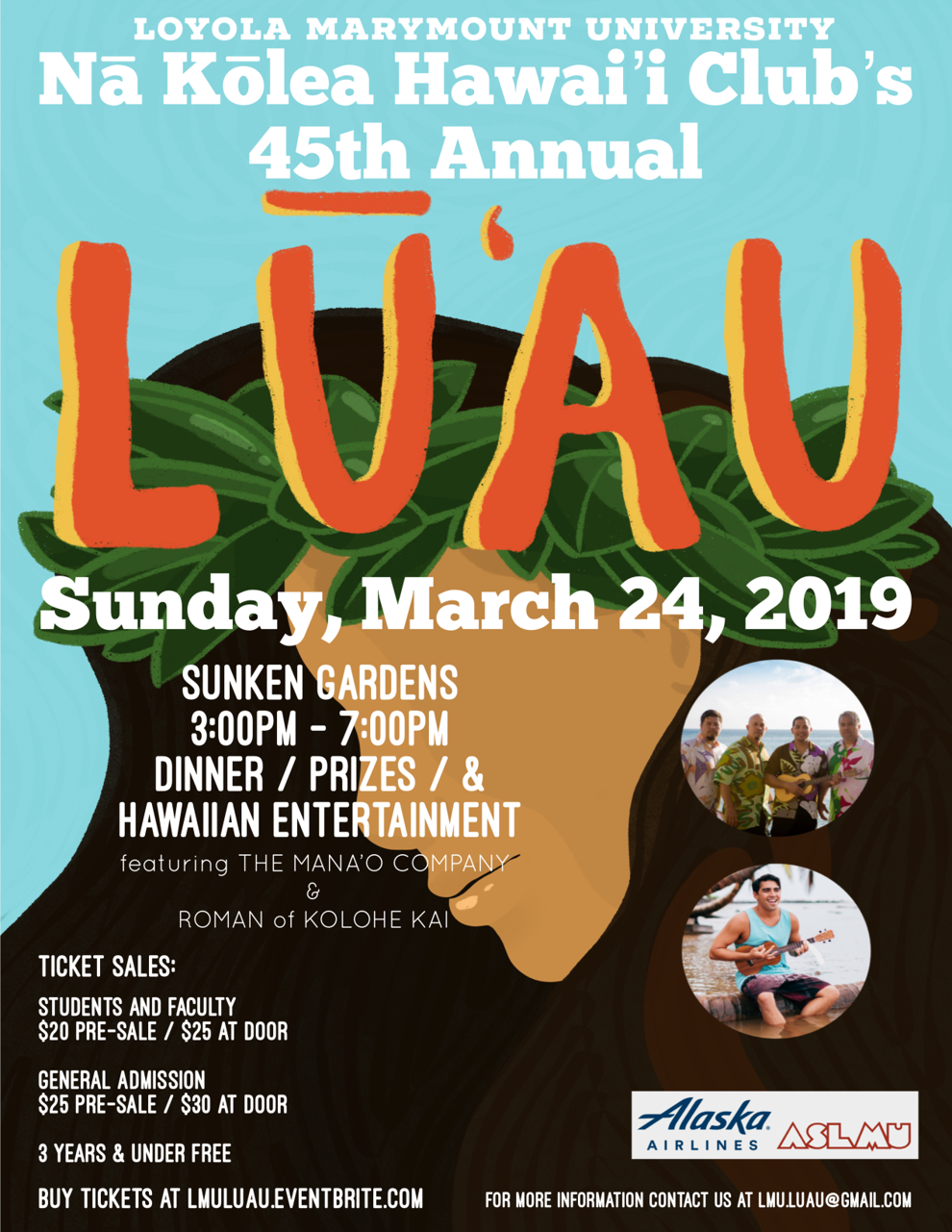 If you're looking for a fun, community event this weekend or simply want to learn more about Hawaiian culture, the Nā Kõlea Hawaii Club is here for you. This Sunday, March 24, from 3 p.m. to 7 p.m., the club will host their 45th annual lūʻau right in Sunken Garden.
The lūʻau is the largest cultural club event on LMU's campus each year. This year, the club is expecting about 400 people, gathering from all parts of Southern California and Hawaii.
Lūʻau chair Landon Mukaigawa, a sophomore accounting major and Chinese minor from Honolulu, explained that the club's purpose is to "create a welcoming, aloha-filled environment for the whole LMU community, as well as share our rich Hawaiian and local island culture."
This year's lūʻau is called "Awaiāulu Ke Aloha," meaning to unite as one in love. The name reflects the purpose of the lūʻau: to unite the Hawaiian community at LMU and give students an opportunity to learn more about Hawaiian culture.
Sponsored by Alaska Airlines and Rutt's Hawaiian Cafe, the lūʻau will include traditional Hawaiian foods, Polynesian performances and professional Hawaiian entertainment. This year, the club is even flying in two popular reggae musicians from Hawaii: Kolohe Kai and the Mana'o Company.
The Nā Kõlea Hawaii Club has served the community of Hawaiian students at LMU since 1973. The club aims to help students transition to college life off the islands by providing a space similar to home and creating new traditions on campus. Events like the lūʻau are perfect opportunities for the club to do this, so come out this Sunday for a celebration of Hawaiian culture, right here at LMU.
Tickets for the event are $25 for students and faculty and $30 for general admission. Discounted pre-order tickets are also available through lmuluau.eventbrite.com.
This is the opinion of Emma Averill, a freshman civil engineering major from Porter Ranch, CA. Tweet comments to @LALoyolan or email comments to aboulas@theloyolan.com.