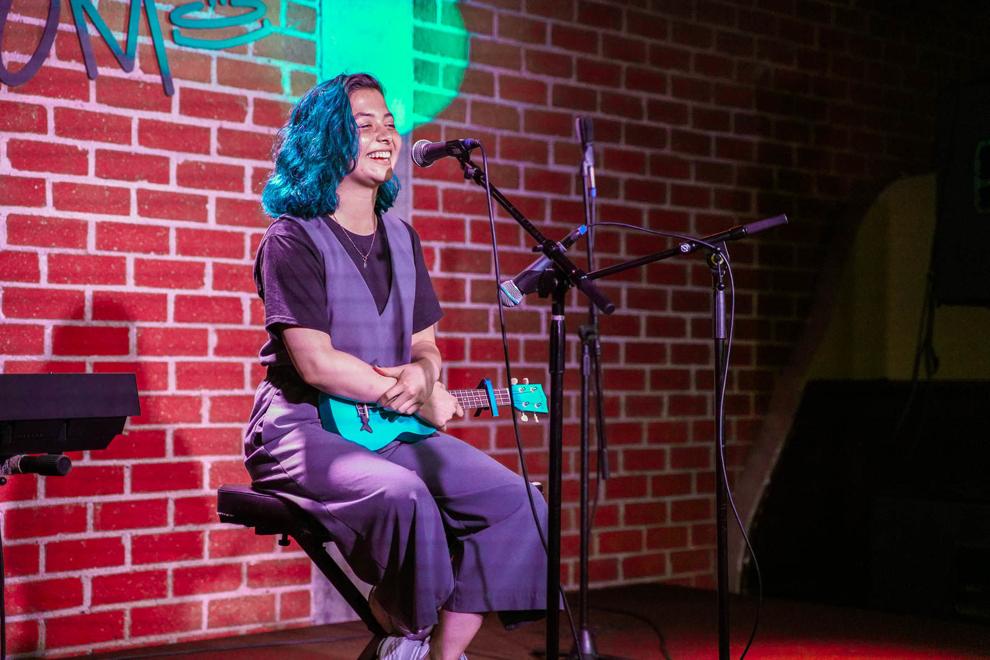 Every Monday at 8 p.m. in the Living Room, Mane Entertainment presents Open Mic Night, an evening of creativity and performance where students can showcase their own unique talents. 
Brion Dennis, a sophomore finance major, is in his second year working for Mane Entertainment. "90% of [the performers] should be stars. They're all so incredible," he said.
Open Mic has seen almost every type of act. Stand-up comedians, bands, solo acoustic performers, singers singing to a track, dancers, slam poets and drag queens have all taken the stage. While there are a few regulars, most weeks [have] an entirely new lineup of artists.
"We have a lot of people who come [and] it's their first time ever performing in front of a crowd," Dennis said. "It's very easy because here everyone's so welcoming."
Some, however, are extremely "loyal open mic-ers," according to Dennis. One of these performers is Cori DeTurk, a sophomore screenwriting major.
DeTurk has been a performer since she was 6 years old, but she took up the ukulele at 11. She has now expanded her musical repertoire to include a soprano ukulele, a baritone ukulele and a banjolele. During her freshman year, she was trying to keep up with Open Mic by writing and performing a new original each week, but this year she has been incorporating covers as well.
DeTurk is an avid songwriter and approaches the art in a unique way. Her songs often lack repetition, verses or choruses, as she is a self-described folk artist. "I love lyrics. I love words. I think I was born to be a rapper but something went wrong ... I really care more about word flow and rhyming and alliteration and just a good rhythm. I never think of structure first. Sometimes, a chorus happens and sometimes it doesn't," she said. She also incorporates unique instruments into her tracks, including the kazoo, recorder and xylophone.
She frequents Open Mic because of the community she has found there. "They are so supportive … If you mess up or lose your place, the audience will immediately start cheering," she said. "Everyone's rooting for you … There's a lot of 'you got this' energy."
Dennis, like the audience, has a lot of faith in the performers. "It literally feels like I'm seeing someone who's a star that's about to be born," he said.
DeTurk believes that Open Mic is suited for students of all talent levels and abilities. "It's a great place to experiment," she said. "Open Mic is the best place to go if you're nervous about performing."
Stop by the next Open Mic Night to enjoy the experience of friendship and support that both Dennis and DeTurk believe is an integral part of the night.