Welcome to The Self-Care Series, a Loyolan series where I speak with LMU students about what they have been doing to look after themselves during the COVID-19 pandemic. During these challenging times we are living in, it is important to acknowledge and actively take care of our mental health. I hope this series will leave readers inspired to incorporate self-care into their everyday routines.
In the fourth interview of The Self-Care Series, I spoke with Ashley Salisbury, a sophomore mechanical engineering major and LMU Concert Choir member who moved back home when the pandemic hit. Although she recognizes that life looks different now, she has adopted an optimistic mindset. Salisbury will not allow anything to get in the way of her relationships with loved ones or her affinity for the holiday season.
Francesca Bermudez (F.B.): Can you tell me a little bit about your relationship with mental health and what it means to you?
Ashley Salisbury (A.S.): I know a lot of people that have had different ups and downs with their mental health and I guess I've been with people through some of those struggles. In turn, that's made it a very normal thing for me. I have a pretty positive relationship with mental health. I'm really lucky that I didn't really grow up with any stigmas around it. It's been very normalized in my life.
F.B.: What are some of the most common emotions you have felt during the pandemic?
A.S.: I think the main one has been loneliness. I'm really lucky that I've been able to hang out with my family, but it's also definitely not the same. I'd say loneliness and also just anxiety from not knowing what's going to happen next. There was a point where we were like, "Oh yeah, maybe this will all be over in two weeks." [I have been] retraining my brain to be okay with not knowing what the next few months are going to look like.
F.B.: What have you been doing to take care of your mental health?
A.S.: First of all, getting a therapist has been probably the best thing that I've done. I've gone to therapy in the past, but this was the first time that I've definitely really acted on it and said, "Hey, I need to talk to someone, it's totally okay." I needed to make sure I'm taking care of myself in the right way. I guess to target the loneliness I was talking about earlier, I am making sure that I'm putting time into my relationships. I know Zoom fatigue is so real. It sucks going from class to class on your laptop, but I find that it's totally worth it to FaceTime a friend, even if that means you're on the screen a little longer. It makes me feel like I'm not alone in this.
F.B.: Are there any virtual resources that have been helpful for you?
A.S.: I've started following a couple of mental health pages on Instagram. There's this one lady [called @the.holistic.psychologist]. She posts pretty motivational stuff and helps keep me grounded.
F.B.: Have you been paying more attention to your mental health during this time?
A.S.: Absolutely. Spending a lot of time with myself over the past few months made me kind of hyperaware of how I'm feeling because I don't have the normal escapes I had a year ago. I can't just go to the movies [to] get my mind off things or walk to my friend's dorm and distract myself.
F.B.: Do you think you have learned anything new about yourself?
A.S.: I think I've learned how to enjoy being by myself a lot more. I've always been a little introverted [and] okay with doing things on my own, but now I've learned to really appreciate the time that I'm able to have with myself.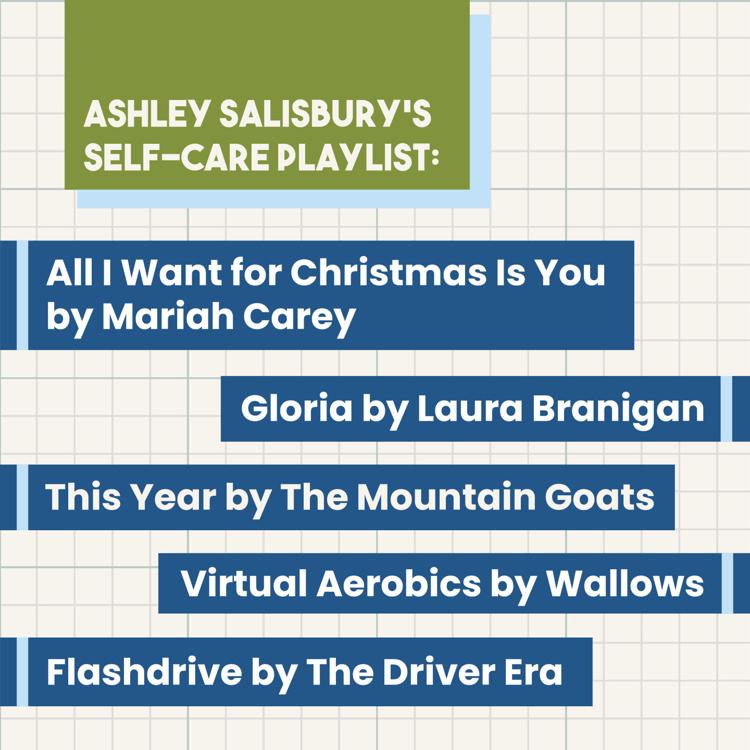 F.B.: For the LMU Concert Choir, have you been able to rehearse together virtually?
A.S.: We actually have a little Christmas concert coming up. We've been meeting over Zoom. My professor and our pianist have been in the auditorium, which is nice. They can play things for us and we sing, but we're on mute. I think if anything, it's been so important for me to keep that community in my life. Obviously, it's not the same … but it's definitely nice to keep going to rehearsal and remember that these people were in my life before and they're still in my life even though I don't see them in person.
F.B.: Speaking of music, what kind of music have you been listening to recently?
A.S.: I feel like I've spent a lot of time listening to music during quarantine just because it's something available to do. I definitely had my "Folklore" [by Taylor Swift] phase a couple of months ago … that was really good. Dolly Parton came out with a Christmas album. I think she was really early on that train, but also Christmas music is definitely good for my mental health. That's something I incorporate in my self-care routine because the pandemic is happening and we're all not where we thought we would be, but that doesn't mean Christmas is canceled.
F.B.: Do you think you will make any lifestyle changes in the future when the pandemic is over?
A.S.: I'll definitely be more routine in exercise. I didn't realize how much physical activity was tied to mental health until all this happened and I had to kind of make my own home exercise routine or make sure I was going on a walk. I think [I plan on] understanding exercise as something for my mental well-being, as well as being able to get outdoors more.
F.B.: What kind of workouts have you been doing? Do you have any recommendations?
A.S.: I live at home and I have a stationary bike that's been pretty good … also just hiking has been good. I really like that. I hope I do that more after the pandemic. I've also been getting more into yoga. It's not like strenuous exercise. It's very good for my mental health to kind of slow down at the end of the day.
F.B.: Okay, this is my last question. In one word, how do you feel about the future?
A.S.: I'm excited because there are a lot of things that I hope to experience soon, but I miss. I also think that coming out of what we're in with a fresher mindset will be good. I feel like I'm getting a lot of my priorities in order now that I don't have as much to do.