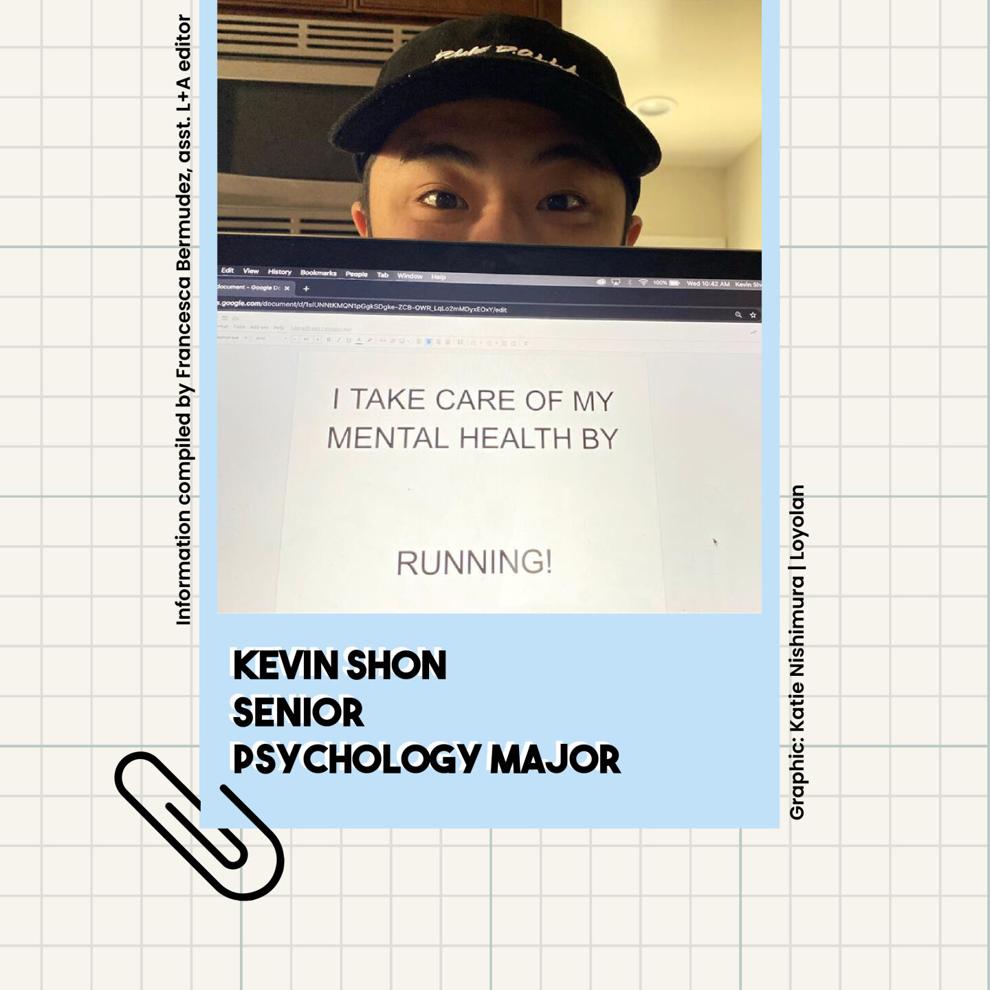 Welcome to The Self-Care Series, a Loyolan series where I speak with LMU students about what they have been doing to look after themselves during the COVID-19 pandemic. During these challenging times we are living in, it is important to not only acknowledge, but also actively take care of our mental health. I hope this series will leave readers inspired to incorporate self-care into their everyday routines.
In the final interview of the fall semester, I spoke with Kevin Shon, a senior psychology major and Wellness Educator. Sponsored by Student Psychological Services, the Wellness Educator Program aims to raise awareness of mental health issues among the LMU community. Since joining the program, Shon has learned to prioritize his mental health and encouraged others to do the same.
Francesca Bermudez (F.B.): Can you tell me a little bit about your relationship with mental health and what it means to you?
Kevin Shon (K.S.): I was really born into the mental health field. My mother is a clinical psychologist and my father is a professor of social work. Since day one, I have been hearing about all of this. There is a lot of stigma around mental health and as someone who has struggled with mental health, it is really important for me to spread knowledge about it and let people know they are not alone and there are resources they can reach out to.
F.B.: How does it feel to be a senior right now during the pandemic?
K.S.: It is actually kind of crazy. I have actually accepted it and I feel most sorry for the freshmen in college. They missed prom and their high school graduation, which is massive. The freshman year experience is really where you get to live in the dorms and meet a bunch of people you have never met before. That is where you really establish your friend groups and a sense of autonomy.
F.B.: Can you tell me more about what the Wellness Educator Program does for the LMU community?
K.S.: We work with licensed therapists and psychologists. What we do is we receive requests from different organizations on campus. They specify which kind of mental health topic they would like to talk about like anxiety, toxic positivity, depression or dealing with COVID-19 stress management. We prepare [presentations for] talking to these different organizations and opening up the floor for any questions. We give them a list of resources to reach out to as well.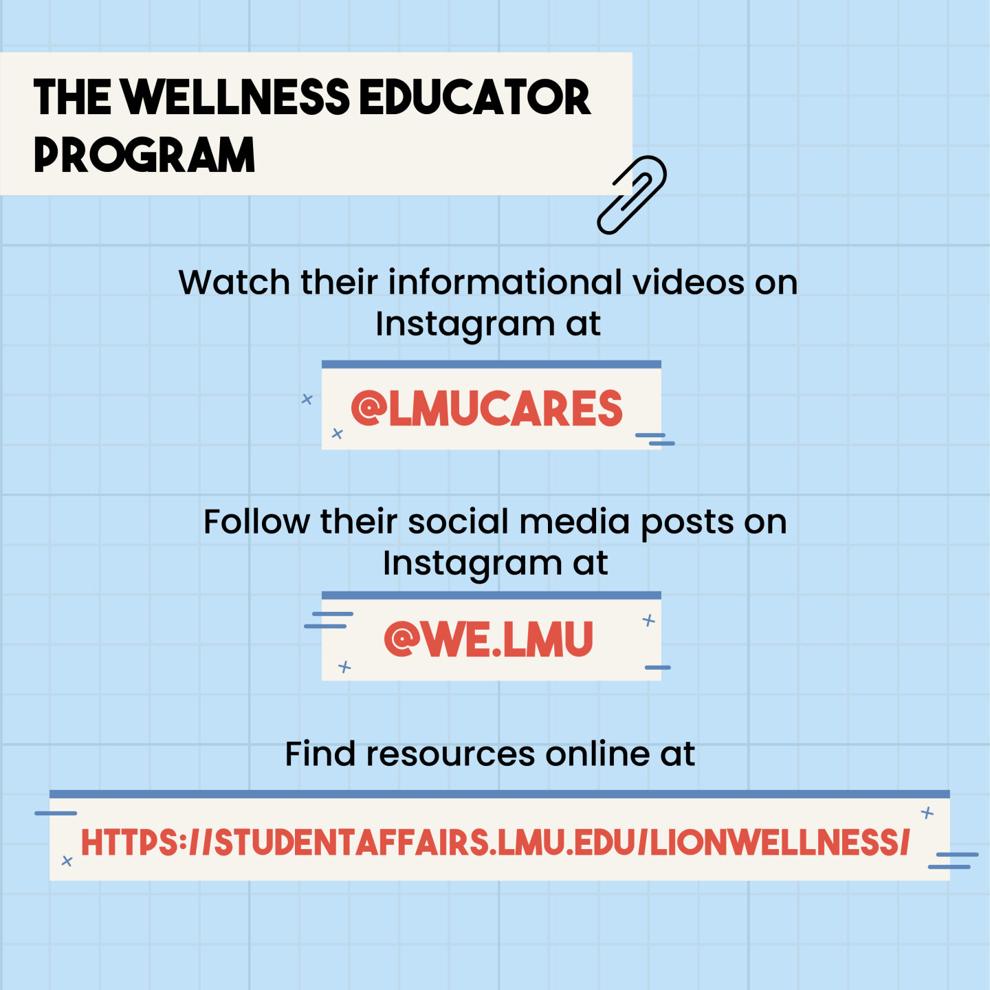 F.B.: What is the most valuable lesson you have learned from being a Wellness Educator?
K.S.: My first week there, I learned I had pretty severe anxiety, which I was never aware of because obviously anxiety takes many different forms. Having such an open space to talk with people who we physically can't with right now has been phenomenal. We talk about our problems, we talk about our days, we talk about our weeks and we discuss a bunch of different current events that are going on. Being part of an organization that preaches mental health awareness has definitely piqued my interest even more in reading all of these different studies online about it.
F.B.: Have you incorporated any tips you have learned from being a Wellness Educator into your own life?
K.S.: We talk a lot about contemplative awareness and meditation to try and alleviate symptoms of anxiety and depression. What I do every day now is I wake up and I meditate for about 10 minutes and periodically throughout the day. I will just look around at everything happening around me and I just appreciate it to slow my life down a little bit.
F.B.: Besides meditation and gratitude, what else have you been doing to take care of your mental health?
K.S.: I am a really outdoorsy person, so I have been going on hikes specifically in the Topanga area and Santa Monica Mountains. I am [going] to the beach, obviously with a mask as well. Going for runs and calling my friends and family has definitely been key to help me in this time period.
F.B.: As a Wellness Educator, what would be your advice to students struggling with their mental health?
K.S.: I want to gear this toward collegiate men because women obviously suffer from symptoms of anxiety, depression and PTSD a lot more often, but there are also a lot of barriers for men. Some of those include acceptance from peers, cultural and environmental factors, fear, homophobic responses and the traditional masculine ideals. Understanding that we are all suffering in this time and that nobody is alone in this would definitely be something I would love to tell everyone.
F.B.: Do you think you will make any lifestyle changes in the future when the pandemic is over?
K.S.: I know for sure that I don't want to leave on a bad note with anybody because there is just so much crazy happening right now. It is amazing how fast life changes on you. We didn't expect to be in a pandemic and it really shows you how valuable your time is … especially for the people who are waiting until senior year to really go out and show themselves. I can't waste any time because the unexpected will always happen.
F.B.: In one word, how do you feel about the future?
K.S.: Everything is pretty uncertain right now and I don't really know how we are going forward, but I know that our generation is absolutely phenomenal. I know we are the people to ask the questions and challenge authority. I know we are the ones who know how the world should be and we have the power to move us there. I am uncertain, but I do know we are going to come out of this better.