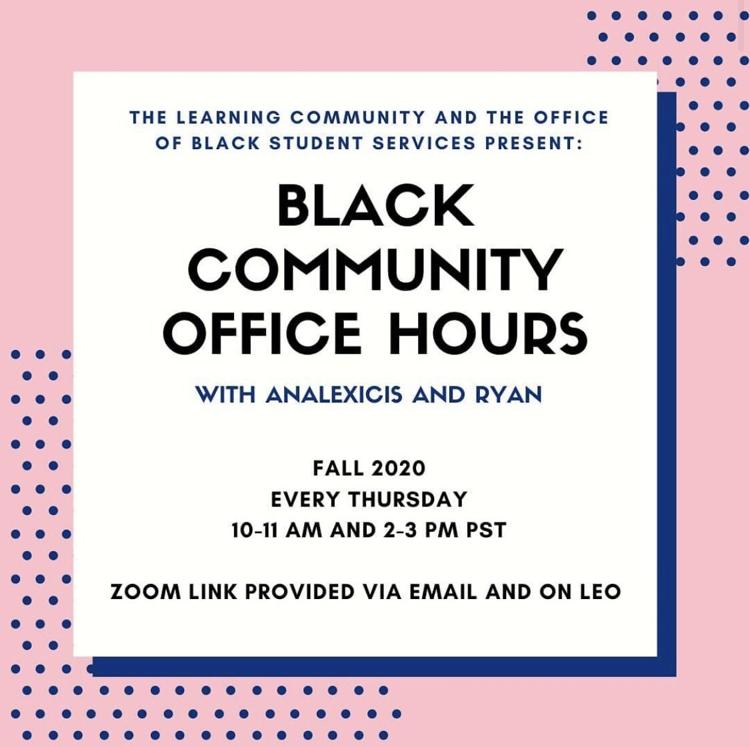 Throughout the month of September, the Loyolan will be highlighting each of the Ethnic and Intercultural Services groups on campus. This week, L+A assistant editor Francesca Bermudez talked with TLC Program Coordinator AnaLexicis Bridewell and Program Coordinator for Ethnic and Intercultural Services Ryan Hopkins to learn more about The Learning Community (TLC) and The Office of Black Student Services (OBSS).
Both TLC and OBSS have started off the academic year by encouraging students to take advantage of the resources available to them.
TLC held a two-week summer leadership program to foster community and help first-year students of African descent become acclimated to campus life. Although TLC traditionally invites students to live on campus before classes begin, this year's summer program was held virtually. Students learned about campus resources, attended an African American Studies course with Dr. Brad Stone and participated in activities including painting and cooking classes.
Beyond the summer program offered by TLC, OBSS also offers a variety of opportunities for Black students throughout the academic year.
On Sept. 3, OBSS concluded their annual Mbongi week, where students gathered virtually to welcome new members of the community and discuss their priorities for the new school year.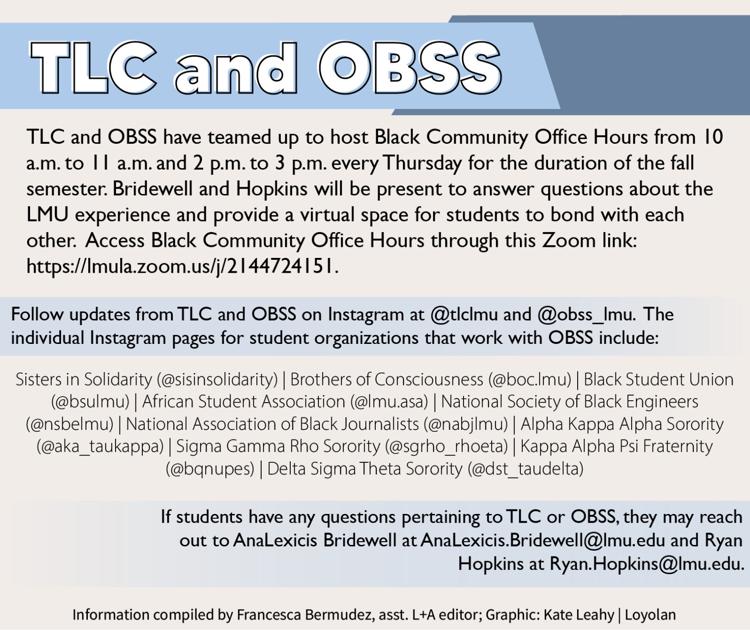 TLC and OBSS have teamed up to host Black Community Office Hours from 10 a.m. to 11 a.m. and 2 p.m. to 3 p.m. every Thursday for the duration of the fall semester. Bridewell and Hopkins will be present to answer questions about the LMU experience and provide a virtual space for students to bond with each other. Access Black Community Office Hours through this Zoom link: https://lmula.zoom.us/j/2144724151.
"We have made it a conscious effort to remain consistent in connecting with students even when not in person," said Hopkins. "We have also been utilizing social media more heavily, as student organizations and OBSS update students on various events that are happening within the community."
Follow updates from TLC and OBSS on Instagram at @tlclmu and @obss_lmu.
The individual Instagram pages for student organizations that work with OBSS include:
Sisters in Solidarity (@sisinsolidarity)
Brothers of Consciousness (@boc.lmu)
African Student Association (@lmu.asa)
National Society of Black Engineers (@nsbelmu)
National Association of Black Journalists (@nabjlmu)
Alpha Kappa Alpha Sorority (@aka_taukappa)
Sigma Gamma Rho Sorority (@sgrho_rhoeta)
Kappa Alpha Psi Fraternity (@bqnupes)
Delta Sigma Theta Sorority (@dst_taudelta)
If students have any questions pertaining to TLC or OBSS, they may reach out to AnaLexicis Bridewell at AnaLexicis.Bridewell@lmu.edu and Ryan Hopkins at Ryan.Hopkins@lmu.edu.