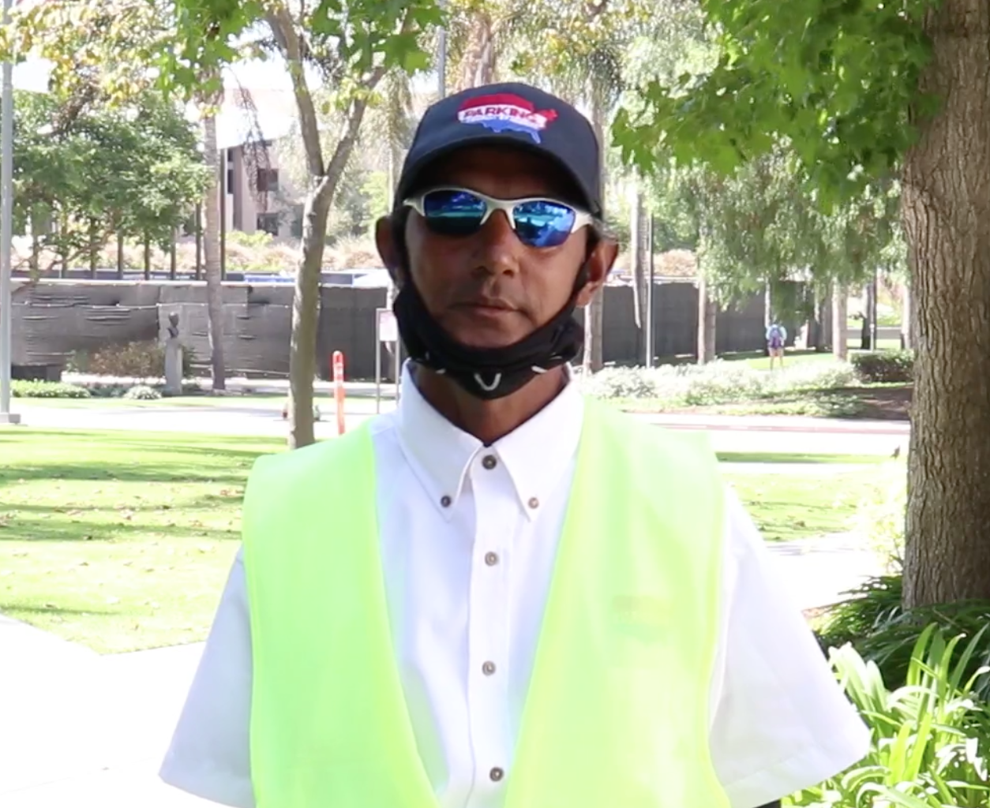 How long have you been the crossing guard here at LMU?
Albert McCoon (A.M.): Almost four years. Due to the pandemic, it's only two and a half.
What is your favorite part about being a crossing guard?
A.M.: For me, I love the job. It's my first cross guard job. I hadn't done this before I came to LMU — I didn't know that I would perform this well.
I have a lot of fun being a cross guard. To me, it's like a hobby ... Sometimes you get mad, but you know, it's a job. Most of the students are pretty great. They treat me well.
What does your average day look like?
A.M.: I start at 7 a.m., and I'm off at 7 p.m. Monday through Thursday. Friday: 7:30 [a.m.] to 4:30 p.m. It's long hours, but it's nothing that I can't handle. I got used to it.
The busiest time of the day this semester is probably 11:30 [a.m.] to 12:30 [p.m.]. [There's] a lot of traffic, a lot of students going home or off campus. All the classes come out almost at the same time, so that's why it's so busy.
How often do students say 'hi'? Do you recognize some students?
A.M.: The senior students, most of them know me. So, I would say 95% probably say 'hi.' The new students are nice, they come and introduce themselves. And if they are rude, they usually come back and apologize.
What can students do to make your life easier?
A.M.: To be honest with you, they could pay more attention. The cell phone business is the worst problem. They won't be paying attention on their phone, and they're right at the crosswalk, and it's very busy with traffic. Then I have to go out of my way to stop the traffic because one of them already passed by — [or I'll] probably just grab them and push them out of the way. I just don't want them to get hit. It's for their safety.
What is the hardest part?
A.M.: Out of my company, nobody wants to come and do my job. Nobody. If I have to take leave, it's so hard for me to get relief. They say that it is too much work. But, work is work, that's all it is. Somebody's got to do the job.
When you're off the clock, what do you like to do for fun?
A.M.: I just go home. Have a shower. Eat my dinner and go to my bed. Because I have to get up at five o'clock in the morning, get ready for work and be back here by seven.
Where did you get your mouse mask from?
A.M.: I got my mask from my daughter. She was riding the bus two to three months before the pandemic with a mask. It's like she knew this was going to happen. She gave me one then, but I didn't wear it until now.
What were you doing during the pandemic when campus was shut down?
A.M.: I spent time with family and traveled. I enjoyed the vacation. Coming back was hard for the first couple of days because I had to get used to standing again. But it's been a few weeks, and I'm back and better than ever.