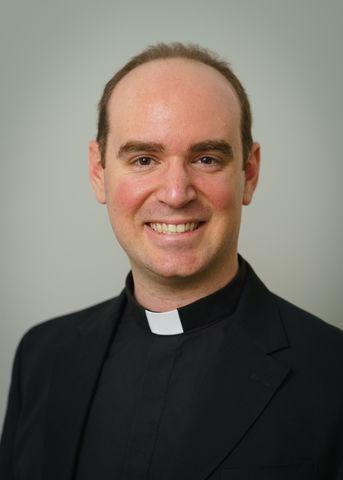 This week, assistant news editor Accalia Rositani sat down with LMU's newest Jesuit, Fr. David Romero, S.J., over Zoom to discuss his vocation and how he's faring in the recent transition.
1. When you entered the Society of Jesus (Jesuits) as a novice, did you have any doubts that you would graduate through all the stages, of which usually take 10 to 11 years, and become a priest?
It is such a long period of time. I think it's the longest of all the different religious orders in the Catholic Church and diocesan formation. For me, never did I have this doubt, like, 'Will I be able to do it?' I never had crippling anxiety about it … I think from my time here at LMU, I had so much good preparation to know how to handle the long haul of life and taking things one step at a time. Your view is not too focused beyond into the future, and that really helped me grow more to be in the present and letting that carry me into the future.
2. During your novitiate, which experiment was most enlightening?
There's this one experiment, or experience, that is called the pilgrimage. For us, we're seeking a grace or a gift, and the overarching gift is to experience the generosity of God through the generosity of others. It was three weeks, you get either a one-way bus ticket to the place you're going or you can go straight there and you have three weeks to make it back on your own. One way is paid for and in the other you have to find your way back, starting with $40. It's not like a survival test, but for me it was enlightening because … I remember I was starting to have expectations built up of what I was thinking Jesuit life ought to be like. I was struggling with a deep lack of interior freedom. The pilgrimage for me was a greater calling for me to look at the mundane and routine of daily life, which doesn't leave as you enter the Jesuits, and ask how God is present in those; how do I trust each moment and person is an opportunity for me to encounter God.
3. What is one unique aspect about the Jesuits?
St. Ignatius said, "Seek God in all things." If that's the case, that opens up the floodgates to Jesuits being present [in] all facets of life. Therefore, being a priest doesn't mean you're only teaching theology. There are Jesuit doctors, lawyers, social workers, folks in theater, astronomers and other various fields. That's what I love about the Jesuits, there's no God forsaken place. It's all open territory.
4. What about the school-sponsored trip to El Salvador cemented your intention to become a priest?
It was this program about integrating academics with community life, spirituality, and then the primary thing of accompaniment of marginalized communities. So we went twice a week to our designated community to really not solve their problems, drop in their country and fix everything, but to learn from the people. Learn how to befriend them and make relationships with them, and then see how together we can work. Those four months overall were defining for me in terms of my own faith. I felt that sense of love with the Salvadorians there, because their faith, their sense of community and love wasn't naive. It was very real because they've suffered a lot and were still suffering. So when they spoke with a sense of faith and hope, I could sense they were in touch with something much deeper, and I realized I wasn't as in touch with that but I wanted to be. Towards the end, a lot of people mistook me for a priest.
5. As a California native, you have studied on both coasts of the country and traveled abroad multiple times, from the Philippines to El Salvador. Where do you hope to travel next?
In the context of this pandemic, honestly, I'm hoping to just be able to travel next to see family. A lot of my family have moved to the Portland, Oregon area. Just to be able to travel to see them would be my vision. Ultimately, I'd love to be able to return to the Philippines and El Salvador to give thanks and celebrate with them, this vocation that's not my own. They're involved in it, they're a part of it, so to give thanks to them for their generosity and helping love me into this vocation is something I hope to do.
6. Out of Spanish, Koine Greek, and Tagalog, which language was the hardest to learn?
I think Tagalog might've been more challenging in the sense that I wasn't taking official classes. That for me was unfamiliar, there's some very long words and expressions. I was surrounded by it so I tried to really encourage my coworkers to teach me and help me understand. Koine, you don't really have to learn how to speak it or write it, for us it's meant to read the gospels. Once you get the alphabet down and basic grammar, it's more doable than I expected.
7. You received your Master's Degree in Philosophical Resources from Fordham University before earning your Master's in Divinity and Ministry from Boston College. How do the Jesuits feel an understanding of philosophy amplifies theological studies?
The nice thing about that is that the Church, for years, has lived by this idea that the study of philosophy and theology are a match made in heaven. One of the early Church figures, Tertullian, he kind of gave voice to this same question. He asked like, what does Athens have to do with Jerusalem? I think it enables one to appreciate more deeply the meaning behind Christian beliefs. Theologians throughout history have been influenced by various philosophers and philosophical concepts, and those are sort of the ways that they can try to articulate or make sense of these beliefs of faith. I think it's about philosophy undergirding the study of theology. It gives it a base and structure. For me, it helped me grow and love questions.
8. How do you guide people facing adversity, especially during this pandemic and time of social unrest?
This sounds pious, but what I try to do is take a cue from Jesus; what do we find Jesus doing when confronted with people or things that are seemingly named as problems. He had to face them. He doesn't shy away from struggle or issues, himself or with his encounters with people. He draws closer to them, listens, and in that listening people find themselves opening up their heart to encounter God. He comes to people in their doubt, their grief, their loss, their suffering, and he doesn't reject them. He doesn't abandon them. This society so easily rejects, and he doesn't. He meets them where they are and offers them a consoling presence and word. Not a word that's like, this will take care of everything, but a deeper healing that happens. In as much as there's this physical healing with some people right now.
9. What is your go-to karaoke song?
I love karaoke. There are so many good ones. One of my go-to ones, especially at a gathering, is Billy Joel's "Piano Man." It's classic, it's got this ballad, a great rhythm, it's chill but then it builds up, and then, it always happens, people know the song. So it's one of these songs that everyone can get on and sing along to. I don't sing well, so it's not about drawing attention to me and my horrible voice, but I can get other people involved and that, for me, is way more fun.