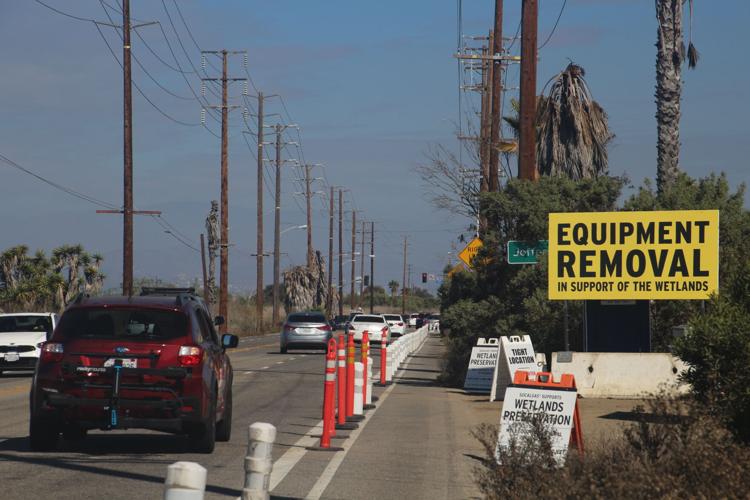 New signs have popped up along Jefferson Boulevard adjacent to the Ballona Wetlands Ecological Reserve in Playa del Rey. "Equipment removal in progress," states one. "SoCal Gas supports wetland restoration," proclaims another. The Southern California Gas Company (SoCalGas), which has operated a natural gas storage facility within the Ballona Wetlands since the early 1950s, recently announced plans to remove 16 of their wells in the area as part of a larger restoration project. Work to remove the first of these commenced in September and is scheduled to be completed around December, according to Christine Detz, a spokesperson for SoCalGas. Detz said SoCalGas does have plans to install new equipment at the Playa del Rey facility, however it will be outside the official ecological reserve boundary and there will be an "overall decrease in the amount of SoCalGas infrastructure associated with the Playa del Rey facility."
Environmental groups and community members have long expressed concern about the environmental impact and safety of the facility, which is highly similar to the SoCalGas Aliso Canyon facility which experienced a massive and destructive gas leak in 2015 due to improper well monitoring by the company.
Heal the Bay, a west L.A.-based environmental organization, supports the well removals from the wetlands. However, Shelley Luce, the organization's president and CEO, recently put out a statement criticizing other actions taken by SoCalGas and announcing her organization's decision to stop accepting donations from the company. In the statement, posted to Heal the Bay's website, she wrote that SoCalGas is "not a good-faith partner in our critical effort to enact sensible climate systems in California" and emphasized the need for "a just and equitable transition away from fossil fuels now."
Katherine Pease, the director of science and policy at Heal the Bay, acknowledges that natural gas is comparatively better than other fossil fuels, such as coal and crude oil, in terms of environmental impact. However, she does not view it as a sustainable or viable long-term solution.
"It still has emissions and it still has impacts in terms of its extraction and storage," Pease said. "Transitioning to renewables, I think, is the answer and doing that as quickly as possible instead of delaying it by switching to something that is a little less bad."
These reasons contributed to Heal the Bay's decision to stop accepting donations from SoCalGas, ending a more than 30-year relationship with the company.
In response to Heal the Bay's announcement, SoCalGas provided a statement through Detz calling the characterization of their activities "flat out wrong" and arguing that they are "100 percent committed to helping California meet its climate goals."
However, recent reporting from the L.A. Times reveals what some view as shortfalls in this commitment, including efforts to delay safety testing at well sites and filing lawsuits pushing back against climate change policy in California. Pease cited this reporting as a contributing factor to Heal the Bay's decision.
"It just caused us to feel that it was not within our mission to keep accepting that money," Pease said.
Other environmental organizations, including Friends of Ballona Wetlands (FBW) and The Bay Foundation continue to accept donations from the company. FBW—an organization that has been involved with the ecological reserve since 1978—received $30,000 in donations from SoCalGas in 2019, according to SoCalGas' financial records. Scott Culbertson, the executive director of FBW, refused an interview request from the Loyolan on this topic, but provided a written statement through a spokesperson.
"All contributions received by the Friends, including those from SoCalGas, allow us to expand our high-quality educational programing," Culbertson wrote. "SoCalGas has never attempted to influence Friends of Ballona Wetlands' positions on any matter related to the facility, fossil fuels, climate change, or any related subject."
Walter Lamb, president of the Ballona Land Trust, an organization which does not receive money from SoCalGas, has concerns about the potential impact of these donations. Even if they do not directly influence these organization's decisions, he worries they could impact the actions they are willing to take, specifically when it comes to the wetlands. How to best restore and preserve the wetlands has been a highly debated topic following the release of an Environmental Impact Report (EIR) which outlines several different potential approaches. The option supported by FBW and several other groups would allow for SoCalGas to drill new replacement wells in the Playa del Rey area, which Lamb thinks would still be harmful to the ecosystem.
"I want the wetlands to be as healthy as it possibly can be, and I understand that people can disagree on what that means," Lamb said. "But what can't be the case is that external agendas are weighing in on the management decisions of the ecological reserve."
Lamb also questions the sincerity of SoCalGas' commitment to combating climate change and the motivation behind the well removals and public claims of support for wetlands restoration.
"[SoCalGas] does not support wetland restoration to the extent that it's bad for their company," Lamb said. "What's driving it is the long-term financial benefit of SoCalGas."
Detz, the SoCalGas spokesperson, pointed out that the company is not directly involved in the wetlands restoration project and does not officially endorse any of the proposed options outlined in the EIR.
"We understand the importance of the Ballona Wetlands Ecological Reserve and we are committed to supporting the restoration where and when we can," Detz said. "The storage wells within the wetlands boundary that we are in the process of removing will help support whichever restoration proposal gets selected."
It is unclear how exactly the restoration process will proceed, but it remains a highly contentious and important issue to members the community. The Ballona Wetlands is one of the last remaining salt march ecosystems in the L.A. area and protecting it is a top priority for many.
"We don't want people to think the Ballona Wetlands is just a place that people fight over." Lamb said. "We want it to be seen as a beautiful place."
However, how to best promote and maintain this beauty continues to be debated.