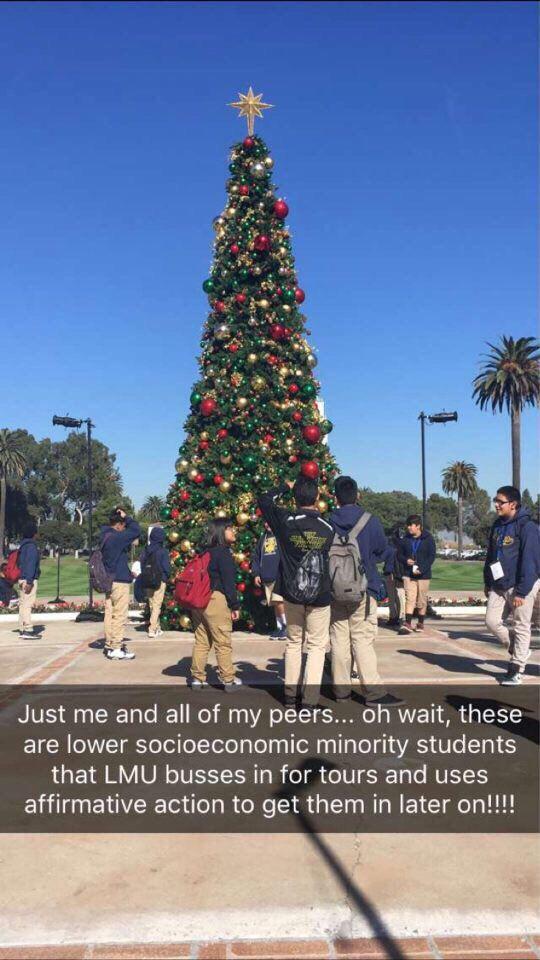 Update 12/6: This article has been updated with information on ASLMU's meeting, BIRT's response and Senator Katie Porter's statement.
Update 12/6: This article has been updated with the removal of an incorrect quote by Brenda Quintanilla.
A Snapchat photo caused concern among the LMU community when it began circulating Tuesday night. The photo, taken Monday, showed a group of children gathered around the Christmas tree on Regents Terrace – text on the photo described the children shown as "lower socioeconomic minority students" and that LMU will use affirmative action to ensure their future attendance. Multiple sources confirmed to the Loyolan that the person who sent the Snapchat is an LMU student.
The full text on the photo read "just me and all of my peers... oh wait, these are lower socioeconomic minority students that LMU busses in for tours and uses affirmative action to get them in later."
During ASLMU Senate meeting Wednesday, Senator at Large Katie Porter addressed allegations – made both online and during the meeting – that she was responsible for the photo. Porter said that she did not send the Snapchat. She previously denied claims she was the person behind the Snapchat in a Facebook post Tuesday night.
In both statements Porter said the recipient of the original photo said she did not send it but, did not include any more information regarding the identity of that person.  
"I will not contribute to what has turned into a witch hunt," Porter said in her statement. "I have been persecuted, called names and my name has been dragged through the mud." 
ASLMU President Hayden Tanabe told the Loyolan ASLMU was aware the source of the photo was alleged to be an ASLMU Senator. Tanabe did not confirm or deny the allegations but said that the views were not representative of ASLMU. He said the organization would release an official statement on Wednesday.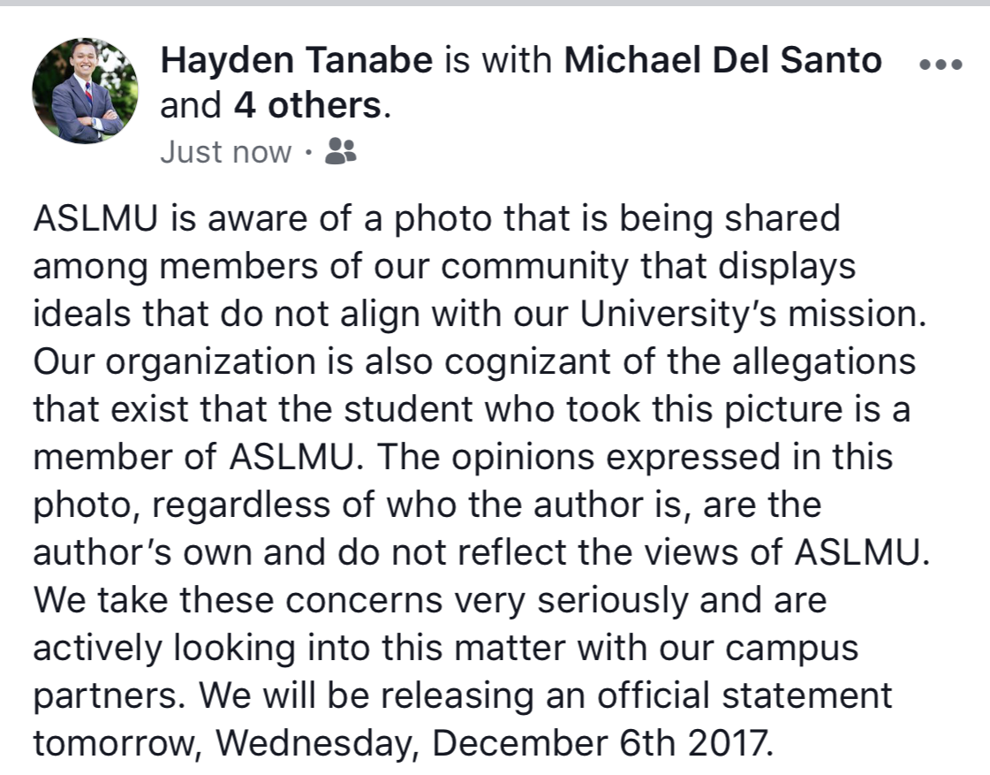 Students took to social media to share a screen captured version of the Snapchat and express their views. Posts by MEChA de LMU and Mekleit Dix, a senior biology major and former ASLMU Director for Intercultural affairs, combined for more than 100 shares on Facebook as of Tuesday at 11 p.m. 
MEChA responded on Facebook late Tuesday night, confirming the children shown were being toured by the group. MECha called on LMU to investigate the post and hold the individual accountable for their "hateful words and actions."
"We will not stand for this, and won't let this matter be taken lightly," MECha said on Facebook.
"This hatred is not in keeping with our Jesuit and Marymount traditions," Dix posted. "It has no place in any facet and in any position on this campus."
Dix's post identified the individual responsible as an unnamed student.
LMU's Black Student Union (BSU) posted part of the original photo on Instagram and said BSU had "confirmation" it was sent by an ASLMU Senator at Large. BSU also encouraged students to attend the Senate meeting wearing all black for solidarity.
"As a BSU we will not tolerate the disrespect of fellow minorities especially those coming to this campus in hopes of a better future," BSU captioned their Instagram post.
Dozens of students so far have responded on social media. Students took issue with the affirmative action label being placed on the group, many noting that California barred affirmative action in 1996 with the passage of Prop 209. Other students, including Senator for Diversity and Inclusion Vandalena Mahoney and Senator at Large Brenda Quintanilla, posted responses as well.
Quintanilla encouraged students to attend ASLMU's Senate meeting and wear all black as a sign of solidarity and to "voice your grievances over this hateful speech," she said on Facebook. The ASLMU Senate meets Wednesday at 12:40 p.m. in Malone 112.
An estimated 80 students attended the ASLMU Senate meeting Wednesday to discuss the photo being circulated. While no more information was released on the origins of the photo Miles Kent, ASLMU attorney general said a statement would be released within a week. 
The meeting included a public forum in which students were able share their opinions on the Snapchat. During the forum students continued to allege Porter sent the photo. 
"The turnout was really ideal and I think it really shows that this matters to our community," Dix said after the meeting.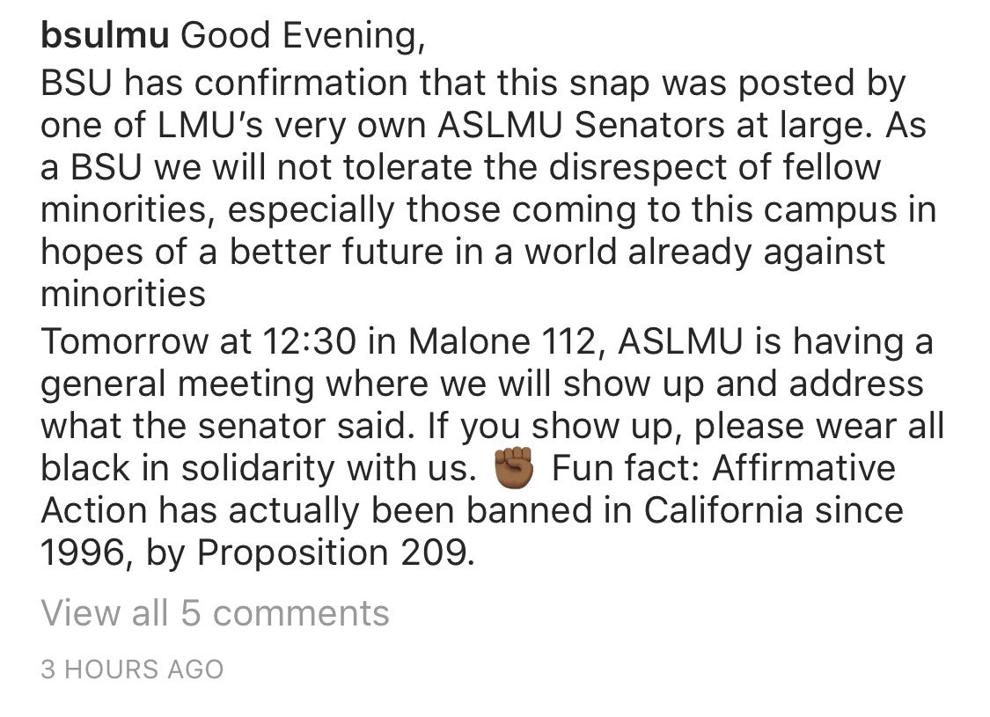 The Bias Incident Response Team (BIRT) sent out a community email on Dec. 6 at 3 p.m. stating that "The post negatively characterized campus visitors and does not reflect our mission nor our core values of respect and inclusivity. We reject the sentiments expressed: the comments were rude and insensitive, and they have a hurtful and negative impact on the LMU community."
Darwin Chavez a junior communication studies major shared his experience as a "lower socioeconomic minority student" being taken to the University of Southern California to take classes and experience the campus, in a Facebook comment on the photo. Chavez explained the positive impact, being exposed to higher education can have on minority students.
"For too many kids from poor backgrounds it feels like a fantasy," Chavez wrote. "To whoever wrote this post or whoever supports it, I am your peer but at one point in my life I was just like those kids and we have as much a right to be here as you do."
Tanabe said ASLMU is mindful that the views expressed are protected by the First Amendment and that he recognized the importance of all students having a platform to voice their concerns. He also encouraged students to attend the Senate meeting on Wednesday to address the incident.
Other members of the LMU community including alumna Annie Devine ('15) got involved in the conversation as well. Devine told the Loyolan that she did not believe LMU was a well-integrated school and that the 2016 presidential election only worsened the racial divide. Devine also said she believed the student responsible should be suspended from any ASLMU position they hold.
"I met so many amazing friends at LMU and I love it so much, and I would never want someone to be discouraged from going or feel unwelcome there," Devine said. "But I think the school really needs to work on inclusion within the student body."
Ethnic and Intercultural Services (EIS) will be hosting a forum to discuss issues of diversity and inclusion in their suite, Malone 201 12/6 and 12//7 at 6 p.m.