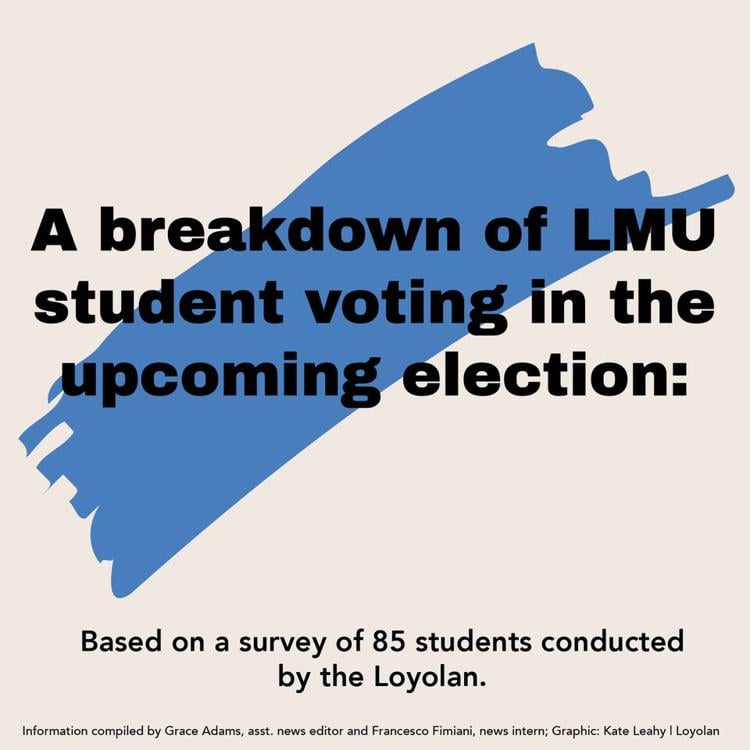 For the majority of current LMU students, this will be the first presidential election in which they are eligible to participate—a reality eliciting mixed emotions. In a survey of LMU students conducted by the Loyolan, 85 respondents expressed both enthusiasm for being able to exercise their right to vote, as well as concern surrounding the election.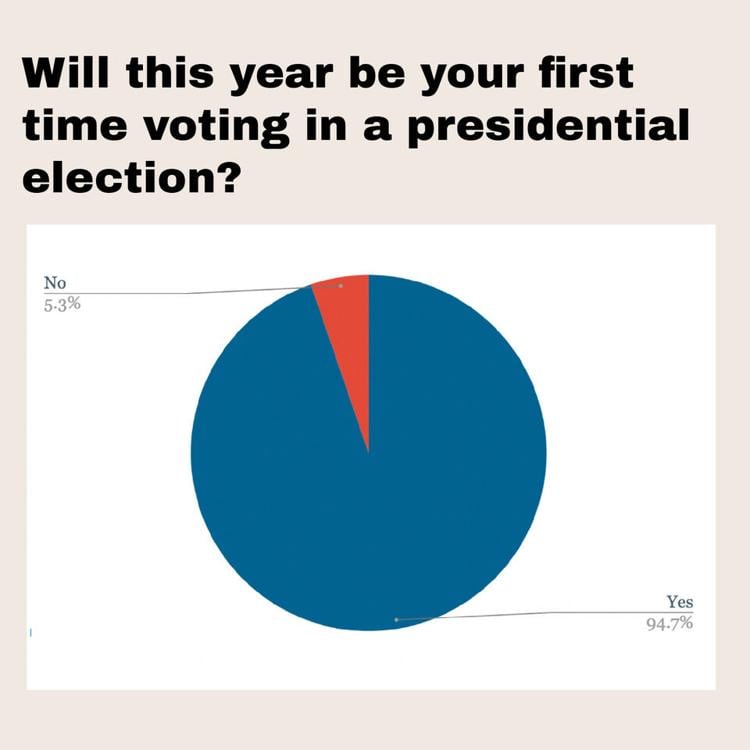 First-year student Haley Schmitt views taking part in the upcoming election as an important civic responsibility.
"I think voting is completely imperative this year," Schmitt said. "I really feel like there are a lot of things that have to be done. I'm definitely excited, especially because this is the first time I get to vote, so it's a big deal."
Schmitt will be voting in-person in her home state of New Hampshire. While Schmitt acknowledges that mail-in voting is a viable option, she feels more comfortable physically going to her local polling place and casting her ballot there.
"I don't want to take any chances with this election," Schmitt said. "I am a little wary and scared of ballots getting lost in the mail system, and I really want to make sure my vote is counted."
Across the country in California, Haley Herdman, a junior psychology major, shares Schmitt's concern.
"I did consider voting by mail, but then when the whole USPS thing and the slowing down of the [mail] process happened, it made me nervous," Herdman said.
Herdman is a member of the LMU women's basketball team, and said her coach is giving all players election day off, which also contributed to her decision about how to vote.
"That day will be wide open for me to go to the polls and actually vote in-person," Herdman said.
Emily Pita, a junior political science and Chicano/a and Latino/a studies double major, also living in California, has full confidence in the vote-by-mail system and has utilized it in previous elections, including the primaries earlier this year.
"Every time I've voted, I've done it by mail. I really see no issue with it," Pita said. "The rate of voting by mail getting messed up is so small and I think with the pandemic it's the safest way for the majority of people to vote."
Pita is not alone in this sentiment. Of the LMU students surveyed, 80 percent plan to vote by mail, citing COVID-19 pandemic-related concerns as one of the primary reasons.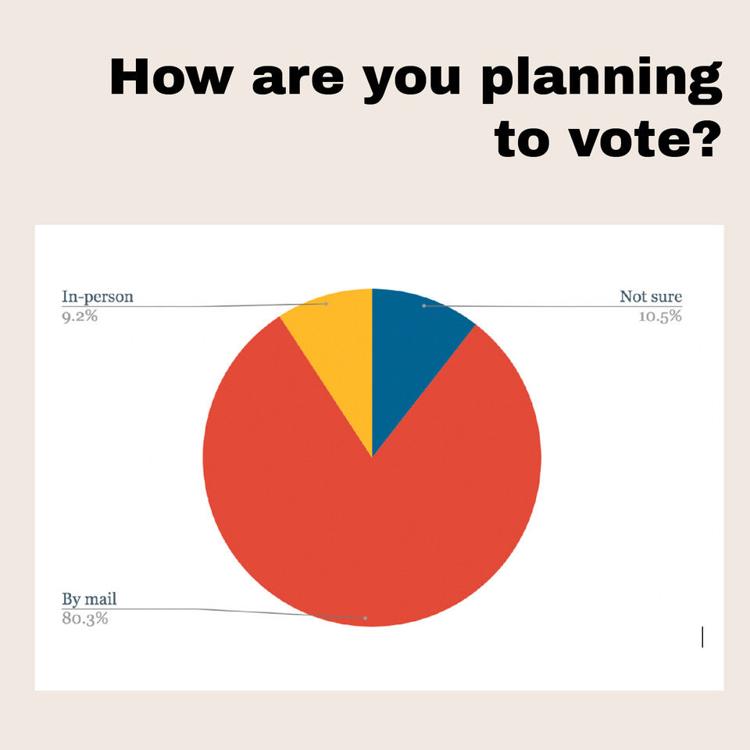 Alex Moore, a junior physics and applied mathematics double major from Oregon, is comfortable with the vote-by-mail system, and thinks it is valuable in the midst of the pandemic.
"With COVID right now, not everyone should be going to the polls," Moore said. "Oregon has been doing mail-in ballots for a while, that's just how it's been done."
Oregon is one of five states where mail-in-ballot voting has been the norm for many years.
According to LMU political science and international relations professor Michael Genovese, mail-in voting is a safe and effective process.
"We have not had a history of significant mail-in ballot fraud," Genovese said. "It is more trustworthy than almost any other means of voting."
Research conducted by Loyola Law School professor Justin Levitt provides evidence to support this. Levitt's work looked at over one billion ballots that have been cast since 2000, and revealed that fraud occurred in fewer than 0.0001 percent of cases.
LMU political science, international relations and Chicana/o Latina/o studies professor Fernando Guerra says that not only is voting fraud rare, it is also not organized.
"[Levitt's] research has made it clear that fraud is almost nonexistent in America and systematic fraud is totally nonexistent," Guerra said.
Guerra and Genovese think that the skepticism about the validity of the electoral process, despite this evidence, reveals issues with the current state of U.S. democracy.
When asked how much confidence they have that the election will be fair and results will be legitimate on a scale from one to five, most of the LMU students surveyed selected a three.
"That is such an indictment of our system and our democracy," Genovese said. "It should be five. Four years ago, it would have been a five—that tells you how much foolishness there's been in these last few years, and how fragile our democracy has become."
Guerra agrees that the results of the survey show that while serious fraud and issues with the voting process are extremely rare, efforts by both domestic and foreign entities to undermine them have been successful.
"It is really depressing that attempts by President Trump, the Republican party and the Russians have created doubt in the minds of young people," Guerra said.
President Trump has repeatedly claimed without evidence that the election results will be fraudulent and has also refused to commit to a peaceful transfer of power, something that has both Guerra and Genovese worried.
"I've never in my life have worried about a candidate not turning power over," Genovese said. "A lot of countries worry about this, but this is the first time we've had a candidate who says, 'I will not abide by democracy.'"
Chloe Gorman, a junior English major from Maine, is concerned as well.
"With everything that Trump has said about 'waiting and seeing' how the election results turn out, I am worried," said Gorman. "But I'm hoping our democracy will step in."
Many students also expressed a similar unease, citing lack of faith in the current president, and a strong desire to see change in the country as a primary reason for taking a stance against him by voting for Joe Biden. However, other students remain unpersuaded by either candidate.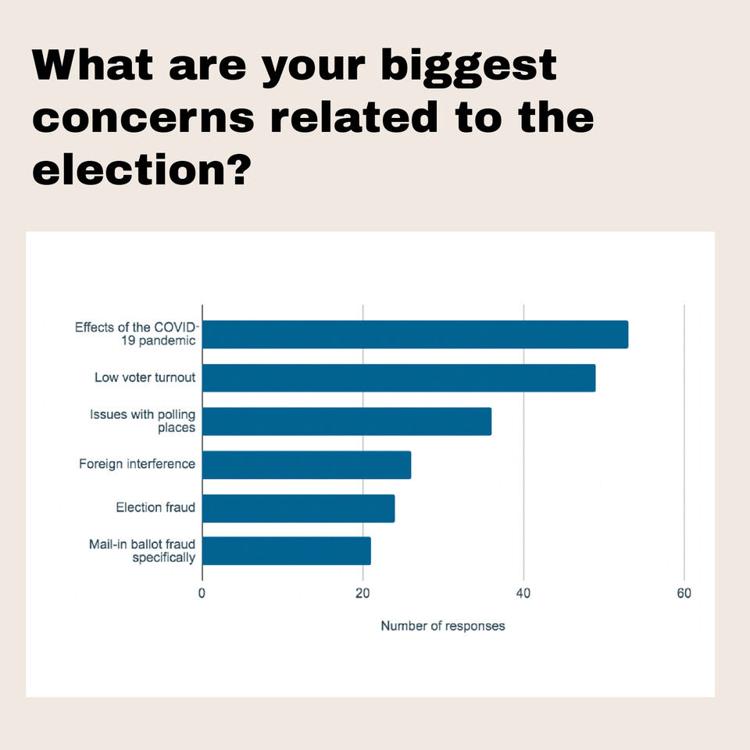 "I'm really split. I don't consider myself Democratic or Republican," said Maya Kalach, a sophomore management and leadership major from Washington. "I don't really stand for either as president, so I would feel bad voting either way."
Genovese thinks it is important for students in such situations to consider the implications of their vote beyond whether they like the candidates or not.
"One of the things that people need to think about is that the election is not between the ideal candidate and a monster, it's between two flawed human beings," Genovese said. "You just have to decide on who is likely to do the best."
Environmental issues are one of the focal voting points of this year's election.
"One of the biggest issues that will come out of this presidential race is who is going to be the steward of the environment. There's a dramatic choice between Joe Biden and Donald Trump," Genovese said. "So, if you're concerned about the air you breath and the water you drink, this is a seminal election."
Genovese points out that many of the issues at stake in this election will have the greatest impact on young people, and he encourages all people, especially young people, to exercise their right to vote.
"All of these issues are going to be more dramatic for younger people. I understand them and I care about them, but they're not going to impact me as much," Genovese said. "They're going to have the most impact on you [young people]."
In addition to the environment, many students expressed concerns about racial justice and systemic racism.
Although young voters have been criticized for not showing up to the polls in the past, Calista Herrera, a senior theology major from Tennessee, is confident that her peers will make their voices heard through their ballots this year.
"I do have really great faith in our generation and young people, and I really think, especially with everything that is happening with Black Lives Matter, people are starting to realize that part of figuring out these issues is by voting," she said.