The death of Supreme Court Justice Ruth Bader Ginsburg has resulted in an outpour of mourning and tributes across the country, as well as conflict surrounding her now-vacant Supreme Court seat.
The proximity of Justice Ginsburg's passing to the upcoming presidential election on Nov. 3 has led to a debate, largely along partisan lines, about whether a new justice should be nominated and put through the confirmation process prior to this date. According to Loyola Law School professor and constitutional law scholar Justin Levitt, this is not something that would have been contested prior to 2016.
"Up through 2016 I think it was expected that if the president nominated somebody, the Senate would undertake their obligation to at least consider that person no matter when it happened—the president was the president up until Jan. 20," Levitt said.
In 2016, Republican majority leader Sen. Mitch McConnell refused to schedule a hearing for then-President Obama's Supreme Court nominee following the vacancy left by the death of Justice Antonin Scalia in February of that year. McConnell cited the approaching election as his justification for this decision.
"In 2016, the Republican leadership of the Senate told us that there was going to be a new rule: in the final year of a presidential term they were going to let the voters decide in the upcoming election about the composition of the court by taking as a signal who they elected," Levitt said. "Now, it seems that an awful lot of Republicans have decided that is no longer the rule."
According to Allan Ides, another professor at Loyola Law School, there is nothing in the Constitution prohibiting Republicans from forging ahead with the confirmation process, however, their decision to do so worries him for other reasons.
"I think it is politically hypocritical. It makes it seem like the reasoning Congress gives for doing something is not the actual purpose, it's just a cloak for the exercise of power," Ides said.
Levitt agreed. "What they're doing now is actually consistent with the Constitution, but it is hard to swallow given what they said the rule was in 2016. It boils down to: 'If we can, we will,'" he said.
"'If we can, we will' is a pretty bad argument for government," Levitt said.
With the opportunity to confirm a justice appointed by President Trump, Sen. McConnell is disregarding the precedent he set in 2016 to not hold a hearing in the same year that an election is scheduled. Aaron Caplan, another professor at Loyola Law School, sees potential harm in this action.
"For a governmental system to work, you have to have people of generally good will operating it," Caplan said. "If people are committed to getting every last advantage, we're in trouble."
Additionally, Levitt is concerned by the pace at which Republican senators are pushing forward with the process and the number of them who have already committed to supporting President Trump's as-yet-unnamed nominee.
"The Senate has the responsibility to actually consider the nominee," Levitt said. "It's a little disturbing in that vein that the chairman of the Senate Judiciary Committee has already announced that they have the votes to confirm even before we know who that person is—that shows you that something is not working in the basic constitutional process."
Levitt, Caplan and Ides all see significant underlying issues with the Supreme Court justice appointment process that are being highlighted by the current situation.
"What is happening right now is a symptom of a diseased process that in the last 30 to 40 years has become so highly partisan and politicized that I think it's damaging the court as an institution," Ides said.
All three professors think that a potential solution would be to redesign the system altogether. According to Levitt, the Constitution allows for such a potential transformation.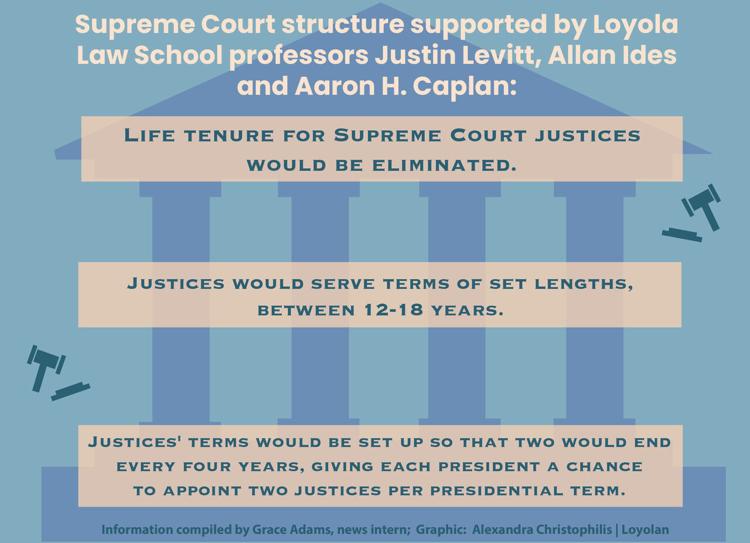 "Given the partisan slugfest this has become, I actually think we'd be far better off with a different Supreme Court entirely," Levitt said.
Ides believes that a new structure could help make the process less partisan.
"I think that the Constitution should be amended to eliminate life tenure and to create a system in which Supreme Court justices are appointed for a specified length of time," Ides said. "If you worked the math out properly you could set it up so that every president during a four-year term would have the opportunity to appoint two justices."
Although the professors' opinions differ slightly on the ideal term length and whether the number of justices should remain set at nine, they all support this general concept.
"It spreads things out, it lowers the stakes, and we will not have the same kind of drama that we are having now," Caplan said. "And I don't think the drama is good for the country."
For the time being, because voters view the Supreme Court vacancy as a deeply important political issue, Levitt thinks it is likely to influence the upcoming election.
"I think that all of a sudden the campaign has definitely become about confirming a new justice and that a lot of voters feel very passionately about the court as something that drives them to the polls," Levitt said.
While he acknowledges that the vacancy is a critical issue, he hopes that Justice Ginsburg's legacy will also be remembered and honored.
"It's equally important to remember not just that she filled a seat on the Supreme Court, but how she filled that seat and what she stood for," Levitt said. "She was a lion for the rights of marginalized communities everywhere, foremost among them women. Her presence on the court will be missed."