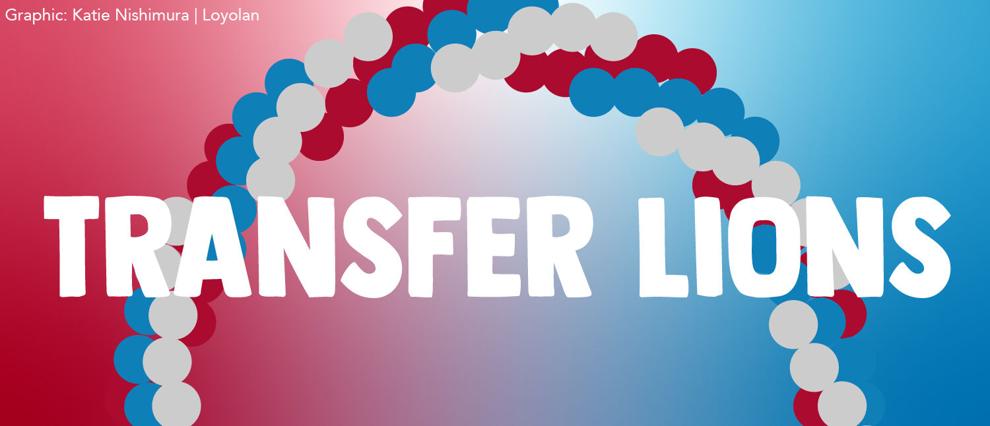 Oct. 18 - 22, 2021 is National Transfer Student Week (NTSW). Hoping to "build awareness of common transfer barriers and the diverse student needs and identities within our transfer populations," according to their website, this year's NTSW also celebrates transfer students in light of the challenges many faced during the pandemic.
Erin Schroeder, senior psychology major and president of the Lion Transfer Network (LTN), said "National Transfer Week is a great opportunity for the entire community, not just within LMU, to bring awareness to the transfer student population on campus." Schroeder said that National Transfer Week increases the visibility of transfers and is "a great way to show transfer students that they are seen and recognized on campus."
LTN has celebrated the occasion throughout the week with events and programming, such as a crosswalk photo booth and a transfer barbecue, which will be held on Oct. 22 in Sunken Gardens from noon to 2 p.m.
"We usually have to [prepare] a good amount beforehand in order to set up a good event in honor of the transfer population," said Schroeder. LTN also works with Transfer Programs, which is an office that provides resources for transfer students, to plan the week's events. "It's a special time for us because the events have a very celebratory tone and it is exciting for us to explore different kinds of opportunities and meet many new transfers," said Schroeder.
Schroeder is a transfer student herself and finds her experience similar to what other transfer students face. "My experience as a transfer student has been as unusual as they tend to be. Most transfers have many jumps and leaps that take them to wherever they end up transferring," she said. Schroeder attended four different colleges, "some even at the same time before ending up at LMU."
Unsure of what she wanted to do after high school, she attended community college to explore her options. "Being a transfer student can be a lonely experience. In community, there is a common statistic that is thrown around a lot – that 70% of students in community will not transfer nor graduate. It's not a very encouraging number," said Schroeder.
She said she was surprised to be accepted into LMU because "compared to other universities, transferring to LMU is a bit challenging."
Schroeder said that her first year at LMU was difficult due to the virtual environment. She went on to say, "It was a whole new experience to navigate and figure out how to socialize, study and get involved. It was a learning experience for sure."
After getting involved with the community, however, she said she feels that she has grown "close with LMU, from my peers, professors and faculty. It's a wonderful place to be and I am so glad my unusual transfer experience led me here."
According to Schroeder, one of the biggest challenges for transfers is finding a community and a place to belong on campus. "Whether someone is transferring from another university or a community college, coming into a new university, it can be difficult to navigate your way through the new environment," she said.
Transfers often enter their new university, where their class has already been acquainted with one another. "It may not feel as welcoming as it may have been freshman year," said Schroeder.
Schroeder said that there are also misconceptions about transferring that non-transfers may not know they are perpetuating. "Lion Transfer Network tries to combat this by having transfer students feel heard and seen. We are all transfers, we understand the anxieties of coming to a new college, as well as the stress of acclimating to a new academic system," she said.
This community can relate with one another on applications, "issues with other colleges provide a stepping stone to the first major transition into LMU," she said.
"As a transfer, the hardest part is taking the first step to get involved, and LTN tries very hard to make that first step go as [smoothly] as possible," added Schroeder.
Schroeder said that people often look down on community college, and "the most common comment is that transfer students just weren't good enough to get into university from high school, or that they are troubled in some way and that's why it took them so long to get to college."
According to her, it is difficult to make connections while combating a misconception that transferring is the result of negative traits or circumstances.
"It's also easy to assume that all transfer students are juniors coming from community college, when this is not the case. LMU has a pathway program with [San Mateo Community College]," said Schroeder. She said many students transferring to LMU use this program and transfer as second-years.
"Also, many transfer students are international students," added Schroeder. "The list could go on and on, but to put it simply, transfer students are a very vast population with lengthy stories of how they were led to university. They all have unique tales to tell that I hope one day can be highlighted and explored."
Schroeder said that LTN struggled to motivate students during remote learning, and "coming out of the pandemic, we were a bit concerned of what kind of reaction we would get from transfers."
However, she said she was pleasantly surprised during the LMU Involvement Fair, as there was a larger turnout than expected of students who were interested in the organization. LTN was also met with a larger number of applicants than they anticipated during their recent executive board meeting, according to Schroeder.
"Each year LMU accepts more and more transfer students, and with each cohort the requirements and expectations for transfers get higher and higher," she said.
Schroeder said LMU students should know that transferring is "a lot more complicated than it may seem." There are many ways a student can transfer and multiple steps in the process depending on an individual's situation.
"LMU is a very competitive school for transfer students, with an acceptance rate around 30% admitted. And even when you pass that first level, it's a whole other challenge to step into a new university, meet new people and get involved," said Schroeder. She said she wishes there were not assumptions about transfers exacerbating the difficulty of the process.
"At the end of the day, we are all still students all together at the same institution. Even with our differences, I think we are much more vibrant together with them," she said.
For Schroeder, "LMU has been a very warm and welcoming university for me as a transfer student." She hopes transfer students after her can enjoy the same experience, as "LMU, in specific, has been wonderful with giving time to transfer students and attending to their concerns and needs."