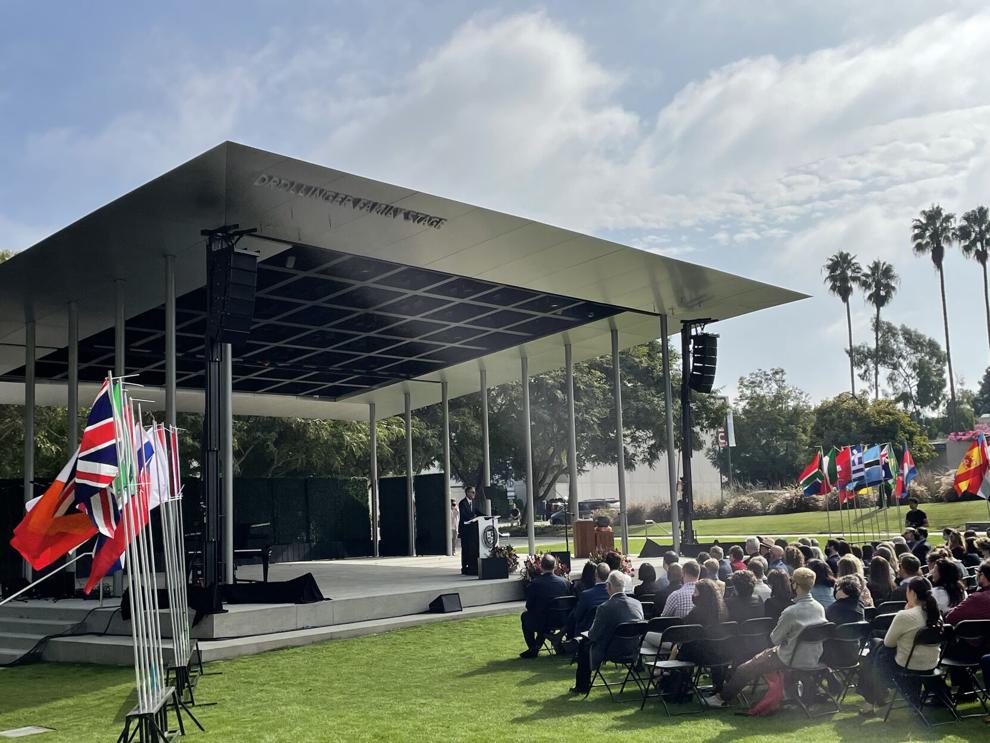 On Tuesday, Nov. 16, President Timothy Law Snyder, Ph.D., delivered his fall 2021 convocation address. His address was the first event to be held at the newly constructed Drollinger Family Stage. In his speech, he highlighted the theme "Realizing the Impossible," and spoke to LMU's return to in-person instruction and Diversity, Equity and Inclusion efforts.
Provost Thomas Poon, Ph.D., spoke before Snyder about coming back stronger than ever, despite the obstacles the pandemic provided. To support his claims about LMU's current strength, Poon cited statistics about LMU's endowment and application pool, which are higher than ever. Surrounding the stage were flags representing all the countries that LMU international students are from, symbolizing the unity of LMU's student body.
The ceremony opened with an acknowledgment of Tongva land and the Tongva peoples. Following this acknowledgment, there were dedications to the attending stakeholders.
"As our friend and 14th president Bob Lawton … once said, 'Hilltops are for dreaming.' To that, I add: for dreaming up — and realizing — the impossible," said Snyder.
Snyder gave his praise to LMU's staff and faculty for their efforts throughout the COVID-19 pandemic. "Imagine had we predicted the pandemic and its dynamics and divined in advance that we would accomplish all these things and more." said Snyder, "I'm sure many of us would have used the 'I-word.'"
Regarding the impossible tasks accomplished by the LMU community throughout the pandemic, Snyder mentioned how the faculty provided a "world-class education" and how students pursued research and social projects.
Snyder reflected on the growth and development of LMU's campus over the years, from the acquisition of University Hall, the building of William H. Hannon Library, the Life Science Building and LMU's Playa Vista campus.
Paralleling LMU's 2021-2026 Strategic Plan, Snyder outlined three goals: inclusion, innovation and 'global reach and impact."
In terms of inclusion, Snyder acknowledged recent claims that "LMU has succumbed to 'political correctness.'" He asserted that these claims are false and LMU's work towards inclusion is in line with their mission. Snyder referred to generation Z as the "solidarity generation," saying that ensuring equity for all is necessary in order "to be ready for the future."
When discussing innovation, Snyder spoke about our rapidly changing world, which he believes should be reflected in LMU's curriculum. He believes that LMU's placement in Los Angeles allows for this, as well as the continuation of interdisciplinary education.
Snyder also shared how LMU is working to achieve a global reach by providing global perspectives."We can be proud that our Office of Global-Local Initiatives and our participation in the American Council on Education's Internationalization Laboratory program are expanding our global footprint and are enriching our students' experiences and their potential to engage the world they are preparing to enter ... with vigor."
"Our strategic plan and our campaign offer immediate opportunities for innovation," said Snyder. He continued by promising to secure "gifts to construct an Engineering Innovation Complex and a new Center for Performing Arts."
Following the address, Jeremy Lee, senior economics and music double major, said, "As far as LMU growing more diverse, I definitely think there's an effort, things like releasing the new Black student space and initiating all the various anti-racist policies at LMU. While there's still a lot of potential and progress to be made, I think it's definitely an important step."
"[I love that] he addresses the pushback, but he talks about how ... it actually is pushing the mission forward," said Olivia Rodriguez, Interim Director of Chicano Latino Student Services (CLSS) and LMU 2015 alumna.
"We will realize the impossible, be it known or yet to be known, together, as we always do," said Snyder in his closing remarks.