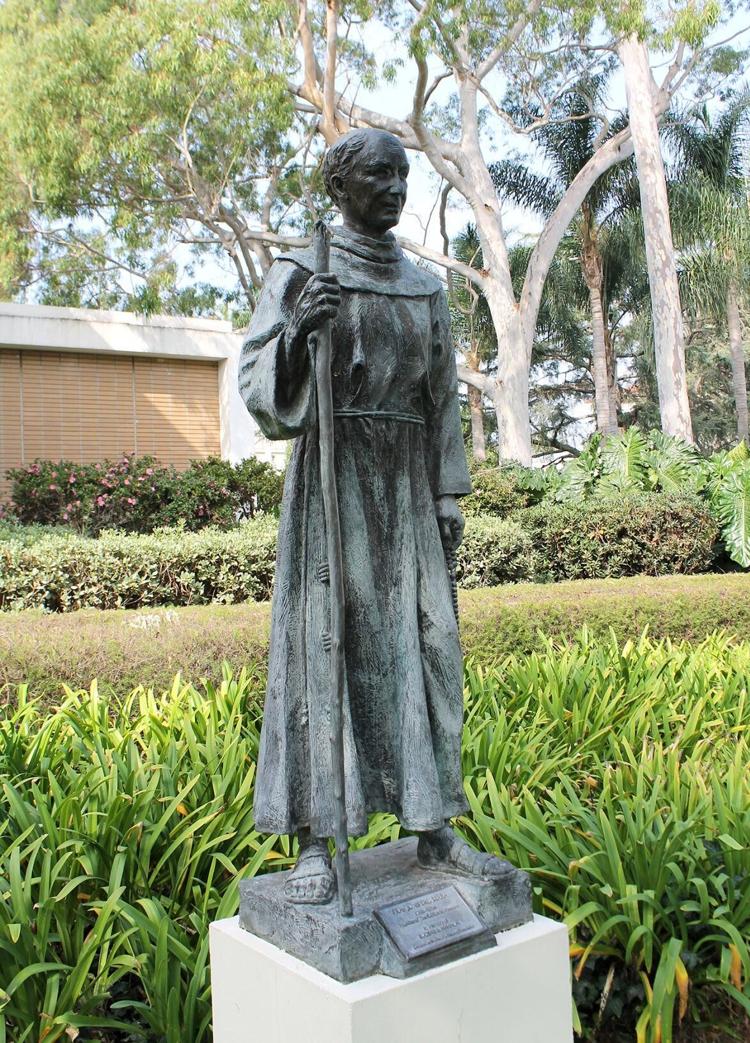 Following the removal of the Father Junipero Serra statue over the summer, LMU recently announced its plans to reinstall the figure in a location on campus that has not yet been determined. The University explained their decision to reinstall the controversial statue in the Oct. 19 edition of LMU This Week, which states that the removal of the statue was a part of a relocation plan they conceived "in response to community conversations and recommendations."
Over the summer, Agency LMU reported on the statue's removal after an Instagram photo showing an empty grass space where the statue once stood surfaced. The article says it is unknown when the statue was first removed.
According to LMU This Week, "The Father Serra statue is currently being evaluated for weather-related wear-and-tear repairs and will be reinstalled in a yet-to-be-determined location."
In a statement to the Loyolan, Senior Director of Public and Media Relations Erin Bossen said, "We are considering options to place the statue in an educational context, like an exhibit, where we can more effectively present Father Serra's competing meanings and impacts on California's history, Catholicity, and the indigenous peoples and Latina/o and Latinx Catholics in the region."
Throughout the summer, Serra, who is credited with establishing the Franciscan missions in California, has been the focus of many Indigenous-led protests. At a demonstration on Olvera Street, a marketplace known for its celebration of Mexican culture, Indigenous activists tore down the statue of Serra and covered the hands and feet of Serra in red paint.
As reported in a Loyolan opinion article, California missions violently converted Indigenous peoples to Catholicism through whippings and other methods of torture. During this process, many diseases, such as smallpox and measles, spread through the missions, killing hundreds of Indigenous individuals. The mass killing of Native Americans and the destruction of their culture has been called a genocide by many activists.
In response to the statement released in LMU This Week, history professor Elizabeth Drummond said, "Statues and monuments are not history, but rather forms of commemoration that venerate certain individuals and their actions. They tell us about the values of people who put up the statues."
"How we recontextualize the Serra statue thus says a lot about the values we hold as an LMU community. In thinking about the Serra statues, here and elsewhere, we cannot ignore the effects of settler colonialism and the missions on Indigenous Californians," said Drummond.
According to LMU This Week, the Serra statue will no longer be commemorated on public display but placed in an environment where Serra's entire history will be thoroughly addressed.
Carisa Aguilera, the external relations leader of LMU's Indigenous Student Union, said, "While Serra may have made contributions to the Catholic Church, he did it through colonization, enslavement, and torture of the native peoples … The only place I can imagine it would be appropriate to house the Serra statue would be in the library archives, where it will not be on constant display."
History professor Amy Woodson-Boulton said, "This is part of a global movement, as we realize the importance and profound bias of so many public monuments, buildings, and places of commemoration and memory –– including historic sites and museums."
Aguilera, a junior sociology, chicana/o and latina/o studies double major said, "In order for LMU to support its Indigenous students and recognize its place in the white narrative of history, it must cut ties with its problematic past."
Similarly, Drummond said, "History is a discipline that embraces complexity, and we should do that with Serra –– and that means talking about Serra in the context of Native American history."
Drummond says she hopes the relocation and recontextualization of the Serra statue will aid in discussions about his controversial past as it is less seen as a monument and more as a museum piece that aims to educate.