The COVID-19 pandemic has caused many shifts in LMU student life, including Student Psychological Services and the way students are able to interact with the office. Student Psychological Services (SPS) is operating remotely for the fall 2020 semester. According to Dean Terri Mangione, SPS is currently offering telehealth services, where students can have sessions via phone call or Zoom.
However, according to Dean Mangione, telehealth services are limited to students currently residing in California. One way SPS is reaching out to out-of-state students is by hosting a series of wellness groups in September. These discussion groups are available to all LMU students regardless of their location.
Some of the group sessions include a discussion group for first-year students, an LGBTQ+ discussion group, an Asian American and Pacific Islander women discussion group, a "Sistah Chat" for African American women and more. All of these wellness groups can be found on the SPS website.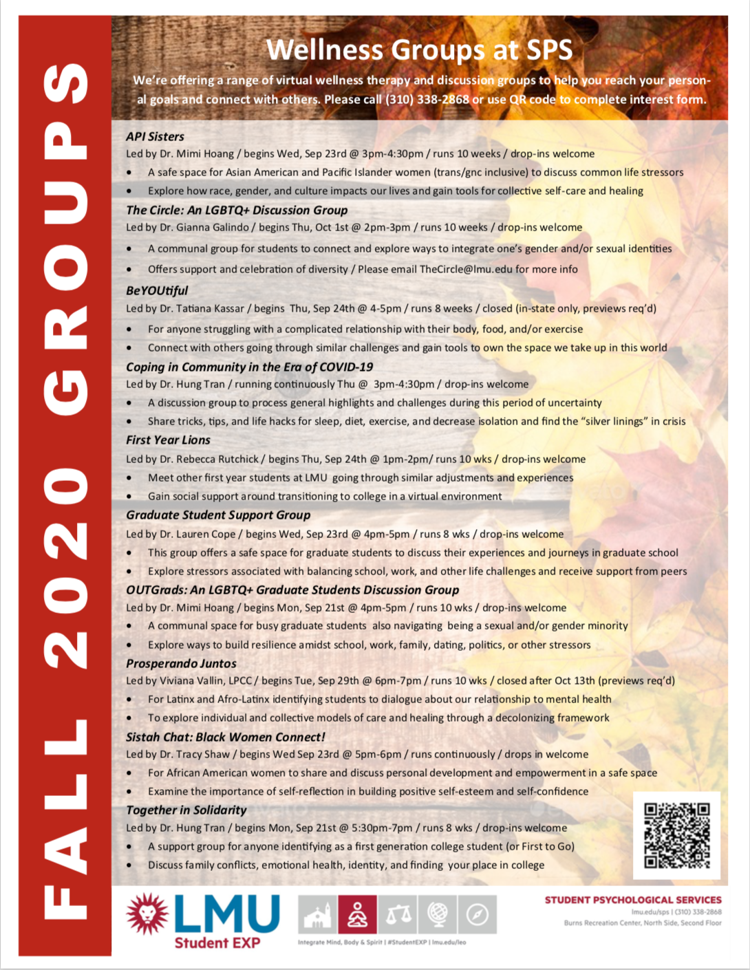 Out-of-state students can also contact wellness educators, who will assist them in finding the appropriate services and resources in the state they are currently residing in, according to Dean Mangione.
Rebecca Rutchick, the coordinator of the wellness educator program, said, "Wellness Educators (WEs) are student volunteers who are passionate about spreading knowledge and reducing stigma around mental health issues among their peers."
According to Rutchick, WEs are trained and supervised by SPS staff as they give virtual presentations on topics such as anxiety, depression, body image and more.
Additionally, SPS will still be working its previous hours which are Monday through Wednesday 8 a.m. to 7 p.m. and Thursday and Friday 8 a.m. to 5 p.m.. However, as Dean Mangione explained, for students with questions or concerns that occur outside of those regular hours, they can still call the SPS office and will be referred to a service called "ProtoCall."
According to Dean Mangione, ProtoCall is a 24/7/365 service where "the person will talk with them, make an assessment and then do follow-ups from there." Mangione said, "Dr. Kristin Linden, who is the director of Student Psychological Services, gets a report and does follow-ups as well."
LMU's Center for Student Collegiate Recovery is also still offering services during the pandemic. The office "provides a comfortable space and supportive community for students in recovery or seeking to create and sustain improvements in their wellness."
Bradley Smith, the director for the Center of Student Collegiate Recovery, said that Recovery at LMU is operating "approximately 15 online meetings a week … the idea is you don't have to stop to start, but what you have to do is connect. So our real resource is aligning students with relationships, not with ideas."
In response to being asked about the potential effect the pandemic is having on students, Dr. William D. Parham, a professor in the counseling program in the School of Education as well as the director of the doctoral program in Educational Leadership for Social Justice, said, "I think there is going to be, as we have already begun to see, increased evidence of depression, anxiety, uncertainty [and] confusion."
An article by Forbes discusses a study done by a group of Dartmouth researchers which concludes that college students are significantly more depressed and anxious following the COVID-19 outbreak. The study used different factors such as cell phone data and self-reported symptoms to derive this conclusion.
Additionally, the Center for Disease Control and Prevention (CDC) released data showing the heightened mental health complications that young people, ethnic minorities and essential workers have experienced due to pandemic-related stress.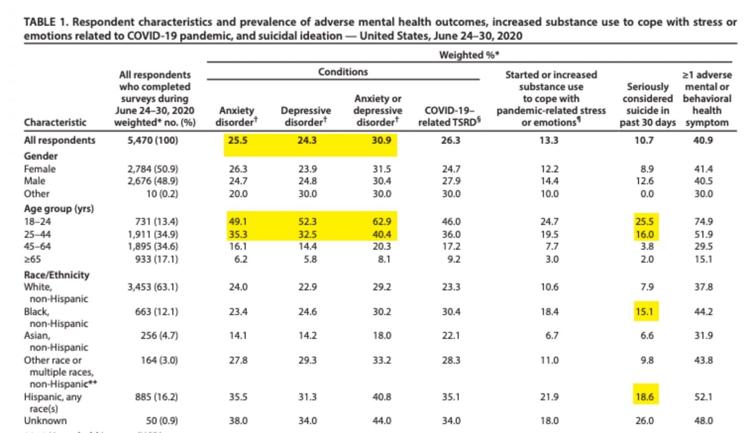 With National Depression Screening Day (NDSD) fast approaching in October, WEs plan on running an event that will provide more information on both depression and SPS resources. Rutchick said, "NDSD began as an effort to increase awareness of symptoms of depression and to share resources available to those suffering." More information on Wellness Educators and their events for the year, including information on NDSD, can be found on their Instagram @we.lmu.
For students attempting to manage their stress levels amidst the pandemic and remote learning, Smith said, "I think the big trick is to have some way, some meaningful and useful way, of having self-evaluation... Name your challenges. If it's mentionable it's manageable, but we have to mention it to ourselves first."
Similarly, Parham said, "Maintaining fitness regimens, maintaining nutritional regimens, maintaining the way in which one practices one's faith. All of those things are important because those are the things you have control over, much of the world you don't have control over."
National Depression Screening Day takes place this year on Oct. 8 and will be addressed by SPS and WEs in the upcoming weeks. Additionally, for the month of September, students are able to register for the wellness groups that most align with their needs and identities on the SPS website.