Will the return of a Catholic to LMU's top position steer the University in a different direction?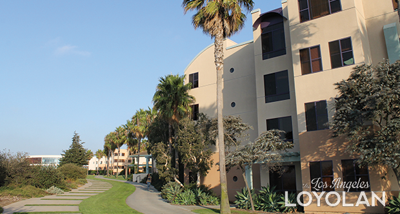 Less than two years after the New York Times reported a "battle for the university's soul" underway at LMU, the University has appointed its first lay Catholic president in Dr. Timothy Law Snyder.
The debate over covering faculty members' elective abortion under LMU's healthcare coverage ­– the subject of the New York Times article – has been the centerpiece in a variety of controversies surrounding the school's religious identity during the five-year tenure of current president David W. Burcham.
Burcham is notably the first non-Catholic president of the University, which has been led by Jesuit priests since its founding. Does the return of a Catholic to LMU's helm mean a new direction for the school?
THE DECISION
Although the University's official announcement did not state that Snyder is Catholic – that was later reported by the Los Angeles Times – it made clear that his selection is in part intended to bolster LMU's role as a participant in and promoter of the Church.
Board of Trustees Chair Kathleen Aikenhead, in her announcement to the LMU community, emphasized that Snyder had the full support of local Catholic leaders. Father Michael Weiler, leader of California's Jesuits, and Sister Joan Treacy, leader of the Religious of the Sacred Heart of Mary for Western America, were specifically named. Archbishop José H. Gomez of Los Angeles, who oversees the largest Roman Catholic Archdiocese in the country, lent his voice to the message as well.
Snyder has worked at three Jesuit universities and is a professor of mathematics and statistics at Loyola University Maryland. This experience, in addition to his personal involvement in the Church, makes him uniquely positioned to lead the University. The Society of Jesus – members are referred to as Jesuits – is one of LMU's sponsoring religious orders.
"I know Dr. Snyder well. He is quite religious and in a way that sees the relationship between religion and academic excellence," said Father Robert Lawton S.J., who served as LMU's president for ten years before Burcham. "He has spent his entire academic career at Jesuit institutions and knows the Jesuit tradition well."
Although the presidential search committee considered LMU's religious identity in the selection process, many factors were prioritized over the personal faith of candidates, according to senior theology and political science double major Alyssa Perez. Perez, who currently serves as ASLMU president, was the only student on the committee.
"We weren't so narrow-minded that someone had to be Catholic or have experience in a Jesuit school, but it only helped his case," said Perez. "He's not just able to read our mission and talk it; he's able to say how and why, because he's lived it."
WHAT IS "CATHOLIC" EDUCATION?
Conservative groups like the Cardinal Newman Society and RenewLMU have consistently criticized LMU for what it sees as compromises to the University's mission. Aside from the debate around abortion, points of contention have included hiring non-Catholics to top administration positions, the decreasing number of Catholic students and faculty and allowing a 2012 performance of "8," a play that advocated for same-sex marriage.
These events may be seen as part of a bigger picture of the declining influence of the Catholic Church in America. The percentage of Catholics attending Mass once a week fell from 47 percent in the 1970s to just 24 percent by 2012, according to a study by Pew Research Center. According to a 2009 study, those who have abandoned Catholicism outnumber converts to Catholicism four to one.
For many others at LMU, the supposed controversies of Burcham's presidency are anything but a watering down of Catholic values. Rather, promoting the understanding of many beliefs on campus may be the direct demonstrations of the University mission.
"Catholic schools can be, should be and are schools that welcome people of all faiths," said Patrick Furlong, LMU's director of global Ignation academic initiatives.
"We sing 'All Are Welcome' in Mass and we have a chance to live that out by welcoming our brothers and sisters from other faith backgrounds saying, 'Here, we respect your faith. We welcome you into this intellectual community.'" Furlong said.
THE NEXT STEPS
Snyder's background suggests that he is likely to continue to lead LMU down a path that follows this model of Catholic education, seeing a wide range of practices as expressions of a deeply rooted institutional faith.
"He is a devout Catholic but also has great respect for other religious traditions. He also respects non-believers," said Lawton.
Burcham will be leaving to Snyder a university well positioned to explore its Catholic identity. During his tenure, LMU adopted a strategic plan that included a blueprint for "advancing LMU's role as a premier
Catholic university in the Jesuit and Marymount traditions."
The Academy of Catholic Thought and Imagination, the Center for Catholic Education and the CSJ Center for Reconciliation and Justice were all established under Burcham's leadership, in an effort to "deepen engagement with the Catholic intellectual tradition," as stated in the strategic plan.
According to Snyder, one way he hopes to strengthen LMU's identity will be to "help ourselves understand how what we do is rooted in our Catholic identity, and help others understand how what we do and how we succeed are rooted in those identities as well. That would be a first step."
"Many of our students, our faculty, our staff and administrators are doing things Ignatian day in and day out," Snyder said. "Quite often we forget to realize that we are doing that."