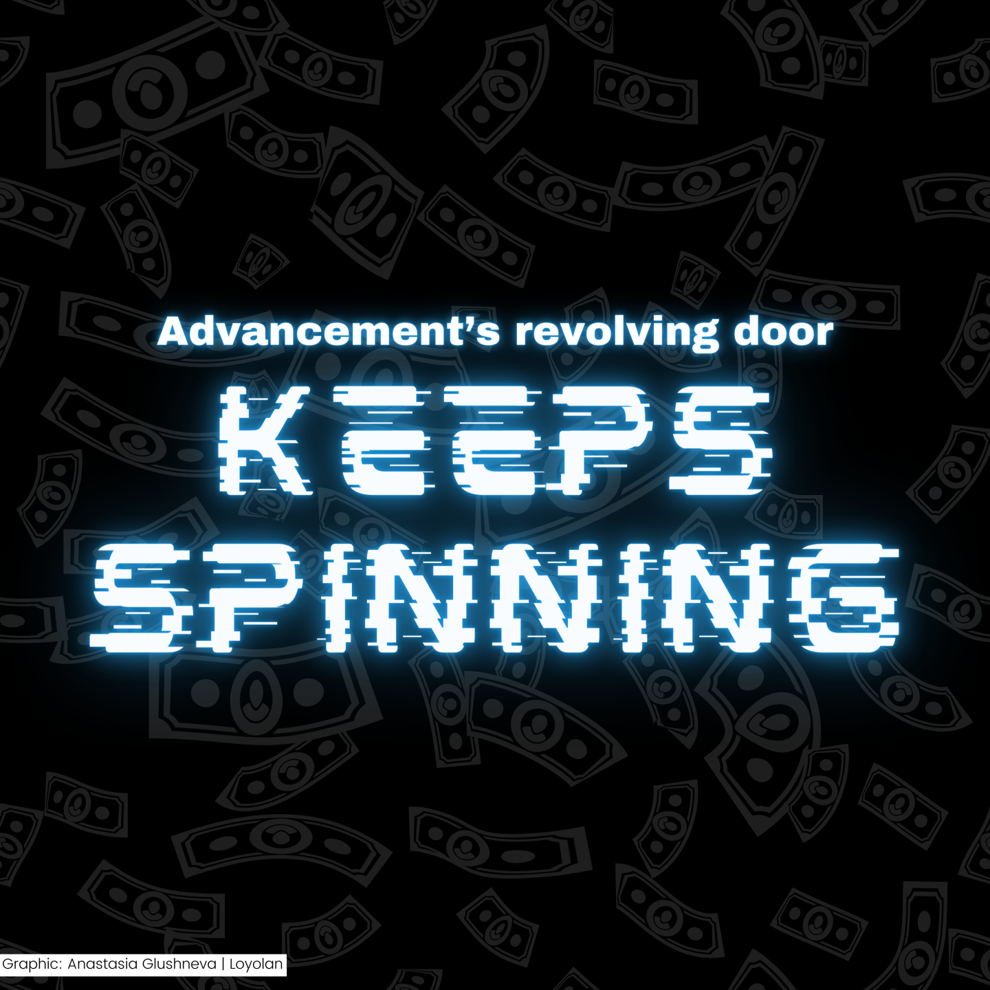 Buried deep within the "LMU This Week" website, on Sept. 11, LMU quietly ushered out John Baker, senior vice president (SVP) for University Advancement (UA).
Baker came to LMU in July 2019 with impressive credentials: At the University of Utah Health, he nearly tripled philanthropic giving in FY 2017; prior to that, he raised $1.5 billion for USC's Keck Medicine Initiative and launched a successful $110 million campaign as VP for Advancement at Loyola High School. President Timothy Law Snyder, Ph.D., described him in a 2019 press release as "a talented, experienced fundraising leader who will invigorate LMU's University Advancement team."
Unfortunately, despite a generally healthy stock market during LMU's 2019 fiscal year, the University's reported endowment—a major funding source for operations, infrastructure, student scholarships, faculty, staff salaries and research—decreased from $477.5 million to $476.2 million. Clearly, as they say in financial planning, past performance does not guarantee future returns. Not only did we fail to raise money, we spent into our principal.
But was Baker's departure the solution? Or does the root of the problem lie higher up? Historical context may help. In the two years before, LMU saw the removal of UA SVP Dennis Slon and interim SVP Kristine Wade. Dating back to 2015 and adjusted for inflation, LMU's endowment suffered a net loss in real purchasing power of about 1%, or $4 million.
2015 is a significant benchmark because this was the year LMU entered a new era of leadership under President Snyder. Snyder has made waves with blustery speeches, crafted tweets and restructuring throughout the University organizational chart at the highest levels. Yet, one of the principal jobs of a university president is to raise money to support strategic initiatives.
By that metric, Snyder's term has been an abject failure.
During President Snyder's tenure, LMU's endowment has failed to even keep pace with inflation. This is especially shocking considering that the past five years have seen some of the highest stock market returns in modern history.
Meanwhile, our sister institutions have prospered. From 2015-2019, Pepperdine, Santa Clara, Loyola University Chicago, Marquette, Chapman, the University of San Diego and the University of San Francisco all increased their reported endowments between 16% and 35%. Better financial management and fundraising was not only possible during Snyder's term, it was common.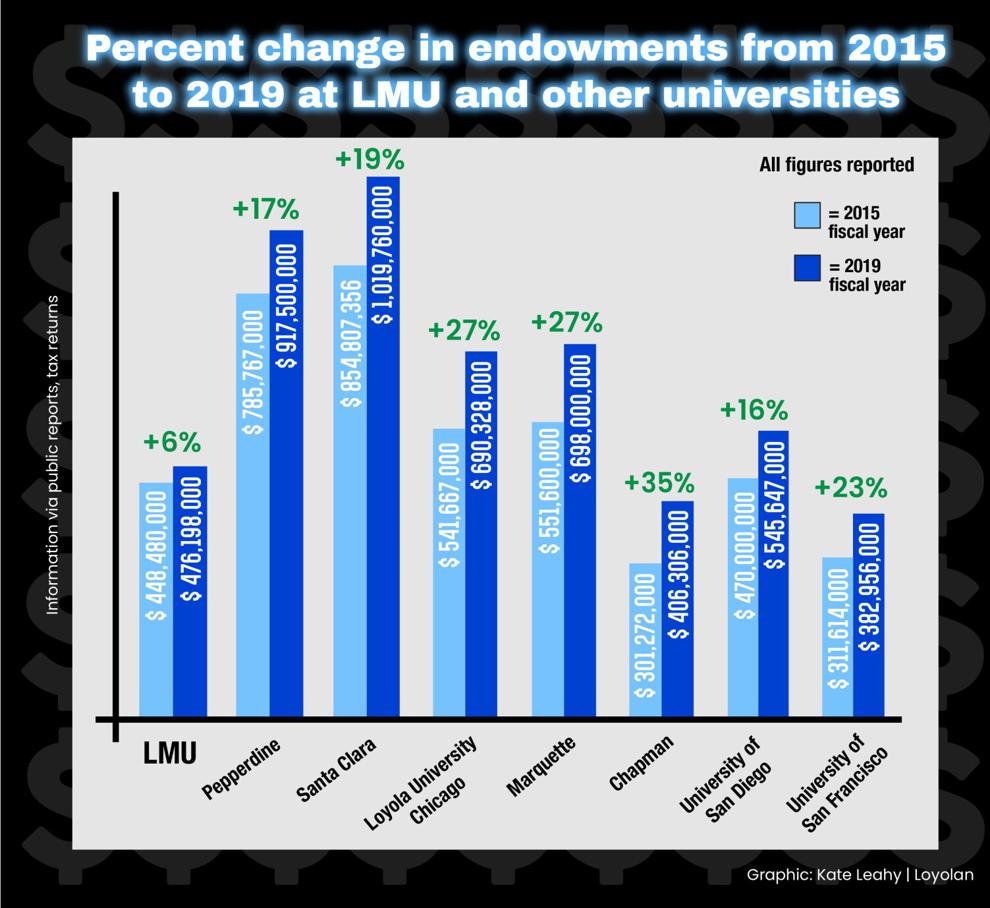 Instead, under Snyder's leadership, the reported endowment increased just 6%, meaning we are effectively worse off after accounting for inflation. Let's put that in perspective. If LMU had increased its endowment by approximately 23%, the average of our comparators' increases since 2015, the endowment would have been about $550 million in 2019. Instead, it sat at $476.2 million by June 2019. That means bad leadership cost LMU $77 million. At a hypothetical 5% return per year, that would have yielded $3.85 million per year in operating funds that could go toward scholarships and alleviating some of the pay cuts, furloughs and layoffs we are now suffering.
To make matters worse, in the past two years, Snyder increased University outstanding debt by almost 60%, from $147 million to $233 million by fiscal year 2019 while financing pet projects (including the widely resisted new visual identity). He committed the University to nearly $200,000 per month in lease payments over the next 10 years for the Playa Vista campus, which now sits nearly empty. In University town hall meetings, Provost Thomas Poon blames our collective problems on COVID-19. But, clearly, our financial problems started brewing long before anyone talked about the coronavirus. And don't let the recent Day of Giving fool you; of the $2.3 million raised, almost one-third went to Loyola Law School and the remaining $1.5 million doesn't make a dent in our endowment shortfall.
Baker's role in shrinking the endowment deserves scrutiny. But a more realistic assessment must include a critical view up the chain of command. Who installed the revolving door in the corner office of University Advancement? Why is the next person to take this seat doomed to fail? Ultimately, an organization's culture, priorities and strategy are created at the top. The buck must stop somewhere — and that is the president's doorstep.
The damage Snyder could continue to inflict on this institution is difficult to exaggerate. The Board of Trustees must have the vision to identify the wellspring of our problems and the courage to make the right call as they decide the fate of our University.
Note: As a 501(c)(3) nonprofit organization, LMU financial statements are part of the public record and may be accessed at bus.lmu.edu/reports/.
This is the opinion of an LMU community member who requested anonymity. Email comments to editor@theloyolan.com. Follow and tweet comments to @LALoyolan on Twitter, and like the Loyolan on Facebook.