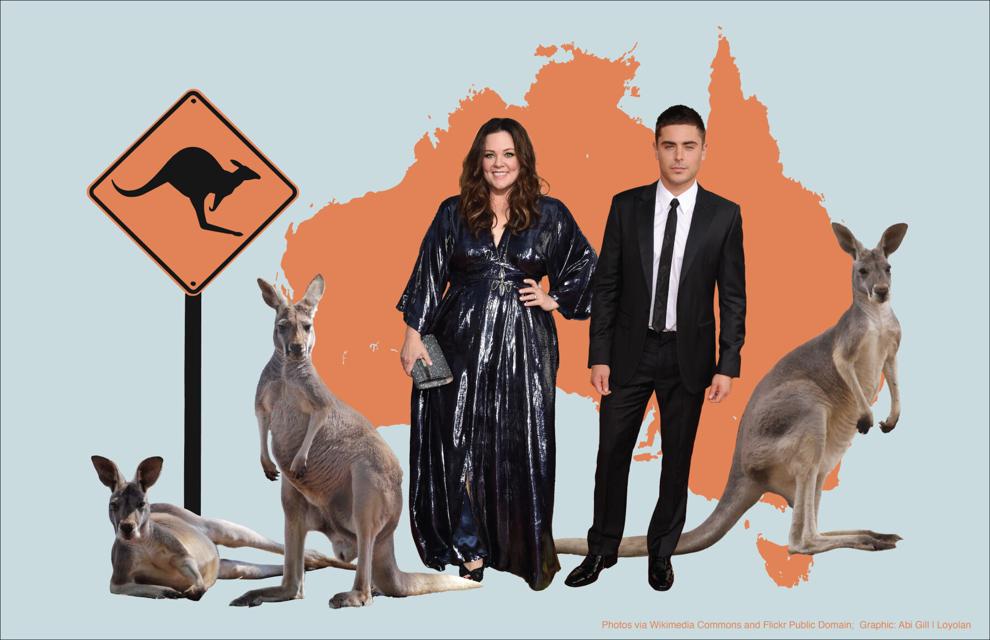 As I was scrolling through my Instagram feed, a post from Zac Efron–– my childhood Disney Channel prince–– caught my eye. I continued to browse through his profile in envy as I saw posts of him caressing a kangaroo and joyously diving into the ocean. Looking at his feed filled with footage from his incredible escapades, it almost appears as if he is living in an alternate universe where COVID-19 does not exist. He is in an alternate universe called Australia
Efron is not alone in this. Posts from the last few months have seen celebrities like Chris Hemsworth, Idris Elba and Matt Damon at a party in Sydney and others like Natalie Portman have been photographed grabbing dinner in Bondi Beach. In what may be the most star-studded migration of the century, many Hollywood celebrities are relocating for the time being to Australia, a country that is recovering from the pandemic faster than anywhere in the world. With an average of 11 daily cases per 100,000 people, Australia is currently an oasis where people can enjoy the closest thing to their pre-COVID-19 life. Combined with the generous subsidies by the Australian government to the film industry–– which is high as an additional $308 million to the already available $106 million–– Australia is also currently the best location for film production. This has attracted more than a few Hollywood directors to begin or continue production here, bringing along big-name celebrities like Melissa McCarthy and Liam Neeson, and bringing Australian actors like Nicole Kidman and Chris Hemsworth home to find an escape from the pandemic.
This obviously has its perks, with movies going back into production and 22 international productions injecting millions of dollars into the local economy. However, it is difficult not to notice the special treatment that these celebrities are receiving, given that the entire reason behind Australia's success in combating the pandemic was its strict border control. Australia is one of the few countries in the world that is barring entry of its own citizens back into their own country. This has left thousands of Australians stranded all across the world, with a hard cap on the number of passengers that can travel into Australia creating a system that prioritizes individuals who can pay the select business and first-class seats. The extremity of this travel restriction has gone as far as to raise human rights violation issues, with multiple petitions and campaigns calling to protect the rights of Australians stranded abroad. The situation is incredibly dire for citizens who have been barred from entering their own country and for those who have been forced to jeopardize their financial well-being to purchase plane tickets well out of their price range. Yet, it is a walk in the park for Hollywood millionaires to have a quick escape from reality.
Although the Australian Border Force claims that this obvious bias and exemption for film production is "considered where there is evidence of the economic benefit the production will bring," it is a clearly classist regulation that allows different treatment for the rich. These rich, famous celebrities are allowed to frolic around in their million-dollar mansions enjoying Aussie parties and freedom from the pandemic, while regular citizens are stranded in a foreign country for months because they were in the wrong place at the wrong time. No amount of economic gain or Oscar-worthy films can validate this unjustness and we must stop giving celebrities special treatment regardless of how talented or famous they are–– even if they may be your childhood Disney Channel crush. Instead, the Australian government should be funding domestic filmmakers rather than Hollywood productions, utilizing their fast recovery as a chance to nurture the Australian film industry into prominence while the rest of the world struggles to catch up in recovery. Who knows, this could lead to the discovery of the new Australian Zac Efron.
This is the opinion of Yukana Inoue, a sophomore film, television and media studies major from Chiba, Japan. Email comments to vbackerperal@theloyolan.com. Follow and tweet comments to @LALoyolan on Twitter, and like the Loyolan on Facebook.