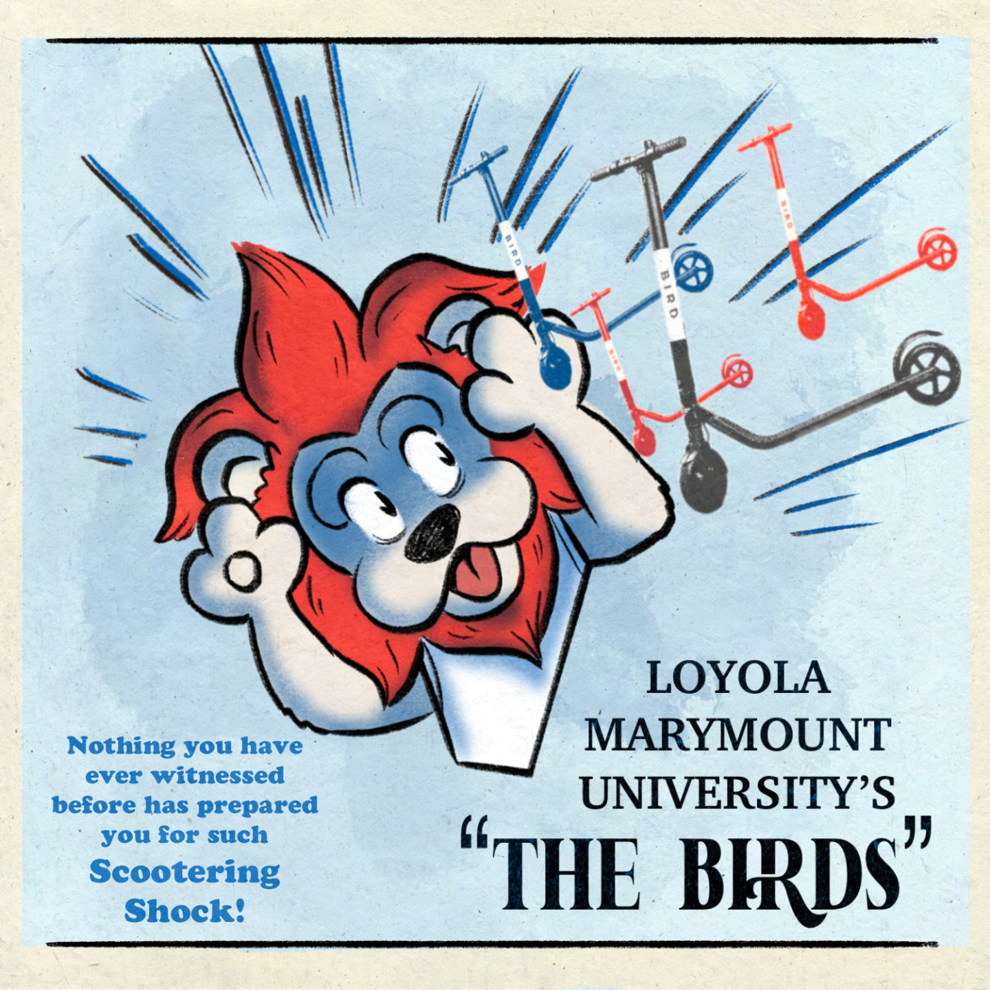 If you've paid attention to the streets of Westchester lately, you've almost certainly noticed the ludicrous number of Bird scooters strewn along sidewalks or being ridden by fellow Westchester residents.
These electronic scooters made a splash back in 2017 and 2018, with the company Bird facing competition with others like Lime, Spin and Wheels.
Anyone who was plugged into the urban political debate at the time likely remembers the harsh divide between, on one hand, e-scooter evangelists angry at the government clamping down on new forms of travel while embracing cars and, on the other hand, safety advocates and city councils concerned over the potential crashes and injuries that these scooters could cause.
Now, it feels like 2018 all over again, with scooters crowding the entrances of campus, nearby businesses or bus stops like they were a brand-new phenomenon. It's only a matter of time before the debate kicks back up again, especially with these scooters encroaching on campus.
Anecdotally, I've even spotted a couple of these scooters inside the University premises, parked outside Iggy's Café in clear violation of campus policy, as, according to Public Safety, "Hoverboards and third-party shared services (such as Bird or Lime scooters, Jump bikes, etc.) are not permitted."
What started out as a temporary ban, as first reported by the Loyolan back in September 2018 when the original scooter debates were hot, has been engrained into campus policy for quite some time now. For a community with a four-year memory, it'll soon be the case where no one will remember the heated debate and anger that led up to Third-Party Electric Scooter Task Force's decision in the first place.
It's certainly been the case that, with campus' reopening, freshmen newly experiencing campus life are finding their own ways of transportation.
"I think I've been using scooters for like around a month now on campus," said freshman information systems and business analytics major Owen Conrad. "It's really convenient in terms of getting to classes sometimes and taking a backway where you're not really interfering with other people."
"It can just save you a trip from like a 15 minute walk to like a five minute ride, which is really efficient," continued Conrad.
"I feel like everyone's been using them around," said freshman biochemistry major Skia Kung. "Just to go to like Lincoln Boulevard, there's like a couple restaurants. No one really wants to Uber there; if they don't have a car, they just scooter there."
More problems have resulted from enacting this ban than from not enacting it. If the problem was taking up space sidewalks on campus, now these scooters crowd sidewalks just outside of campus, making it difficult for pedestrians to enter and turning said entrance into an ugly scooter parking lot.
Rather than encouraging non-car travel and infrastructure, the ban makes cars a preferable alternative where freely available Bird scooters are not allowed. After all, cars haven't been criminalized; it's less of a hassle to have them on campus. This not only encourages car usage, it also encourages giving more space to environmentally scarring parking lots.
The solution at this point is simple: lift the ban, build the infrastructure and enforce the law. It wouldn't even be unprecedented in L.A.
UCLA, for instance, has allowed Bird scooters on their campus for longer than our campus has banned them. Their campus police enforces safety and traffic laws for students who ride Bird scooters the same way they do for bicyclists, according to The Daily Bruin in 2018.
The upkeep of scooters on their campus hasn't been smooth, but the responsible enforcement of safety and embrace of local behaviors reflect a better understanding of movement than currently understood at LMU.
"I don't see any problems with [bringing scooters onto campus], as long as it's like they don't violate anything with like safety of the scooters," said Conrad. "I think most people are capable [to ride a scooter on campus], so like I wouldn't worry about that."
Rather than continuing to enforce a ban that hasn't solved any problems, the University should simply abandon this outdated policy and embrace a harmonic campus built equally for pedestrians, bikers and Bird scooterers alike.
This is the opinion of Cristobal Spielmann, a senior environmental science major from San Antonio. Email comments to editor@theloyolan.com. Follow and tweet comments to @LALoyolan on Twitter, and like the Loyolan on Facebook.