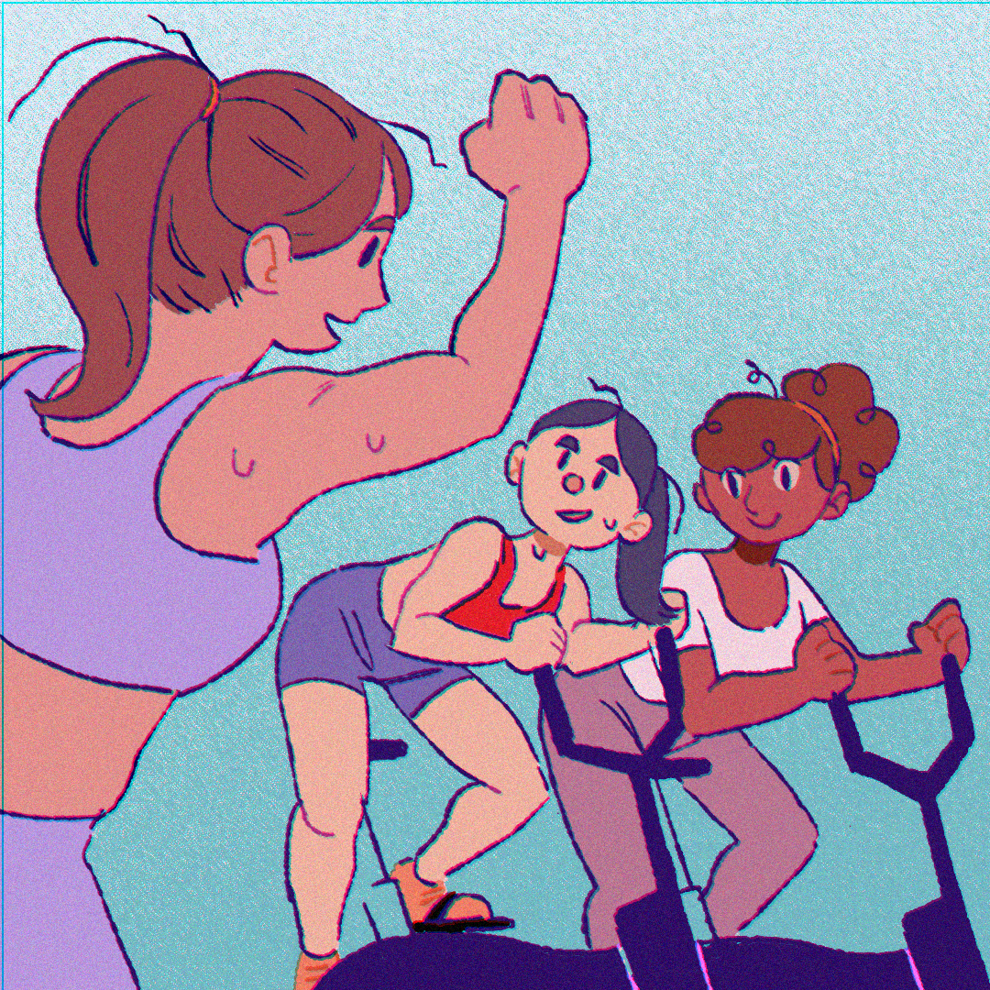 Being healthy in college is hard. For most, it's the first time away from home, away from your parents' cooking with complete freedom in deciding what to eat and when. With late-night study sessions and social activities, we become no strangers to snacking on a bag of Kettle chips and midnight Taco Bell runs. Combined with that, we no longer have our weekly P.E. classes, and many students stop playing sports that they used to play in high school. Numerous studies have shown that during the transition into college, students experience a significant decline in physical activities, with some finding that more than 60% of students report not getting enough physical exercise.
These unhealthy lifestyles in college could increase the likelihood of cancer and other diseases later on in life, especially given that habits developed in college tend to stick with us past graduation. This is why it is critical for us now more than ever to make sure that we develop good habits that keep us as healthy as we can be. Within our busy schedules, we must attempt to find time to go to the gym and get in some physical exercise here and there.
However, this is easier said than done. Especially for individuals who have never been big gym-goers up until now, it is incredibly intimidating to walk into the Burns Recreation Center, trying to navigate how to use all of the machines. I have been there too, where I have walked into the first floor of the gym with the best of intentions, just to turn away and leave feeling unsatisfied, not knowing exactly what I came there to do.
To those experiencing similar woes of being motivated to work out but lacking the concrete game plan of what or when or how to, I have the perfect solution for you: the Burns Recreation Center's group fitness classes.
Offered five days a week at different time slots and taught by certified instructors on the second floor of the gym, it is a great way for students to start getting their bodies moving, even if you don't know where to begin. The classes are free for all Burns Recreation Center members, and are beginner-friendly, with the incredibly engaging instructors helping you out every step of the way. Just because it's beginner-friendly does not mean it's easy, though. I consider myself a relatively active individual with a good number of years playing sports in the past, yet at the end of classes, you can almost always find me out of breath and my body aching in the best way possible.
They host over 30 classes a week, with a wide selection to choose from, ranging from Zumba to cycle bootcamp to yoga. My personal favorite is the F45 (Functional 45 Minute) classes, which is described on the website as a "team-based, functional training program" which "combines elements of High-Intensity Interval Training (HIIT), Circuit Training, and Functional Training." The constantly changing workout allows me to work out different parts of my body every time I attend the class.
Nona Pittman, a junior communication studies and African American studies double major and frequent participant in the group fitness classes, described why she started going to them in the first place. "My freshman year was quite rough. One day I was talking to my mom on the phone when she reminded me of how active I was in high school with school sports, and she suggested I try to work out," she said. "Going to the gym has never been my thing, so when I heard that LMU has group workout classes, I decided I would give them a shot. I was pleasantly surprised to see how much my mood shifted and how good I felt after my first class."
All of the classes are walk-in only, on a first-come, first-served basis, so there is no need to make a reservation and plan ahead of time. To participate in the classes, all you have to do is show up on time to the studios on the second floor, ready to break a sweat. I always decide to go on a whim, whenever I feel guilty for the big meal I had the day before or when I am feeling motivated and have a free 45-minute window in my schedule. You can check the weekly class schedule here.
Another great factor of these group fitness classes is how they are a group activity. Countless research has shown that there is strength in numbers, and working out with a group enhances motivation in completing and continuing exercise routines. Healthy actions are passed on between each other, with studies showing that participants in group fitness classes "gravitate towards the exercise behaviors of those around them." The group setting encourages your competitive side, even unconsciously motivating you to push yourself harder. Studies have shown that when doing a plank with a more capable partner, participants were able to hold it 24% longer than their normal time when doing it alone.
I have experienced it myself; the bond created with fellow students you have never met before after going through an intense workout together is not like any other. I have even made workout buddies in these classes, whom I text every so often to go to F45 classes together. The supportive environment created in the classes with the cheery instructor and equally motivated students makes working out a lot more enjoyable than lifting weights alone downstairs. "The instructors are upbeat and supportive, and they encourage you to push yourself, but still give you the agency to make the workout your own," Pittman said. "I highly recommend giving them a try."
If these arguments are not enough to convince you to at least give group fitness classes a try, a good point to remember is that, as students, these are services that we are technically already paying for with our tuition. Wouldn't we be getting more bang for our buck if we took advantage of these opportunities available to us?
So next time you feel motivated to get a good, efficient workout in, invite your friend or come alone to the second floor of the Burns Recreation Center and join me in a good F45 class. Don't be scared. I promise you, you're going to feel great afterward.
This is the opinion of Yukana Inoue, a junior film, television and media studies major from Chiba, Japan. Email comments to editor@theloyolan.com. Follow and tweet comments to @LALoyolan on Twitter, and like the Loyolan on Facebook.