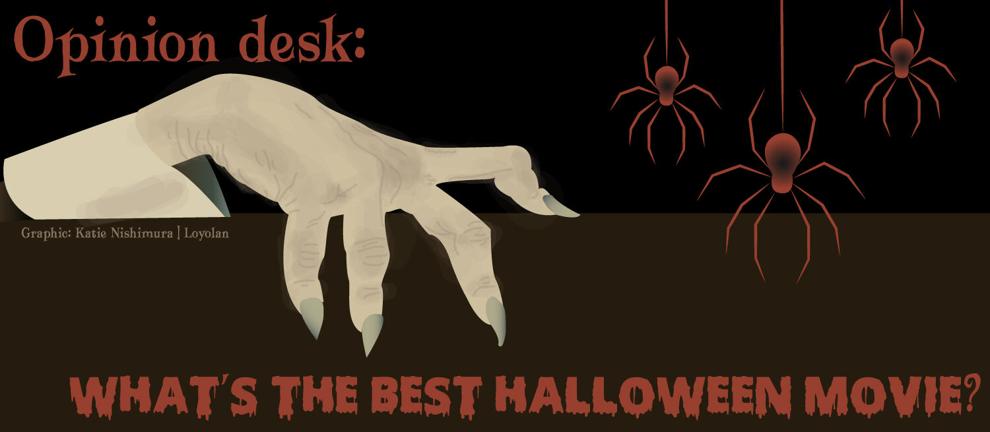 INTRO
This October has been one of the best times for fans of Halloween media. From the new "Chucky" TV series to the latest installment in the aptly-named "Halloween" series with serial killer Michael Myers, there's been no better time for new spooky content. But with so many Halloween movies already, which movie is the best selection for your next viewing party or spooky break in between studying for midterms? The opinion section goes head-to-head on their personal favorite movies to watch this Halloween.
Yukana: "The Rocky Horror Picture Show"
When talking about the best Halloween movies of all time, how can we not mention "The Rocky Horror Picture Show?" This cult-favorite movie has everything you could ever want for spooky season: horror, comedy and legendary musical numbers.
Originally released in 1975, "The Rocky Horror Picture Show" is the big-screen adaptation of the musical "The Rocky Horror Show" by Richard O'Brien, and is a parody of the science-fiction, horror B movies of the mid-20th century. It follows the story of an engaged couple whose car breaks down and seeks help from a house that turns out to be inhabited by a mad scientist who's making an artificial muscle man named Rocky — you know, the classics.
Yes, the story is ridiculous and also ridiculously entertaining, but in my opinion, what hooks generations of audiences to this day has to be the musical numbers. From "The Time Warp" to "Dammit Janet," all the songs are incredibly catchy. There's no way you can refrain yourself from singing along.
My personal favorite is "Touch-a, Touch-a, Touch Me," which I learned word for word when I was only 12 years old.
I mean, it says a lot that it's been almost 50 years since its release and yet, a lot of people from our generation still have at least heard the songs before. You can always find me jamming to the soundtrack from this movie during Halloween.
The fandom and the community this movie has created is also part of its charm, with there being live viewings of it all around the country where participants perform the musical numbers live along with the movie. Although I have yet to attend one of these, I have heard how entertaining they can be, and it is definitely on my bucket list to go in the future.
"The Rocky Horror Picture Show" is a classic which brings great entertainment, a little bit of horror and phenomenal musical relief that cannot be missed.
This is the opinion of Yukana Inoue, a junior film, television and media studies major from Chiba, Japan. Email comments to editor@theloyolan.com. Follow and tweet comments to @LALoyolan on Twitter, and like the Loyolan on Facebook.
Ashley: "It's the Great Pumpkin, Charlie Brown"
From Linus' expert jump into the leaf pile to the infamous football kick that always lands with Charlie Brown flat on his back, "It's the Great Pumpkin, Charlie Brown" is the Halloween classic built for everyone to enjoy. Although devoid of any jump scares or creepy costumes, besides the always necessary sheet ghost, Charlie Brown provides a unique way to relax and reminisce the Halloween season.
Not only does the movie provide a festive note of Halloween, but since the Great Pumpkin is a parody of Santa Claus and there are pumpkins galore, it also serves as a proper entrance into the holiday season. Between Lucy's constant banter to Sally's monologue of anger and disappointment after she missed "tricks or treats," there is something for everyone to love.
The show is quite eclectic when it comes to the plot and at times is confusing as to what is going on but, this Halloween classic cannot be ignored when it comes to deciding what the greatest Halloween movie is. There are many other movies that could suffice as the greatest, but the key with Charlie Brown is that it is an instant classic that everyone knows and loves. I just hope one day Linus finally meets the Great Pumpkin.
This is the opinion of Ashley Buschhorn, a sophomore journalism and computer science major from Austin, Texas. Email comments to editor@theloyolan.com. Follow and tweet comments to @LALoyolan on Twitter, and like the Loyolan on Facebook.
Cristobal: "Plan 9 From Outer Space"
This might not be the most traditional Halloween-y pick — there are no jack-o-lanterns or trick-or-treaters and the movie doesn't even take place during October — but it is a movie that speaks to the spirit of the holiday.
Ed Wood's 1959 film "Plan 9 From Outer Space" is the story of aliens in flying saucers resurrecting the dead in order to warn humanity of a dangerous new weapon of mass destruction called solaronite to prevent the destruction of the universe. However, the plot isn't particularly important for enjoying the movie; what is important is its absolutely amateur production.
"Plan 9" is probably best known as one of the best "worst movies of all time," and for good reason. The flying saucers fly along on clearly visible strings. The sets make little attempt to break the illusion that this is a movie. There is an obscene amount of stock footage holding the whole thing together with no fine craftsmanship at the wheel. And I love every minute of it.
Watching it in L.A., where the movie was filmed, gives it a sense of homeliness. You can feel as though you're right alongside the filmmakers in a movie that feels like it came from an unpolished side of the city. Speaking as a former film and television production major and someone who wanted to make movies as a kid, I empathize way too much with "Plan 9."
Halloween, as a holiday, is often celebrated with pure expressions of creativity by ordinary people. Whether that's building homemade costumes, turning your home into a haunted house or making your own sci-fi horror movie, we all have that creative outlet in October.
As an added bonus, "Plan 9" is in the public domain and free online, so it's a low-cost, no-stress setup for anyone who doesn't want to rent or pay into a streaming service to see it. If you haven't already, take some time out of your day and watch it. No matter what you're looking for, it will not disappoint.
This is the opinion of Cristobal Spielmann, a senior environmental science major from San Antonio. Email comments to editor@theloyolan.com. Follow and tweet comments to @LALoyolan on Twitter, and like the Loyolan on Facebook.