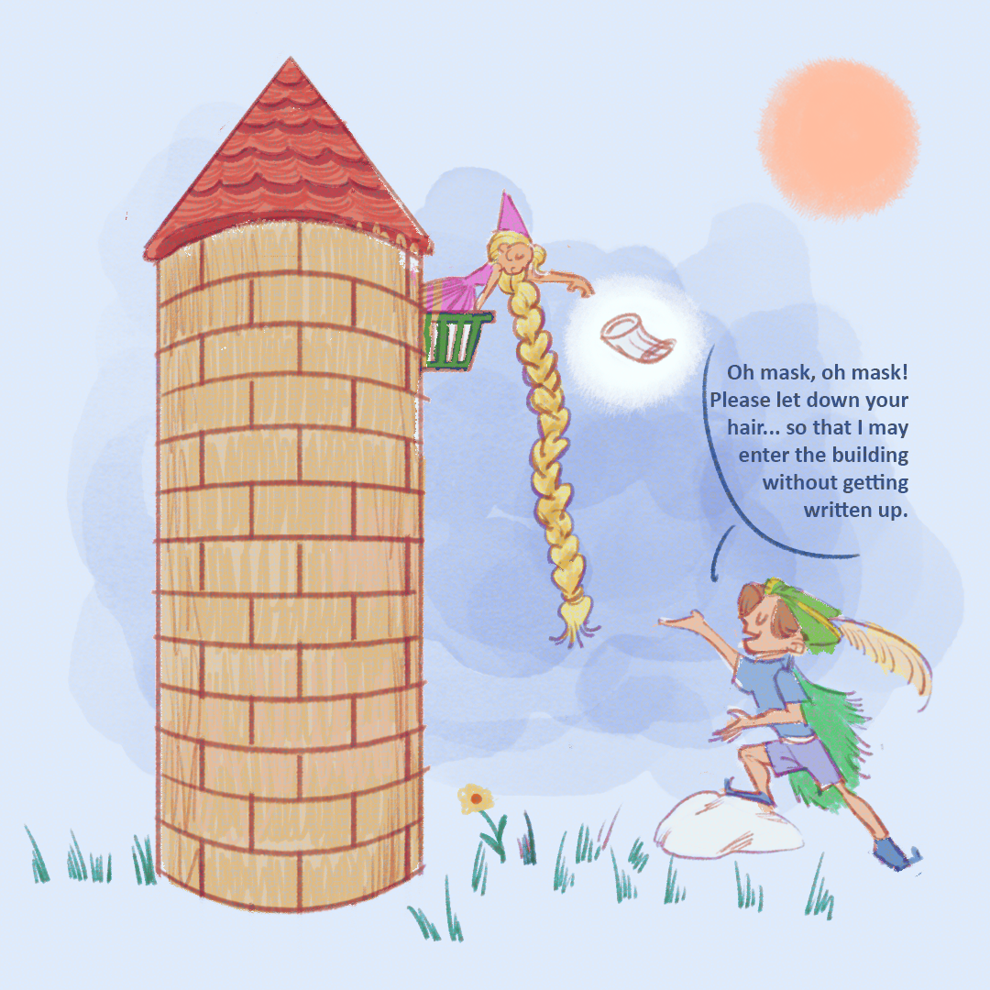 The mask debate has been a point of contentious debate for far too long. Anti-maskers continue to ignore science and have yet to abandon the issue, instead, reviving the topic of masks in schools. Despite this, LMU has been refreshingly clear about what mandates are in place and currently expected from students: masks are required indoors regardless of vaccination status, but are not required outdoors for those who are fully vaccinated.
Simple as the policy is, we still can't seem to get it right.
This past week, students of various residence halls were sent notice of how the Resident Housing Association (RHA) plans to uphold mask mandates. The email to Rains Hall residents declared an end to the "grace period" for mask wearing, as Resident Advisors (RAs) will now be "documenting those who are not properly wearing their masks in the building." This "documenting" process ultimately assigns a written citation to any student in violation and results in a formal conduct hearing for said student.
This sort of punitive action seems fitting for residents acting with an intentional disregard for the current mask mandates, but of the students I have witnessed in violation of the mandates, there doesn't seem to be any other factor than simple mindlessness. The Rains mask management announcement acknowledges this by stating that there's been "a lot of t-shirts to the face" from students, and though I'll admit that isn't ideal, at least it signals a degree of good-intention from students.
Kyle O'Gorman, social justice staff writer of the Loyolan, interviewed several RAs on the issue of campus mask mandates. The RAs who were interviewed noted that enforcing mask wearing has been one of the hardest challenges of their job and that there has been a high frequency of students failing to meet the mask mandates set in place at LMU. While I understand the frustration from RAs, the problem is that the current course of punitive action from RHA lacks a distinction between students who simply forgot a mask and students who have no interest in following mandates.
As someone who has––embarrassingly––been a perpetrator of the "t-shirt to the face" method at times when I've lost my mask outside and need to return to my room to grab one, I cannot imagine being forced into a formal hearing over something so trivial.
Now don't get me wrong, I fully support the enforcement of mask-wearing in the name of public safety, but this punitive measure from RHA is not going to be nearly as effective as taking proactive steps to promote mask wearing in resident halls.
Installing mask dispensers outside and on the floors of resident halls will offer forgetful students the opportunity to properly mask up until they can get a hold of their own mask. It feels like common sense to readily supply masks as they are not only a highly effective measure against the spread of COVID-19, but also are required by the University's COVID-19 policy.
Health Affairs, a peer-reviewed health policy journal, offers an extensive breakdown on how public and private institutions should enforce mask regulations. Though LMU's policies align with majority of the suggestions, the recommendation that "if masks will be required, high-quality ones (three-ply surgical-grade masks) should be made freely accessible..." has not been adopted.
The University already meets students' health needs by providing hand sanitizer stations outside buildings and period hygiene products inside bathrooms. I don't see why masks need to be any different. RHA and campus as a whole should be doing everything in their power to make it so that students are adhering to this policy. Being proactive in how we promote the adherence of COVID-19 policies for students is going to be key in maintaining healthy on-campus living standards. Reactionary protocols like the ones stated by Rains' RHA staff offer little more than conduct scares to the promotion of public health.
This is the opinion of Mekai Watson, a sophomore screenwriting major from Dallas, Texas. Email comments to editor@theloyolan.com. Follow and tweet comments to @LALoyolan on Twitter, and like the Loyolan on Facebook.