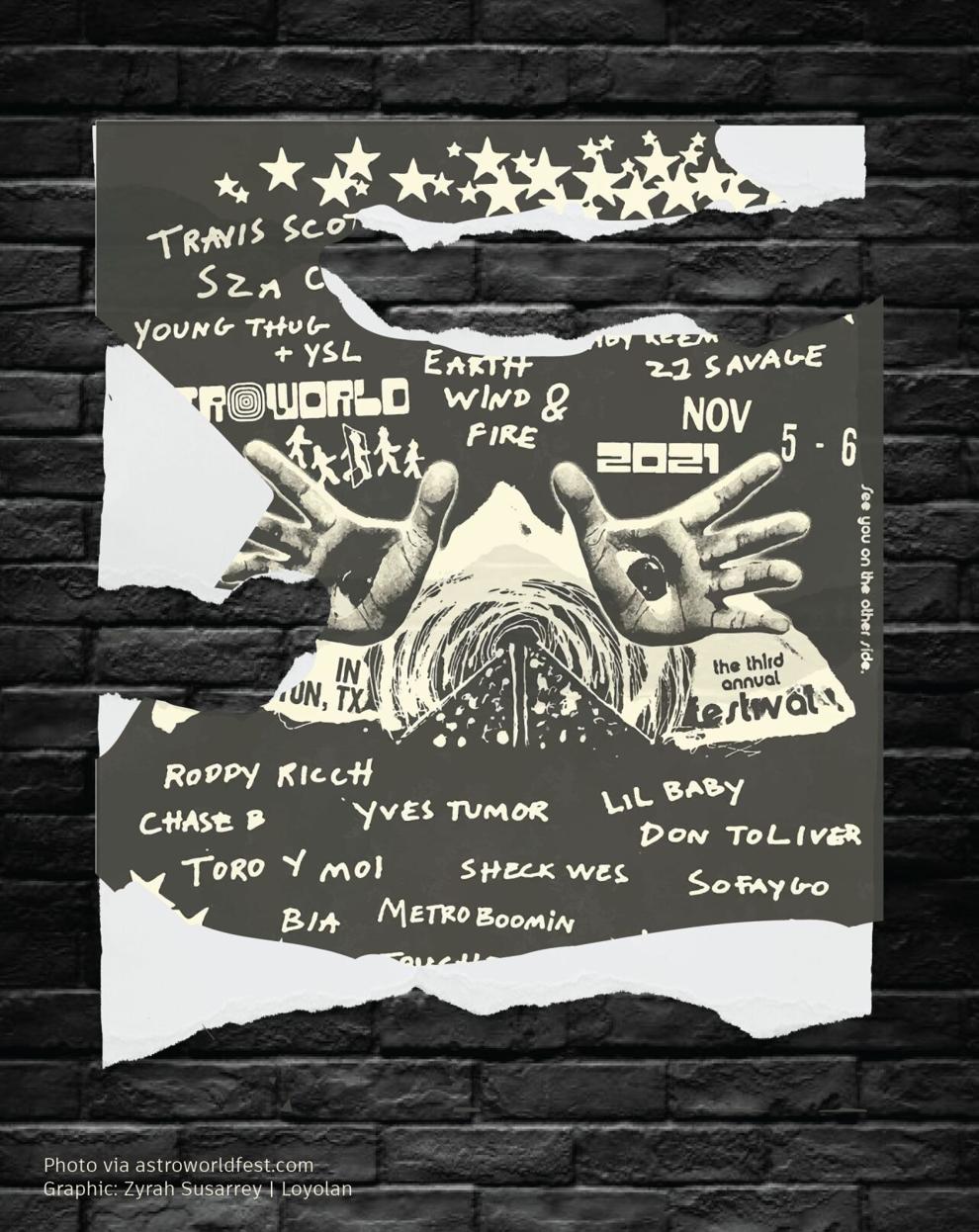 One of my absolute favorite things in this world is going to concerts and raves. I love listening to live music, I love the atmosphere of the crowd filled with people who are all there with a shared appreciation for the performer, and nothing beats the feeling of watching your favorite artist perform live. It is what brings me joy in life, and I have started a cycle of purchasing concert tickets to have shows to look forward to, using this to incentivize myself to work hard at school and work. Especially with all in-person and large crowd gatherings having been prohibited over the last year and a half, being back in the live atmosphere has never felt better.
That is why when I heard the tragic news of what happened at Travis Scott's Astroworld Festival, it really struck a chord with me. I could see myself in the eight who were pronounced dead at the event. A lot of them were around the same age as me, and I could easily imagine how they must have been looking forward to that day for months. I doubt that any of them imagined that the day would end with them losing their lives.
It truly is a tragedy. On Nov. 5, on the first day of Travis Scott's Astroworld Festival held in NRG Park in Houston, Texas, as a result of 50,000 attendees rushing toward the front of the stage, eight people died and more than 300 were injured, with 24 hospitalized. With the additional deaths of 22-year-old Bharti Shahani on Nov. 11 and more recently 9-year-old Ezra Blount on Nov. 14, the death toll has risen to 10. There are multiple videos by audience members circulating on social media that depict fans pleading with security and Travis to stop the show and get some help, just to be ignored.
It truly is a tragedy, but it also was a preventable one. There have been numerous similar incidents in the past, like the death of 11 at The Who concert in 1979, the death of nine at a Pearl Jam concert in 2000 and the chaos of Woodstock '99 that surely we could have learned from. So what went wrong? Who is to blame here?
One of the things that has been pointed out is the general admission festival seating where people stand in front of the stage on a first-come, first-served basis. This allows festivals to accommodate more people than they could with reserved seating and encourages the audience to line up earlier and push forward for a better view. However, I do not agree that this festival seating is to blame, given that there are many ways of crowd control that could have been done to appease the audience.
Being a big fan of this festival seating, I love going early and making my way forward to get closer to the performer. This standing is part of what gives the unifying and close atmosphere of concerts and is also part of what I love about it. As someone who has been in these packed crowds multiple times, I can testify that it is still possible to ensure every audience member is safe.
In fact, the same weekend as Astroworld, I was at 88rising's Head in the Clouds Festival at the Rose Bowl stadium in Pasadena. Although Asian/Asian American artists like Joji and Rich Brian are very different from hard-core rap artists like Travis Scott, it was a big-scale event with around 30,000 attendees. Given the packed crowd, there were several people passing out from dehydration; however, it was evident that safety was a top priority in the minds of both the crowd and security. In between sets, an announcement would go off instructing the audience members to take a few steps back to give room to the ones in front, even saying that they wouldn't have the performer come out until we all made some space.
When a girl standing near me fainted from dehydration, the crowd was quick to wave their hands around to notify nearby security and were kind enough to crowd surf an unopened water bottle to her. Again, I understand that the demographics and atmosphere of Astroworld and Head in the Clouds are very different, but this goes to show that it is possible to enjoy a packed, standing festival seating style performance while maintaining everyone's safety.
So who is to blame for the tragedy of Astroworld? Of course, many bad decisions on the part of all affiliated parties are to be blamed, but I personally believe that Travis Scott himself is the most responsible for what happened. Yes, the security forces could have and should have had better measures to enforce safety guidelines, but at the end of the day, it is the performer's responsibility to ensure the safety of their fans. One or two deaths could be understood as an unfortunate tragedy but when 10 fans die from attending a concert, the artist must be put to blame.
Moreover, for Travis Scott, it is far from being his first time endangering his fans. In 2017, he encouraged an audience member to jump off a theatre balcony, who ended up getting paralyzed. In the last Astroworld Festival in 2019, three audience members were trampled and hospitalized. He also has two charges against him, from 2015 Lollapalooza and a show in 2017, in which he had encouraged the audience to bypass the security and incite a riot.
To add on to this, despite pausing his performance several times, he continued to play his set 40 minutes after the event was declared a "mass casualty incident" and even brought guest performer Drake out on stage, while ambulances were visibly going through the crowd.
This is clear neglect of his fans' well-being. I do understand that the recklessness and chaos are part of Travis' brand, and there is no problem with this since it quite obviously appeals to thousands of his fans. However, the line is drawn when it literally puts his fans' lives in danger. No one should have to lose their life going to a concert of their favorite artists.
This is the opinion of Yukana Inoue, a junior film, television and media studies major from Chiba, Japan. Email comments to editor@theloyolan.com. Follow and tweet comments to @LALoyolan on Twitter, and like the Loyolan on Facebook.