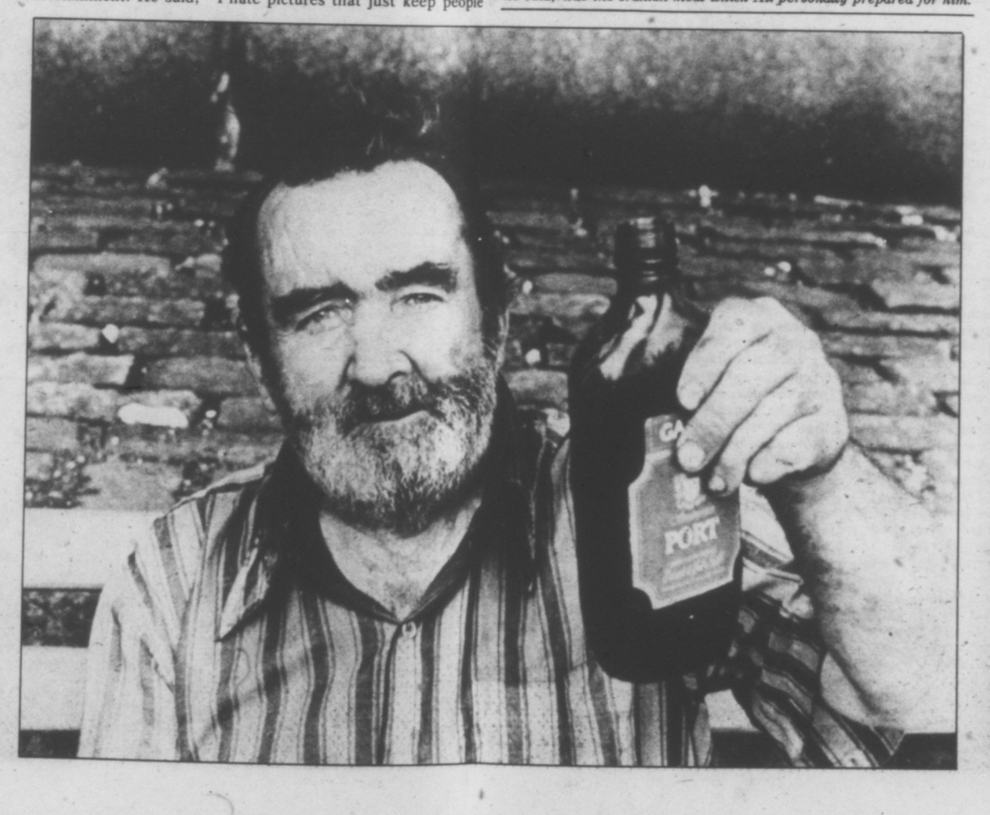 In 1976, the Loyolan published a photo essay by Ali Golbad — a graduate student at the time — that examined the grim realities of Skid Row in Los Angeles and the fallacies he was led to believe about American life. As an immigrant from Iran, Golbad had preconceived notions about what the United States had to offer. In the article he states: "We never heard about people who had no money and no place to call home ... The propaganda machines just crank out all the good points so people overseas have an exaggerated view of America. The beauty is there but it is grossly overstated."
Forty-five years later, Skid Row remains a center of poverty in Los Angeles and a crisis continuing to increase in severity. Geographically, Skid Row is considered to be the area in east downtown L.A. that's contained within 7th St., South Main, East 3rd and South Alameda. The 50-square-block radius' history dates back to the 1870's, and the influx of industrialization in an area that used to be strictly agricultural.
Due to its location in proximity to the railroads, the area became a migrant destination. During the Great Depression of the 1930s, World War II and the Vietnam Conflict, people from all over the country relocated and landed in what would become Skid Row. Prior to the 1960s, the area was a hub of affordable housing with many single room occupancy hotels. But in the 1960s, the hotels and buildings of low-income residents were demolished for not reaching health and safety codes.
According to the Skid Row Housing Trust, "between 1950 and 2000, 15,000 residential hotel apartments, the most affordable housing in Los Angeles, were destroyed, threatening Skid Row's residential community and forcing thousands of people onto the City's shelters and sidewalks."
In 1976, the same year the Loyolan published Golbad's photo essay, the city declared Skid Row to be an unofficial containment zone that would offer shelters and services to homeless people.
In 1987, Mayor Tom Bradley issued a sweep of Skid Row to dismantle and sanitize the area. Following intense backlash from activists, the mayor suspended the raids. An L.A. Times article published on Feb. 26, 1987, stated that "At the same time, [Bradley's press secretary] said that the mayor had not changed his opinion that illegal structures, such as the cardboard lean-tos that dot many of the sidewalk enclaves, should be removed and that the city should break up any encampments that endanger public health or safety."
The fight over Skid Row is still prevalent today. On April 20, 2021, U.S. District Court Judge David O. Carter ordered Los Angeles City and County to provide shelter to all of Skid Row's inhabitants by Oct. 18, 2021. However, due to an unanimous vote by the federal appeals court, Judge Carter's order was overturned.
Despite the appeal, efforts to house homeless people on Skid Row are still being pursued.
On Sept. 28, construction of a 19-story, 278 unit housing project began. The building, named Weingart Tower, is being funded by Proposition HHH. Passed in 2016, the proposition will supply $1.2 billion in bonds to the establishment of permanent housing for those without it.
According to the L.A. Times, "that money will fund at least 112 buildings containing 7,500 apartments. Of those, 90 buildings have yet to break ground."
For students who want to get involved, there are many volunteer opportunities in Los Angeles. VolunteerLA offers a direct portal where users can explore and register for different events/organizations, as well as a cohesive list of nonprofit organizations if you don't want to volunteer directly with the City of Los Angeles .