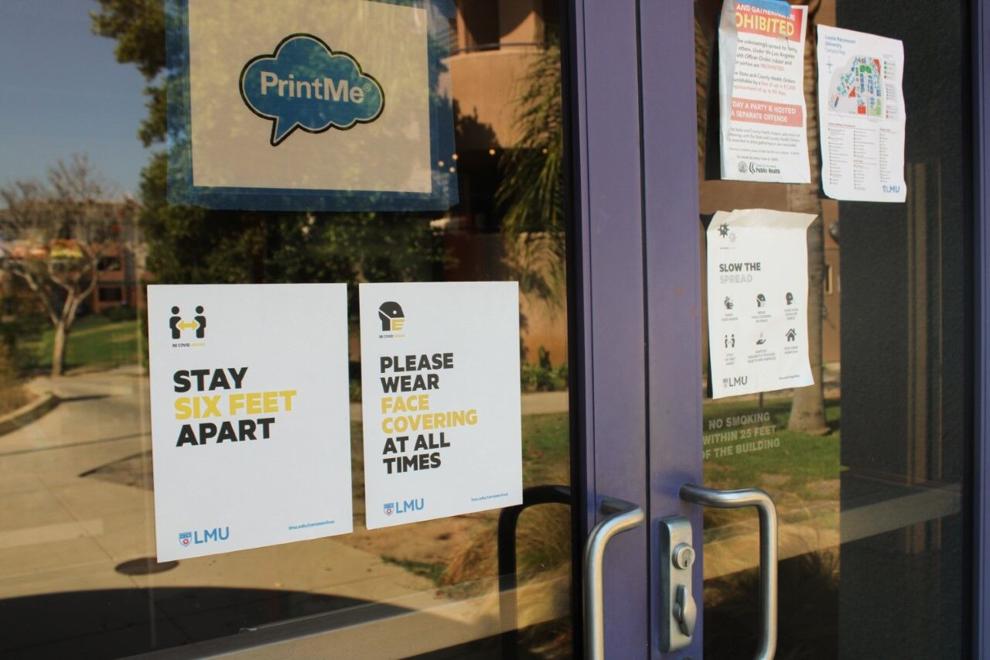 Resident Advisors (RAs) act as an intermediary between LMU's residents and LMU's administration. However, amid a pandemic in which physical distancing and sudden quarantining is expected, RAs have had to take on new challenges. According to LMU's Need-to-Know A-Z Index, anyone in the LMU community who receives a positive COVID-19 test "should self-initiate isolation," but what does isolation look like in a dorm setting where bathrooms and hallways are shared by many? In what new ways are RAs expected to oversee the safety of LMU's residents?
Three LMU RAs — Devan Hoston-Turner, a senior psychology major, Jessica Laar, a senior psychology major and Marcella Maggio, a senior animation major — shared their experiences in a Q&A with social justice staff writer Kyle O'Gorman.
Kyle O'Gorman (K.O.): Why did you choose to be an RA? How has your experience been in general?
Devan Hoston-Turner (D.H.): I chose to be an RA because I love meeting new people and facilitating a safe and honest community. My general experience has been good because my residents are always transparent and honest with me!
Jessica Laar (J.L.): My experience so far has been great! I get along well with everyone on my team and have wonderful residents on my floor.
Marcella Maggio (M.M.): Working with residents is always the best part of being an RA, but there have been moments working with higher-ups in housing and with [the Department of Public Safety] that have made me question whether I want to continue with the job. Most days, being an RA is an incredible opportunity to build community and meet new people, but sometimes responding to incidents can become extremely taxing to mental health.
K.O.: What is the protocol if an RA is exposed to or contracts COVID-19? Are there in-person RA activities that would need to be moved online?
D.H.: If we are exposed to [COVID-19] we follow the same procedures as students. We report it to our [Resident Director] and have to quarantine in a room provided by the school.
J.L.: Well this really depends on the RA. At the moment, a lot of RAs have their weekly or monthly traditions and community hours in person so all of those people would have to find a virtual alternative in the event they caught COVID-19.
M.M.: If an RA is exposed to or contracts COVID-19, they follow the same protocol as a standard resident: quarantine, isolation, and regular testing. It's expected for the hall staff to alleviate some of the RA's responsibilities, i.e. duty shifts, in-person meetings, student check-ins. In Doheny, we talk a lot about how to have hybrid options for students who don't feel safe meeting in person, so thankfully we have some options if an RA were to contract COVID-19. Without doubt, that RA would still be responsible for maintaining the workload unless significantly affected by the symptoms.
K.O.: What has your personal experience been like as an RA during the pandemic?
D.H.: Our floor meetings were moved to be online but I still do community hours in person. I'm [a] returning RA and the [COVID-19] regulations are something that is hard on everyone. Enforcing mask mandates when people feel entitled to not wearing them is hard to handle because of the lack of information on what the vaccine does for people. You can still get [COVID-19] with the vaccine and to protect everyone we should be wearing our masks. We should be aware of the community and not just ourselves.
J.L.: The biggest challenge so far has been getting people to wear their masks and keep them on throughout the building. I have had to tell well over a dozen people to put their masks on within the first week … There are signs all over the building, and it's in the leasing agreement they signed to live on campus, so you wouldn't think it would be a big deal for them to wear a mask, but it is.
M.M.: Trying to police a dorm of 500 freshmen to maintain safety protocols and wear their masks has proven extremely ineffective. Without additional support, I worry about a breakout on campus that might send everyone home again … Living on campus as an RA during the summer, I've seen COVID-19 protocols shift around endlessly. I understand it's difficult to communicate such sudden shifts in a timely manner, but it's caused a lot of miscommunication and confusion. My roommate over the summer contracted COVID-19 and due to a mix-up in COVID-19 protocols, I was moved into quarantined housing instead of my roommate. It's frustrating knowing that a lot of our protocols are being misused or even ignored. It often feels like safety is a secondary priority to ensuring the University doesn't get in trouble.