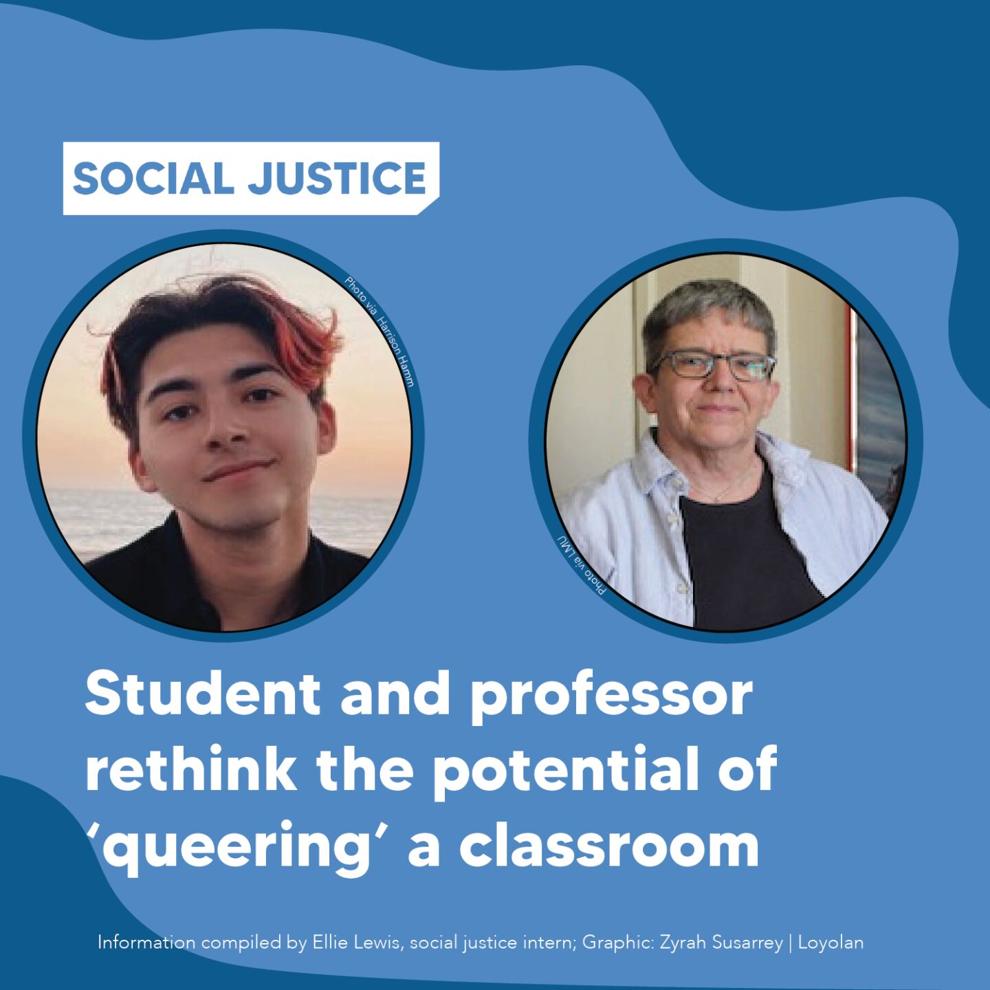 Harrison Hamm, a senior women's and gender studies and screenwriting double major, and Dr. Sue Scheibler, associate professor of film, television and media studies have begun an honor's research project titled "The Queer Classroom: Rethinking Power in Pedagogy." The project includes researching queer pedagogy and putting a queer culture and style of teaching into practice. The two scholar-educators have taught a class called Queer TV together since spring 2021. They have also taught a first-year seminar since Hamm began a professional relationship with Dr. Scheibler in 2018.
The duo said they created the classes based on what they would want to take themselves. Their project aims to rethink the relationship between faculty and students. They use "queer theory and queer pedagogy, education, anti-colonial, anti-capitalist pedagogy," legitimized by their research, to guide their classes, Hamm said.
Building an equal relationship as co-educators became the pair's inspiration. They understand themselves as one unit, working together to bring their own unique perspectives to students while deconstructing typical student-faculty power dynamics.
Through both the research project and enacting this queer approach in their classes, they seek to create a space that encourages faculty and students to approach learning with curiosity rooted in their own unique positionalities and histories. Scheibler explained that the goal is for students to feel safe enough in the classroom to develop their own ideas and engage in "fruitful digression," that seeks to question—or "queer —everything.
Scheibler explained, "I think by encouraging students to think about queering, it ties into what we want LMU students to do when they go out into the world, to actually try to queer everything, to glitch everything, to really make changes in the world."
The pair discussed the ways in which their own unique perspectives as "minoritized educators" shape how they approach the course subject material and how they encourage students to bring their full selves to the classroom.
"Coming from the backgrounds we come from, I've learned a lot just by the very virtue of my own experience. Getting to bring that into the classroom and be able to relate to the text enough, to our scholarship enough, not only in a very academic way, but through the affective, through our experiences, through our emotions and everything, I think it in many ways queers the way that we engage in knowledge production," Hamm explained.
Hamm continued, "We're really trying to create spaces where students not only feel encouraged to learn, but really encouraged to grow and be curious — to develop those kinds of learning that are outside of just 'Did I get the grade?'...'Did I understand this material completely correctly?' We're much more interested in coming into class with questions, with confusion, with excitement, with these new ideas."
Scheibler and Hamm acknowledged the University Honors Program for its community-oriented culture and encouragement of their collaboration and work together. They specifically pointed to the previous University Honors Program director, Dr. Vandana Thadani, and the current director, Dr. Trevor Zink, for supporting experimentation and taking risks in the classroom.
"I definitely think that we owe a lot of our ability to practice this and just the origin of our love for doing this together to Dr. Thadani and the University Honors Program for creating that kind of an opportunity … for instilling that kind of a culture that really encourages that kind of a closeness between students and faculty and seeing what we have to learn from one another," Hamm said.
Scheibler and Hamm hope to work toward a future in which other faculty and students feel comfortable creating equitable and fun relationships together. They believe this will help to build safe classroom spaces that encourage collaboration, questioning, experimentation and excitement.
"I think we really want to make an opening," Scheibler said. "We're thinking about equity and inclusivity and how to create more accessible classrooms … If you make a classroom a learning space in which everyone is invited to participate, which we're figuring through this idea of 'queering' the spaces, then students don't need to seek accommodations … because the class is already so inviting to everyone."