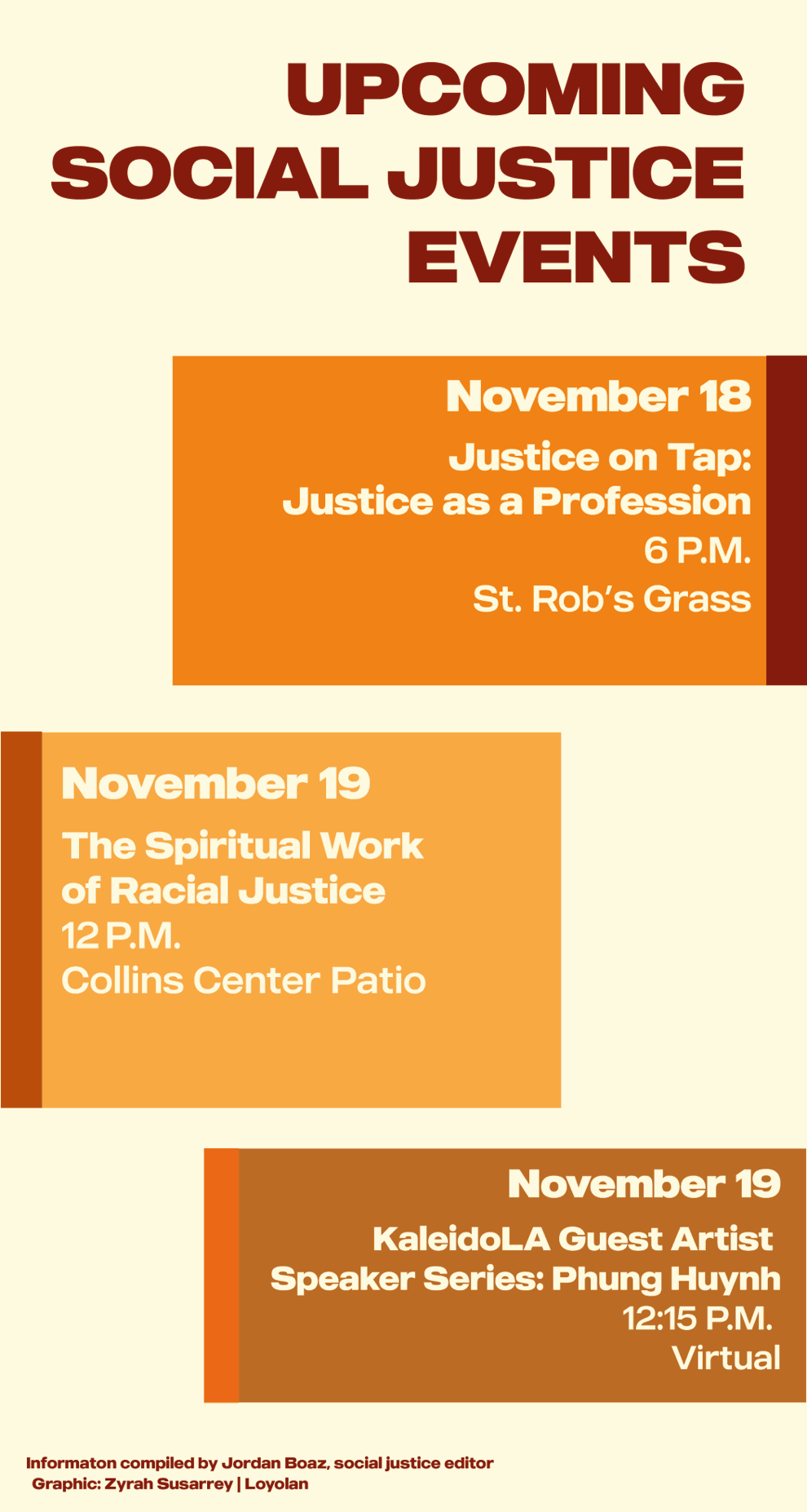 Justice on Tap: Justice as a Profession
Nov. 18 at 6 p.m. on St. Rob's Grass
Justice on Tap's next event will host two "community leaders," senior Erica Riray and LMU graduate Dr. Jesse Rodriguez. They will be part of a roundtable discussion on how "justice work is approached and done" in the context of the professional world. The conversation will focus not on just one specific sector of social justice, but on how to apply justice to many sectors. Hot chocolate will be provided.
The Spiritual Work of Racial Justice
Nov. 19 at 12 p.m. on Collins Center Patio
Come join a discussion with Patrick Saint-Jean, S.J., author of the book "The Spiritual Work of Racial Justice." The book is about how "the pursuit of racial justice [is] a necessary component of faith." In an interview with the Ignatian Solidarity Network, Saint-Jean stated, "I have humbly come to believe that it is inconceivable to live a life of faith, love and charity without justice." The event is part of Ignatian Heritage Month and will provide lunch to attendees.
KaleidoLA Guest Artist Speaker Series: Phung Huynh
Nov. 19 at 12:15 p.m. on Zoom
Each year, the department of art and art history hosts a series of guest speakers. This year, every featured artist's "artwork and lived experiences foreground issues of racial, economic and social justice." Upcoming speaker Phung Huynh's work revolves around identity and "cultural perception and representation," specifically regarding Asian women, cultural beauty standards and whitewashing.