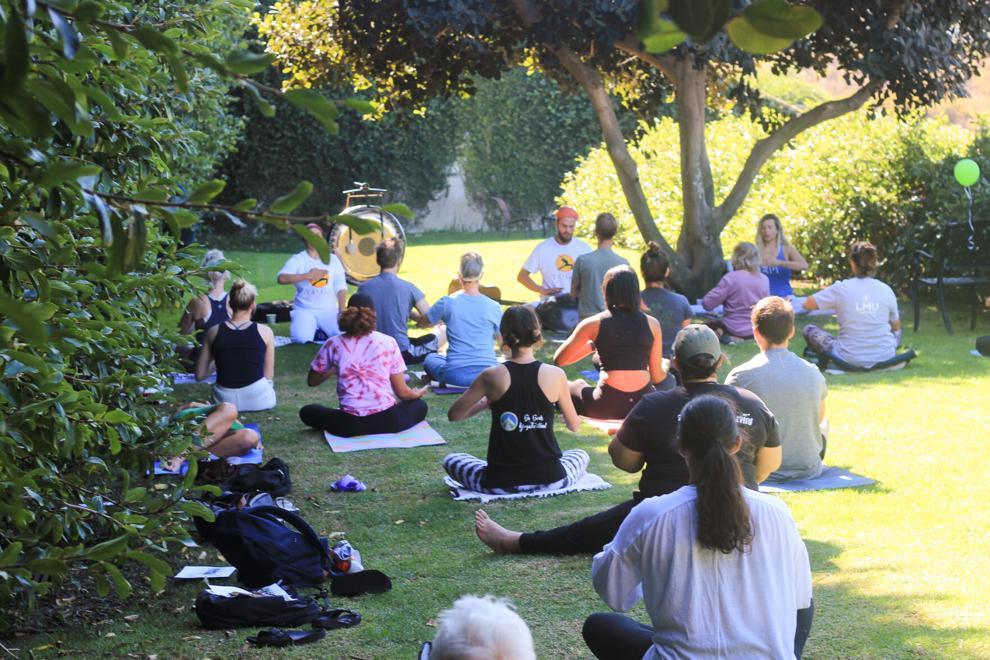 The yoga studies department hosted their 10th annual Yoga Day celebration on Saturday focusing on how yoga can be a vehicle for social justice. The day consisted of a series of events with talks from professors who discussed social justice within the realm of yoga and a keynote address from Reverend James Lawson, a Methodist minister and civil rights leader, who received the Doshi Family Bridgebuilder Award during his keynote address at the event. The award is given annually "to honor individuals or organizations dedicated to fostering understanding between cultures, peoples and disciplines."
Dean Robbin Crabtree of the Bellarmine College of Liberal Arts introduced and congratulated Reverend Lawson, describing him as a personal hero of hers. She said, "I've drawn wisdom, courage and inspiration from his work. Reverend Lawson's lifelong commitments and personal journey inspire us to approach our lives, think about our actions in the world with equal parts: passion for justice, rigorous accountability and profound awe."
Reverend Lawson started his talk by discussing his passion for the cultures that inspired him, saying, "I do have a deep appreciation for Indian history and for Buddhism and Hinduism, Islam and all of the world religions." Reverend Lawson spent two years of his life in India, and has studied the teachings of Mahatma Gandhi for most of his life. His reverence for Gandhi made him a "nonviolent athlete," allowing him to think of nonviolence as a way of life. He explained, "If we follow the way of nonviolence, of compassion and truth, love, we will discover that we will affect change in the same fashion, because it's the law of life." Nonviolence is part of an ethical principle referred to as Ahimsa within the realm of yoga.
After the keynote address, Graduate Assistant Taina Rodriguez-Berardi discussed the idea of yoga and social change, as well as how equity can be achieved in yoga. She discussed the intersectional identities and barriers involved with the practice of yoga, including race, gender, social class and even body image. She explained, "For me, yoga is less about a self-care package or practice and more about how we expand our awareness from individual to social, collective liberation and why and how we should employ the teachings of yoga to do this really vital work." She continued, "A concentration on education, advocacy, community building, yoga and social change really incorporates yoga and social justice philosophies and practices as tools for personal growth and powerful instruments of communal transformation."
She discussed financial barriers to yoga and how it's typically seen as a recreational activity for white people with free time and disposable incomes able to participate in for their own wellbeing. "This prevailing industry model that many of us picture and think of has really been shown to advance an exclusionary identity, one that standardizes the young, thin, white, expensive, fitness apparel body, and subsequently and really omit the individual outside or the identity outside of that normative race, gender, sexuality, ability and social class identity."
The event concluded with a musical performance from Grammy-nominated artist Jai Uttal, a kirtan artist, multi-instrumentalist and ecstatic vocalist. Having been influenced by both Indian and American music, Uttal has become a master at an ancient yoga form called kirtan, which involves singing or chanting to God.
LMU's Yoga Day celebrated the culture and diversity of South Asian spirituality and provided a platform for speakers to discuss the intersectional social justice issues involved in the field of yoga, as well as how equity can be achieved in yoga practice.