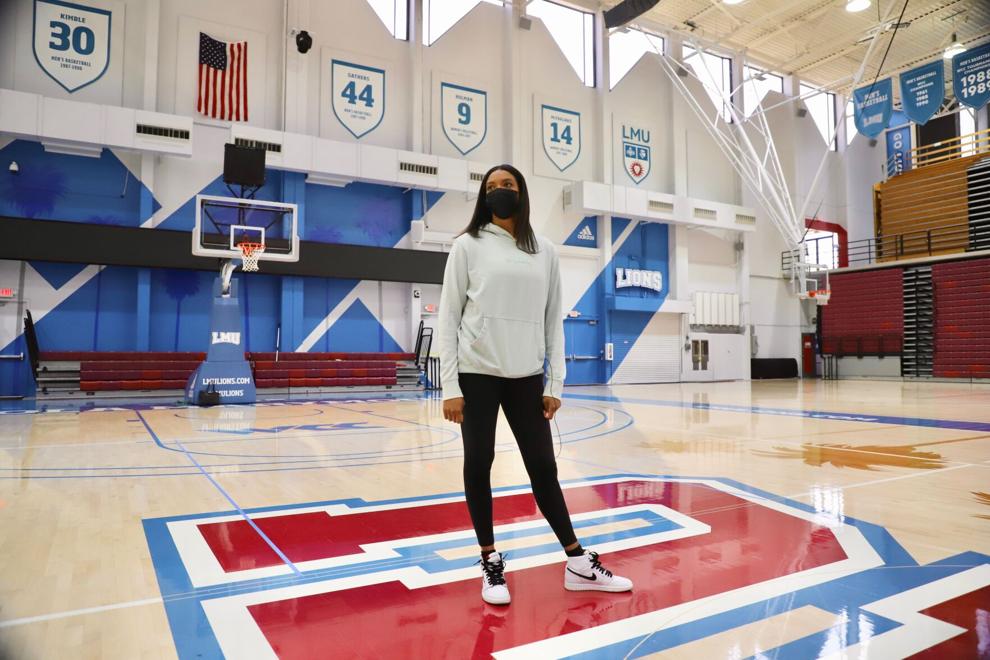 On Apr. 17, LMU Athletics announced that Aarika Hughes will be the new head coach of the women's basketball team.
Hughes joins the Lions after four years of coaching at the University of Southern California, having spent the past two seasons as associate head coach. The Trojans obtained strong recruiting classes during Hughes' tenure, which bodes well for the future of LMU's women's basketball program.
"I am very fortunate and blessed to have an opportunity to lead this great, young, inspired, motivated and hungry group of women," Hughes said in a press conference on Apr. 21. "I've been welcomed warmly and openly, and I can't wait to get started with this group."
When introducing Hughes to the media, Athletic Director Craig Pintens praised Hughes' experience and commitment to building a successful women's basketball program.
"As we embarked on this search, one of the things that we were looking for is somebody that would develop outstanding relationships with our student athletes, develop a winning culture and take our program to the next level," said Pintens. "[Hughes] has an outstanding basketball mind; she has ties to Southern California, and she can recruit at a really, really high level. We're very fortunate to have her."
According to Hughes, the key to her coaching philosophy is forming a culture of trust and connections with the players. She has already begun this process in her first few days on the job, having met with the team in both group and individual settings to learn about each player's goals for the future of the program.
"The first thing that we need to do is gain an understanding and trust and build a foundation … connections are built with true relationships and time, and I think that effort needs to be consistent and reassessed continually," said Hughes. "We all need to be on the same page, and it seems like these women have an unbreakable bond. Last year when you watched them perform, especially late in the tournament, you saw them come together. I think they are ready to ride that momentum going into this next season."
Hughes' first order of business as head coach will be to hire a great staff of assistant coaches. She knows how crucial it is to cater the coaching staff to the wants and needs of the players, so she has made it a priority to be intentional with who she hires and to ensure that they will be a good fit for the team.
"I talked with the girls and I let them know, 'Hey, I'm not in a rush and I don't want you guys to worry about these offices initially being empty.' It was my job to come in and assess the talent, it was my job to hear them and listen first as a leader, and then to create and assemble a team that was best going to support the individuals out on the floor," said Hughes.
Hughes is known for her ability to recruit star players, and she plans to center LMU's recruiting efforts in the L.A. area. Her experience at USC has allowed her to develop strong relationships with nearby high school coaches and club teams, so Lions fans can expect to see plenty of local talent join the women's basketball program in the coming years.
"What I'm drawn to athletically is here in Los Angeles. We talk about community, we talk about building a team where fans can learn their stories and feel engaged and connected. It has to start in L.A.," said Hughes.
One of the pillars of the women's basketball team is racial justice activism, and Hughes wants to support her players' initiatives. Having served on USC's Black Lives Matter Action Team, she understands the importance of giving a voice to women of color in athletics and plans to facilitate that culture at LMU.
"I am a standing representation of what happens when you're in environments that can truly grow you as a woman and give you every opportunity. I want to, of course, with my position, empower young women in that area and help in any way that I can," said Hughes. "I think the leaders on this team have embodied what it is to be an LMU Lion, and they are extremely passionate about their initiatives and the social justice movement right now."
The team has struggled with injuries and COVID-19, but Hughes is confident that she can turn things around and help LMU win a West Coast Conference title.
"I hope to take this program to the top of the conference," said Hughes. "I know that it's going to take work for us, but we have the pieces … nothing is easy, nothing is going to happen overnight and those relationships, I think, are key in the way that we're starting to build this program."