Baseball has long been known as the sport of tradition, but Major League Baseball (MLB) is finally establishing a more inclusive future.
Nostalgia for the past is one of the foundations of "America's Pastime". The major leagues still use wooden bats to ensure that the records of Ted Williams and the like don't become obsolete, and fans embark on hours-long road trips to the middle of New York state just to see statues and memorabilia at the National Baseball Hall of Fame. It's a sport meant for reminiscing, remembering and celebrating the legends that came before.
But tradition often means resistance to change, and resistance is what characterized Major League Baseball for a long time. It wasn't until 1947 that Jackie Robinson broke the color barrier and played for the Brooklyn Dodgers, and Hall of Famer Frank Robinson finally became the league's first Black manager in 1975. It has been an even slower road for women, with the San Francisco Giants hiring Alyssa Nakken as MLB's first full-time female coach just this year. The league still has yet to hire a female umpire or head coach.
MLB's history of slow, reluctant change is what makes last week's announcements so monumental. Outfielder Kyle Lewis of the Seattle Mariners and relief pitcher Devin Williams of the Milwaukee Brewers became the first two Black players to sweep the Rookie of the Year award since 1984. Additionally, the Miami Marlins hired Kim Ng as the first woman and first Asian American general manager in the league's history.
This is a historic moment for baseball and all professional sports. Lewis and Williams are becoming the faces of the league and inspiring young Black athletes, and Ng has forged a new path to the top for women in the sports industry.
"We're seeing some great progression," said Dr. Shaun Anderson, an assistant professor of communication at LMU. Anderson's research focuses on corporate social responsibility in sports organizations, and he has published a study on the relationship between MLB and the African American community. (You can watch his Hannon Library Faculty Pub Night presentation on this research here.)
Anderson agrees with the importance of Lewis and Williams' recognition by Major League Baseball and particularly noted the impact it could have on the youth in their home communities of Atlanta, GA and St. Louis, MO.
"Both Rookies of the Year being Black, it's a major step forward in the game of baseball. This now is definitely a platform for them to go back into their communities, which are predominantly Black communities, and be able to share their thoughts on the game, the best ways to get into it and how they can get involved in programs like Reviving Baseball in Inner Cities that help pay for such an expensive game," said Anderson.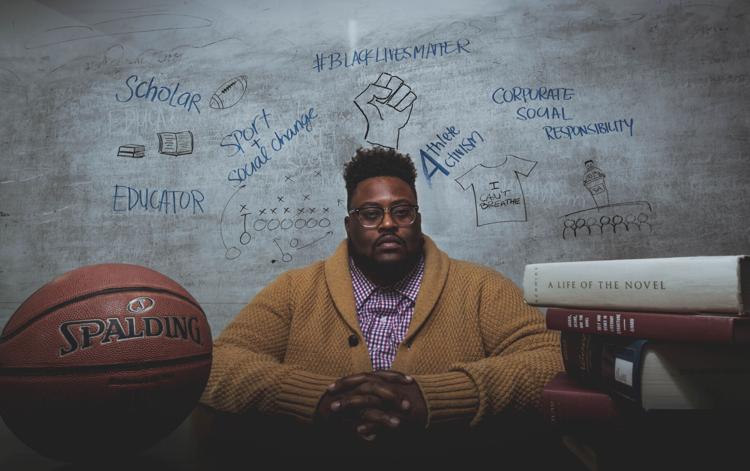 There have been fewer African American players in MLB in recent years, and a major reason is the decline of youth baseball organizations that are accessible to Black communities. Programs like Reviving Baseball in Inner Cities, which started in Compton, CA, are helping to grow the game in Black communities, but successful Black players like Williams and Lewis are vital to show young Black athletes that there is a path for them to achieve success in professional baseball.
Here in L.A., one such player who has inspired a whole generation of kids is Mookie Betts, the superstar outfielder for the Los Angeles Dodgers.
"For what baseball is in the Los Angeles community, and to have Mookie Betts be such a big star, I believe that many of the younger Black kids around L.A. can see this as a launching pad for them," said Anderson.
Betts is one of the most popular players in Major League Baseball, and now two more African American players are the rising stars of the league. These men are not just baseball players, but also role models who can make a significant impact on restoring interest in the game in Black communities.
Similar to Lewis and Williams' new positions of influence on the African American community, Ng is showing women interested in the sports industry that there is no limit to how high you can climb. She started as an intern for the Chicago White Sox in 1990 and now is the first female general manager of any of the four major men's professional sports leagues in North America.
Anderson, who is currently conducting a qualitative study on the experiences of women working in all levels of sports organizations, is thrilled about what Ng's position means for women's future opportunities in sports.
"It's a very, very important move to push the sport forward," said Anderson. "For women who really want to launch a career path in sports on the front office level, this is tremendous, especially for the sport of baseball. I see a huge impact with that."
Ng has a 30-year career in Major League Baseball and three World Series rings as an assistant general manager on her resume, but even with her expertises it has taken her far longer than most to finally be hired as a general manager. There is still rampant sexism within the men's sports world, and Ng had to overcome rejection from the Mets, Dodgers, Giants, Phillies, Padres and Mariners before landing the coveted general manager position with the Marlins.
It is not just Ng's status as an Asian American woman that makes her story inspirational, but also her resilience in the face of so much inherent bias about women working in sports. She has been told "no" so many times, despite being more than qualified for the job, but never gave up on her goal of becoming a general manager.
"I've followed her career path for the longest time, and she's done a phenomenal job. This is really just a natural move up," said Anderson. "It is well deserved, and hopefully the ideas and the decisions that come from her are met with some respect."
Now, girls and young women who want to work in sports can see that there is no ceiling to their career. Ng has paved the way for women to become top decision makers in the front office of a men's sport; this is historic and a significant step forward for equality in sports.
Tradition will always be a fundamental part of what defines baseball, but it can't be used as an excuse to prevent necessary growth. Women and the Black community have historically been sidelined in Major League Baseball because of its reluctance to adapt to a society that increasingly values inclusivity and diversity, and that has to change.
The Rookie of the Year honor given to Williams and Lewis, as well as the hiring of Ng as the first female MLB general manager, is a huge step in the right direction. We can reminisce about the iconic legends in baseball's past, but we also need to celebrate the people that are inspiring the next generation to build baseball's future.
This is the opinion of Ellie Kinney, a junior communication studies major from Boston, Massachusetts. Tweet comments to @LAloyolan or email comments to ahutton@theloyolan.com.