This election season, a number of LMU athletes participated in a "get out the vote" initiative to encourage their teammates and all members of the LMU community to vote. The movement was led by the University's Student-Athlete Advisory Committee (SAAC). The Loyolan sports staff talked to several Lions about the project's development and implementation.
The Beginnings
Haley Herdman, women's basketball junior: "The initiative started in quarantine, while all the BLM protests started due to the unjust killings of George Floyd and so many other innocent Black people."
Khari Clark, women's basketball sophomore: "SAAC, which is the organization which we started the initiative through, sent out an email saying, 'We are living through these unprecedented times. If there's anything that you guys want to do or explore, just let us know.' So I sent Matt [Carungay], who is on the men's golf team, an email with a list of things that we could potentially do. With the whole social injustice era going on right now, I felt like voting was a way that I could get in control of what was going on around me."
Herdman: "We knew the state of our country was in danger and we needed to do something about it. Khari ended up thinking of this final idea."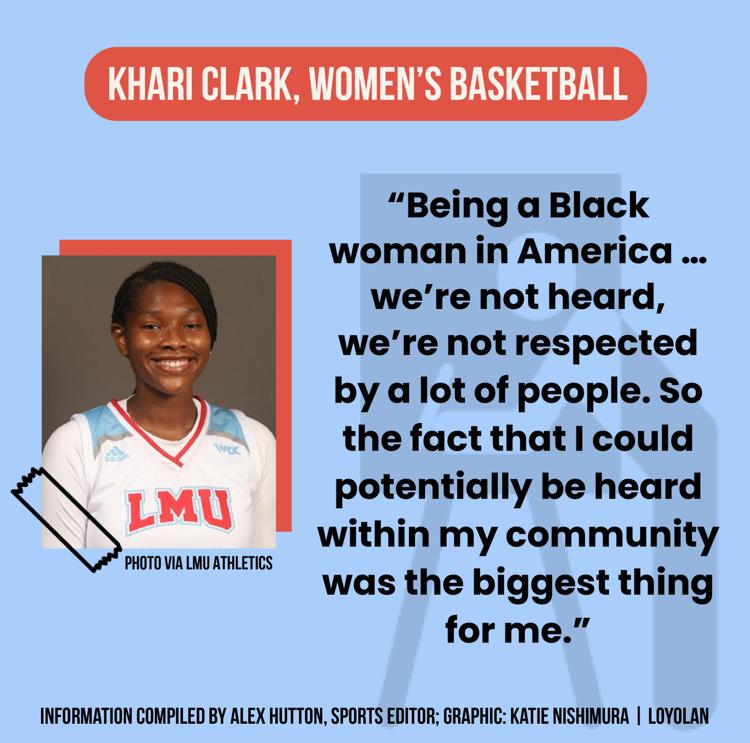 The Execution
Matt Carungay, men's golf senior and SAAC president: "[The campaign's] aim was to inform and educate the student-athlete population on the importance of voting through non-biased social media posts and influencer videos. So we informed them about the ins and outs of voting, like the terminology, where to vote, how to vote, all of that stuff. Our goal was to ensure that our whole athletic department — or all the eligible people in our athletic department — are registered to vote come Nov. 3."
Paul Krumpe, men's soccer head coach: "We've been pushing very hard to get everybody out to vote. We had special black t-shirts made, we've been training in them and we've featured them very heavily on our social media."
Clark: "Being a Black woman in America … we're not heard, we're not respected by a lot of people. So the fact that I could potentially be heard within my community was the biggest thing for me."
Carungay: "We started this in the first week of August, before school even started. Every Monday was an informational post. What's the definition of an absentee ballot? When's your voter registration date for your state? Where's the nearest drop-off and voting location? Pretty basic, easy-to-read graphics about voting and the election. And then every Tuesday we had a team challenge. The team challenge was one team on campus gets their whole team registered to vote and then they make a video saying, 'My team's registered to vote. Now I nominate another LMU team on campus, an LMU organization on campus and then another athletic team from a different school.'"
Herdman: "By the end of the initiative we were able to get 100 percent of student-athletes who are US citizens registered to vote. We were also able to inform them of registration dates for states, voting terms, the electoral college and provided safe ways to get your vote turned in."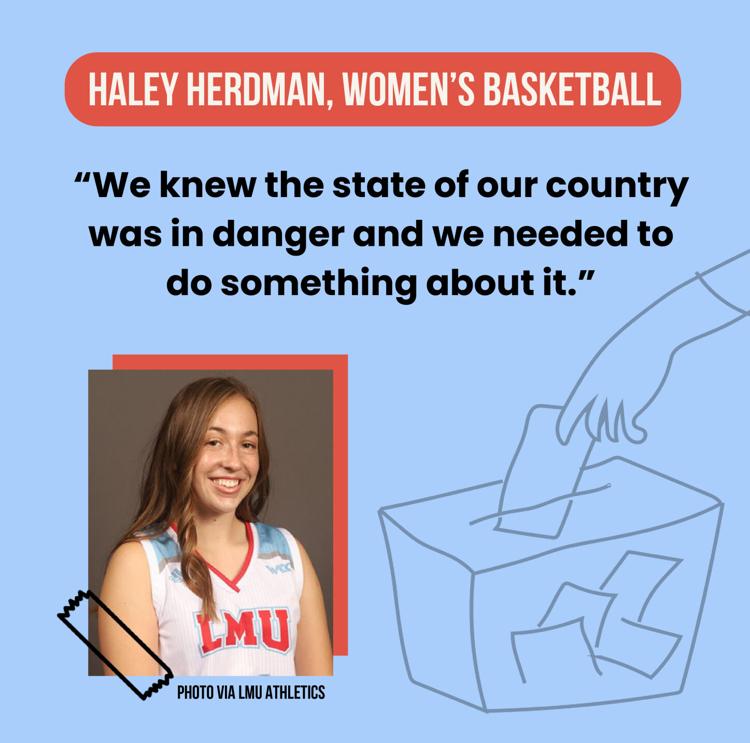 The Takeaways
Carungay: "I was blown away by the overwhelming support that the coaches and admin gave this campaign and the responsibility. They took it upon themselves to make sure that they were a part of it. Coaches were giving statements on why they think it's important to vote. Coaches were holding their teams accountable, asking us for resources and making sure they did what they were supposed to do. From the athletic director to the last freshman that came in, [I'm] really grateful for everyone's compliance and support for this initiative."
Herdman: "At the end of the day, we definitely highlighted the importance of voting and made sure our student-athletes understood this and held themselves accountable."
Clark: "I'm not satisfied at all. I think it's a step in the right direction, but I'm not here to say that I'm just gonna give up and not hold people accountable for what was said or what they campaigned for. I'm not satisfied at all. I'm just waiting for actual change to happen."