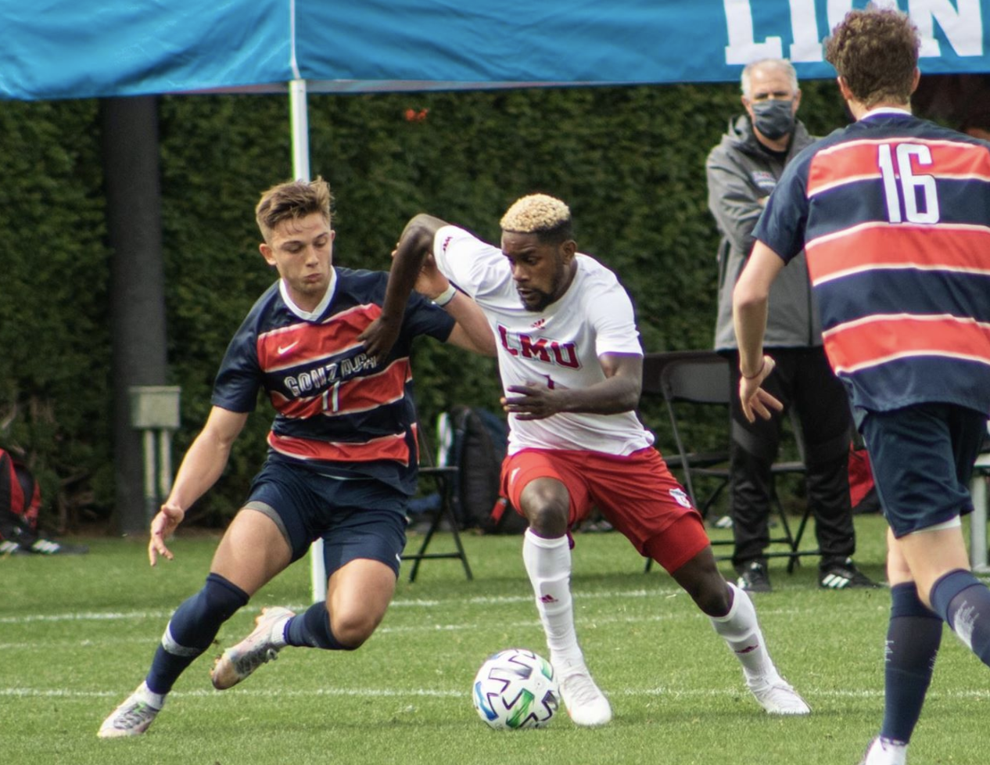 Prior to the season's first match vs. UCLA, the men's soccer team had one goal: to win a West Coast Conference (WCC) championship. Last season, they fell short against Saint Mary's in a hard-fought match between two unbeaten rivals, 0-2, which ultimately decided the conference title. This season, that same goal is very much alive. Coming off their 0-0 (2 OT) tie at Portland, the team remains atop the WCC at 3-0-1. If they win out, they can finish what they started a year and a half ago.
The Lions' first four games have produced positive memories for players and fans alike. Senior forward Duhaney Williams, who recently earned WCC Offensive Player of the Week for his performance versus Gonzaga, shared his that his favorite memory was "the first goal against Gonzaga because it was really a team goal." "The ball came down from the air and I knocked it up again with my head," continued Williams, "got it over to Ronaldo, Ronaldo played it to Noel and Noel played it back to me, and I played it across the goal for a tap-in for Steven." That match ended in a grueling 2-1 victory for the Lions.
This much success is uncharted territory for LMU Lions soccer, so much so that sophomore goalkeeper Jacob Jackson was unaware that the team is currently ranked No. 8 nationally. "That's actually kind of cool. I didn't even know about that, to be honest," he said. "It's cool, but we want to be the best team in L.A., and the best team on the West Coast, and then push for the best team in the nation. Our team doesn't care about ranking, we just care about getting on the field and playing with each other, and winning the WCC, winning a national championship for LMU and being the best student-athletes we can be."
Last season, the Lions were famously picked to finish last in the conference by every other WCC team in a preseason poll, so they were able to take their competition by surprise and surge to a 2nd-place finish in conference standings. This year is entirely different. In fact, Williams went out of his way to reiterate the difference of perception surrounding the team. "This year is really hard," he admitted. "After games, I'm really tired. Teams are giving 110 percent this year, because there are so few games, and everyone wants to say, 'I was part of the team that beat No. 1'. Now that we're ranked, everyone comes to beat us. It's pretty good to say you go to a top-20 school, but I feel like it doesn't really matter, because when you go on the field, you're evenly matched with every team."
But what is so different about the Lions this year compared to last year? For one, they experienced very little roster turnover and returned the exact same coaching staff. Freshman winger Steven Anderson shared his thoughts on what makes this particular squad a championship contender. "We come out to the games pretty strong," he reported. "As we play more games, we'll see how we're able to close them, but for right now we definitely start with high-press, to let the opponent know that we're here to play. As we settle down into the game, I feel like after halftime we make adjustments and we're right back at them."
"Our best moments are from the 25 minutes mark leading up into the 75 minutes mark," added Jackson, who as goalkeeper views his teammates from an entirely unique field position. "That's when our wingers come in [Williams and Anderson] and they just run people. They're the best wingers I've seen in a while. Defensively we finally always get the speed of the play right, we see what the other team is doing, we know what they're going to play, so you're usually in a lockdown situation from there."
Each game is of extreme importance this season, as COVID-19 schedule alterations cut down the team's opponents from 20 last season to a mere eight. Currently, they lead the conference in overall record and head-to-head tiebreakers, but a slip up would be catastrophic for their hopes to win the conference outright. That final game in particular vs. 4th place Saint Mary's (1-0-1) looms large. Hopefully this year, they can deliver a title-clinching win.