Playing a Division I sport in college is anything but easy. Student-athletes have to manage a full schedule of practices, workouts and games on top of all the existing responsibilities of being a college student. It takes an outstanding amount of dedication, particularly amid a pandemic.
It is all the more impressive, then, that sophomore Morgan DeBord is not just playing one Division I sport for LMU this year — she's playing two.
When women's basketball needed to fill a roster spot this winter, Assistant Sports Performance Coordinator Dylan Lowenstein talked to DeBord about an opportunity to join the team. DeBord is an outfielder for the softball team, but she was an all-state basketball player in high school.
"I told [Lowenstein] I played in high school, and he said, 'The basketball team needs bodies, will you come play for them?' At first, I thought he was joking, but he gave the basketball coach my number," DeBord recounted.
From there, the process of joining the basketball team moved quickly. The head coaches of both teams talked over the logistics of DeBord helping out women's basketball, and then women's basketball head coach Charity Elliott called DeBord to welcome her to the team.
"The first day we talked, [Coach Elliott] said, 'We have practice in an hour, do you want to come?' It happened so fast," said DeBord.
DeBord was understandably nervous about joining the team in the middle of the year, but her new coaches and teammates made her feel like she had been a part of the team all along.
"It's been an awesome experience," said DeBord. "I was a little rusty, but the team was so welcoming and always helping me out with everything. I didn't know a lot of the players and coaches, and I didn't know the plays ... it was all kind of strange at first. I think that's why I've enjoyed it so much; it always gave me a new challenge to face every day."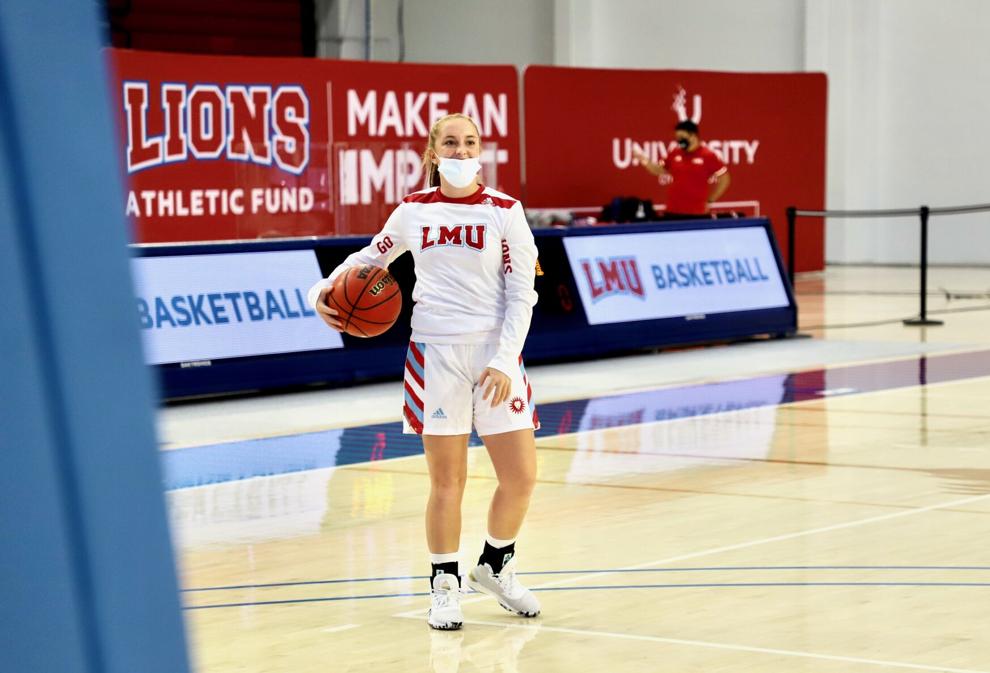 With the softball season kicking off this week, DeBord is now having to coordinate how she splits her time between the two sports. As softball is her main priority, she will have to limit the number of hours she spends with women's basketball from here on out.
"I've pretty much stopped practicing with the basketball team, which makes me really sad, but the coaches still allow me to go to all the basketball games," said DeBord. "I get to sit on the bench and still be part of the team, which is pretty awesome. It definitely adds a little bit more to my schedule, but it's worth it to me."
The softball team plays its first game on Friday, and DeBord is looking forward to learning from the new coaching staff. Head coach Tairia Flowers and assistant coach Mysha Sataraka have both played for Team USA, and pitching coach Christian Conrad coached for the U.S. U-19 National Team. They bring a wealth of experience at the highest level, and DeBord couldn't be more excited about what they'll bring to the program.
"I feel like the knowledge they're going to give to us will be mind-blowing … It's a really good step for our program. There's obviously been a transition with the coaching change, but I think it's been a good change for us," said DeBord.
While this has certainly been a unique experience, DeBord is no stranger to playing multiple sports at once. The Oregon native was a quadruple-threat at Glencoe High School, racking up honors in softball, basketball, volleyball and track and field. Despite committing to LMU for softball as a freshman, DeBord didn't want to give up her other sports.
"It was hard playing four sports because I did softball and track in the same season," DeBord explained. "My coaches and parents were a big help with figuring out my schedule and keeping me on track with school."
DeBord is a great success story for multi-sport athletes who might feel pressured to specialize. It is becoming increasingly common for athletes to drop their other sports at a young age to spend more time practicing one, but research suggests that young athletes who specialize are more likely to develop overuse injuries than athletes who play multiple sports. DeBord was still able to get recruited for softball while playing multiple sports, and she has become a more well-rounded athlete because of her experience in basketball, volleyball and track.
"I'm definitely glad I stuck with all my sports in high school," said DeBord. "I think a lot of athletes should, even if they've already committed to a college for one sport. Playing other sports has made me a better athlete and person."