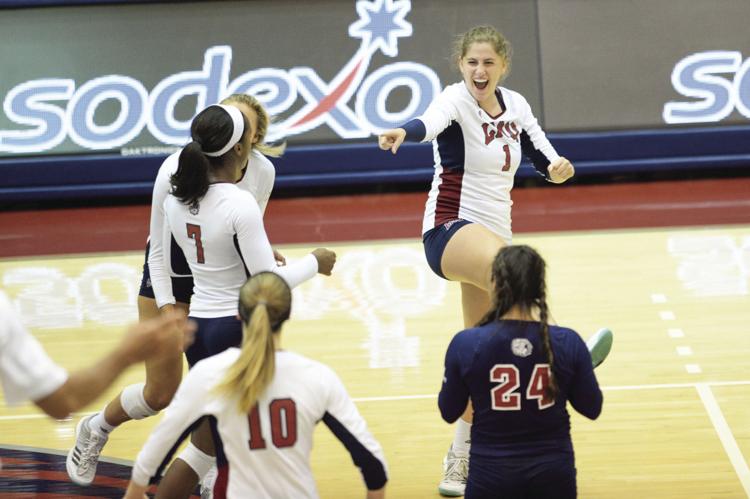 As the women's volleyball team began West Coast Conference play 3-2, junior setter Tess Reid remains one of the key players to the team's success. She has played a crucial role to the volleyball team's great start this season. At the Kansas Invitational earlier in the season, Reid shined while playing in her home state. She had 135 assists, eight kills, four aces, 26 digs and one block assist over the course of three matches during that weekend.
Reid is currently number two in the nation for assists per set (12.62).
"When I'm doing my job that means the team is doing theirs. I wouldn't be leading assists without my passers and my hitters doing well," said Reid when asked about how it feels to be nationally ranked.
Multiple teammates described Reid effective communication with the team and encouragment. Senior opposite Sara Kovac referred to her as an "ideal teammate" who cares about everyone on the court. Sophomore Meredith Teague also weighed in on how Reid helps her be successful in her position.
"She spreads the offense out enough in a way that she's tricking the defense by opening up space for me to hit," Teague said.
Coach Mansfield, in his second year of coaching, said he was pleased to see Reid get off to such a great start this season and that the competition against her has been unmatched.
"We haven't played against a setter that's been better than Tess this whole year," Mansfield said in an earlier article by the Loyolan. "I think she's one of the best setters in the country." Mansfield also spoke about how Reid comes in clutch as a role player for the team.
Mansfield said Reid is so effective because she "has a really good read" on the team. He credited Reid with the ability to calm the team down in high stress situations. 
"She's able to calm them down," Mansfield said. "If there are times where our team isn't focused enough or has enough energy, she's able to identify that and communicate to her team in a certain way. She's really good at reading our team and catering her communication style to what our team needs."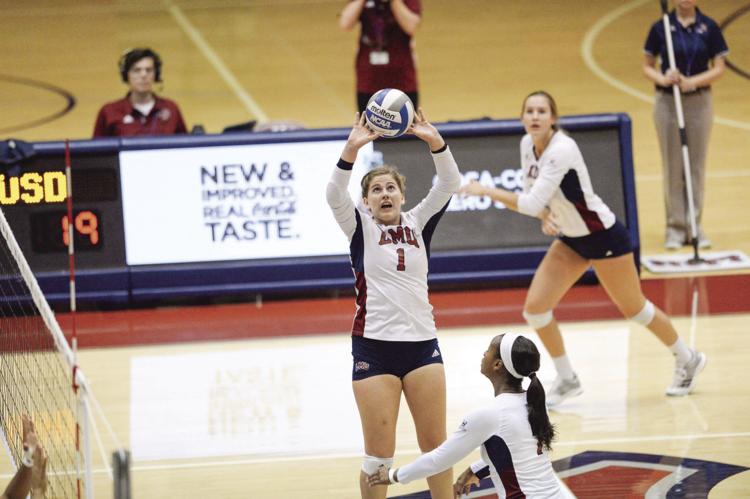 After LMU's loss to San Diego, Reid held a positive outlook and emphasized what the team did well and what they needed to fix. 
"Our serve and pass were great — it's kind of our bread and butter," Reid said. "We fought really well, I was proud of that. We just need to keep our game and trust ourselves."
After being defeated by both Gonzaga and San Diego as conference play began, Reid spoke about how she felt after the losses and her plans to reboot for their Bay Area road matches.
"It's tough starting out the conference this way, but I hope we go into practice like we normally do and we can beat anyone that way," she said. Reid believes the team's success lies in "staying on our keys and what we know and do best."
Being a student-athlete can also have its hardships, according to Reid. "It can get really tough, this week we have five matches in 10 days," Reid said. "I have to stay on top of everything. It's really tough, but my professors are cool and having friends in class really helps."
LMU has two upcoming matches this week. Coach Mansfield anticipated that both matches, against Saint Mary's and Pacific, will be competitive and the team will prepare in practice and "be LMU" on the court.
The team started off their season with a sweep of Rhode Island on Aug. 24, and improved to a strong record of 10-1 before conference play began on Sept. 20.
As the Lions began WCC play, their hot start halted when they suffered a sweep from Gonzaga, placing their WCC record at 0-1. Soon enough, LMU volleyball picked up their first WCC win against Portland in a hard-fought match to put them back on track.
Last week was a busy week for the team, starting with Tuesday's home opener against San Diego. In front of an energetic crowd at Gersten Pavilion, the Lions fell short in a four-set loss to San Diego.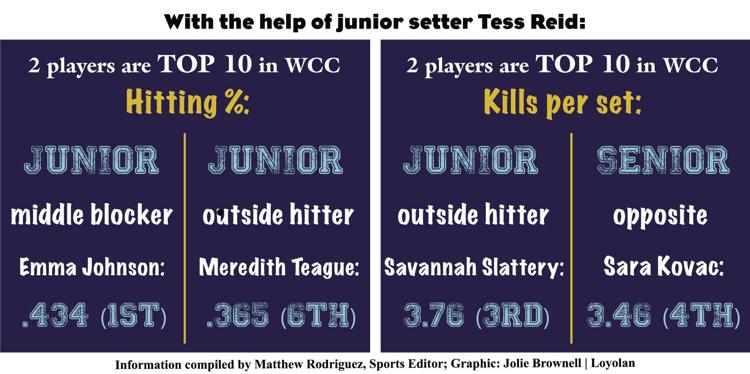 The Lions then faced off against Santa Clara on Thursday and San Francisco on Saturday, sweeping both teams on the road. LMU volleyball now has a standing WCC record of 3-2.
Both upcoming matches this week will be held at Gersten Pavilion on Thursday, Oct. 4 at 7 p.m. and Saturday, Oct. 6 at 1 p.m. against Saint Mary's and Pacific, respectively. Students attending Thursday's game will receive a free taco in celebration of National Taco Day while supplies last. Kid's day will be on Saturday and an LMU fanny pack will be given out to all kids in attendance while supplies last.