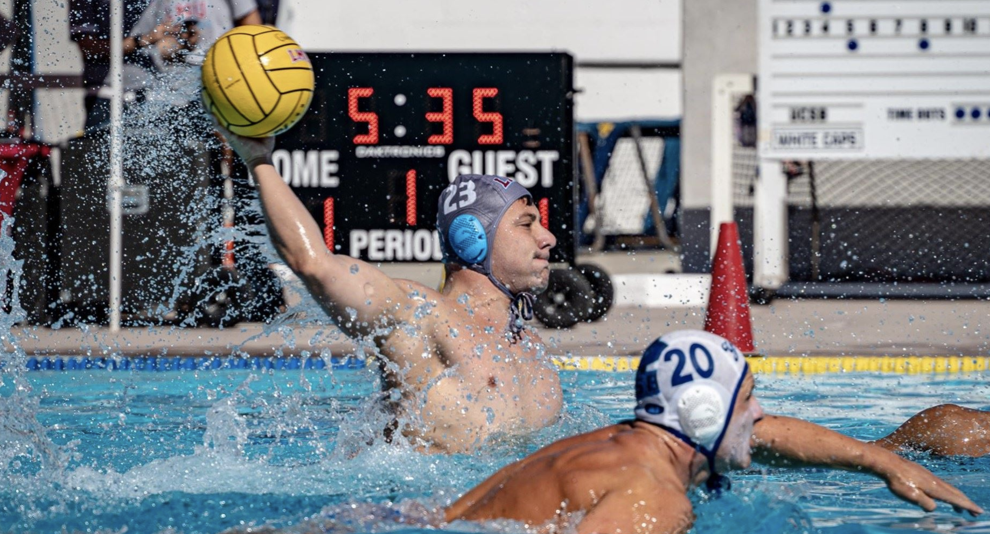 LMU water polo (5-10 overall, 1-0 WWPA) faced off against two more ranked opponents this past weekend, topping No. 17 Air Force (AF) 16-12 last Saturday, before being buried by No. 4 Santa Barbara on Sunday, 20-12. But it was the Lions' Saturday performance that marked the beginning of conference play and, in this reporter's opinion, a new spark for the 5-10 squad. It was their second straight victory over a ranked opponent.
The Lions moved the ball well to start the game and jumped out to a 2-0 lead. They certainly benefitted from having star attacker David Carrasco back from a wrist injury. Carrasco scored the opening point and totaled four goals and six assists for the afternoon, meaning he was involved in 10 out of the Lions' 16 points.
"[David] is my really good friend," said senior attacker Blazo Mitrovic. "I'm used to playing with him here, he is that guy who makes a difference. Not having him on our side was really tough, but I think we used that time to become better. We grow as a team when other players have time to develop, and now that he's back we feel really confident."
Two fantastic Lions possessions opened up the second quarter, highlighted by an absolute screamer from Rafael Salonikios to push LMU's lead to 5-2. Some excellent passing led to goals number six and seven, courtesy of sophomore defender Max Walsworth and junior attacker Jonny Rimlinger.
Now, the Lions may be 5-10, but they are especially good at protecting leads. In four of their five wins, they never trailed their opponent en route to victory, the lone exception being a comeback win versus No. 9 San Jose State on Oct. 3. In that match, LMU erased a five-goal deficit in the third quarter to come out on top, 11-10. Rimlinger scored the game-winning goal with a mere 45 seconds left in regulation.
"Our season definitely got off to a bit of a rocky start … we were losing a lot of one-goal games against teams we knew we were even with," shared junior Joseph Cavazos. "It was tough on morale for a little while. [But] to come back and play a team like San Jose, who had literally beat almost all of the teams we had lost to ... it's a great feeling, and the team is super fired up to keep our level of play to a high level."
While that win was impressive, the Lions' play versus Air Force was the most dominant of the season. A scrappy start to the second half saw LMU push their lead to 10-5. Several saves from goalkeeper Robert Halligan kept Air Force at bay, including a highlight-worthy penalty block in the third period in which Halligan pushed the ball just above the crossbar. And while a walk-in score from Air Force on a fluke goal made it 11-9 to open up the fourth quarter, that's as close as it got. Mitrovic contributed back-to-back strikes to give the Lions some breathing room, and LMU ran out the clock for a comfortable 16-12 win.
In conclusion, this team has a lot of gas left in the tank. The roster is made up of a curious mix of inexperienced freshmen waiting to contribute and upperclassmen leaders eager to mentor. Freshman Alex Marlow made several impact plays throughout the game, including a timely block in the fourth quarter that put an end to Air Force's furious comeback attempt. And on the other side of the experience spectrum, sixth-year senior Alexandros Athymaritis shared his philosophy on player development. "The team is young, so it's very important for us to grow the talent over the rest of the season," he said. "Me coming from Greece, I bring a different mentality and help the young guys understand the different qualities of the game from Europe."
Well, these Lions could turn around their season from anywhere in the world if Saturday's match against Air Force is the standard of play moving forward. Their ceiling is still very high, and with more conference opponents on the horizon, they are in a position to substantially pad their win total. LMU will continue their WWPA slate at home versus Biola University on Saturday, Oct. 16.
This is the opinion of Chris Benis, a junior marketing major from Seattle. Tweet comments to @LAloyolan or email comments to mthomas@theloyolan.com.