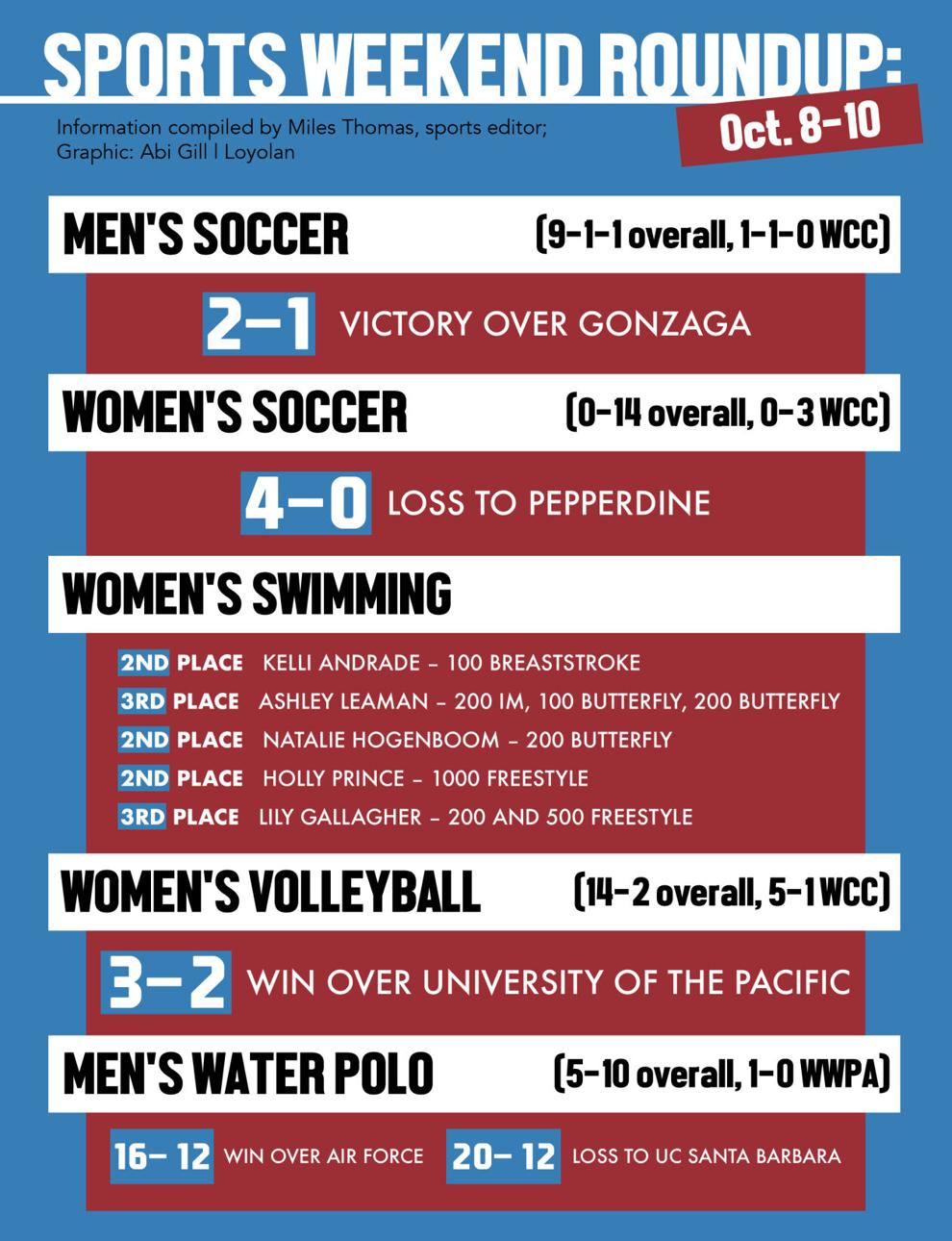 Men's Soccer (9-1-1 Overall, 1-1-0 WCC)
The LMU men's soccer team bounced back from their first loss of the season last weekend by defeating conference rival Gonzaga 2-1 in Spokane on Oct. 9. The No. 16 ranked Lions got goal support from defender Nick Dauchot, his third of the season, as well as a goal from senior forward Ronaldo Brown, his first goal of the season. Both of LMU's goals came in the second half, with both teams having a scoreless first half. The Lions scored back to back goals before relinquishing one in the 85th minute. The Lions' offense was able to outmatch Gonzaga, outshooting them 20-13 and having nine corner kicks compared to Gonzaga's two, keeping the aggression on Gonzaga.
The Lions next match comes Oct. 14 as they travel to take on UCLA at 7 p.m.
Women's Soccer (0-14 Overall, 0-3 WCC)
Women's soccer faced another defeat over the weekend, making it 14 losses in a row after losing 4-0 to No. 6 Pepperdine on Oct. 9. The Lions were completely outmatched in this one, as the ranked Pepperdine put up a strong challenge, outshooting LMU 22-3 in the game and having five corner kicks compared to LMU's one. Pepperdine was also able to draw less fouls than LMU, only drawing seven fouls compared to the 10 fouls the Lions picked up. This conference loss also makes it their third loss in a row to a conference opponent.
LMU will take on another conference opponent next week, looking to claim their first victory as they take on the University of San Diego on Oct. 15 at 5 p.m.
Women's Swimming
LMU swimming dove into their first meet of the season during the Rodionoff Invitational on Oct. 8 and 9. Junior Kelli Andrade finished in second place in her opening event of the season, finishing with a time of 1:09.26 in the 100 breaststroke. She followed up her win with a fifth place finish in the 200 breaststroke.
Freshman Ashley Leaman had one of the brightest days for the Lions, finishing in third place in the 200 Individual Medley, 100 butterfly and 200 butterfly, with her freshman teammate Natalie Hogenboom finishing just in front of her in second place for the 200 butterfly. Other notable finishes included a second place finish in the 1000 freestyle by sophomore Holly Prince and two third place finishes by junior Lily Gallagher in the 200 freestyle and 500 freestyle.
The swimming team will head back to the water on Oct. 22 and 23 when they take on Seattle University, San Diego State and Grand Canyon University in a home meet at Burns Aquatics Center.
Women's Volleyball (14-2 Overall, 5-1 WCC)
LMU volleyball continued their conference schedule by facing Pacific on Oct 9. The Lions opened the game by winning the opening two sets before Pacific was able to tie up the match 2-2 sets. The decisive final fifth set was won by the Lions, making them 5-1 in conference play. Despite the win, the Lions were nearly outpaced in half of the statistical categories, with Pacific racking up 52 kills compared to LMU's 42, 43 assists compared to LMU's 38 and having 50 total digs compared to LMU's 45. The Lions, however, performed where it counted most, having a higher hit percentage of .126 compared to Pacific's .113 along with serving more aces compared to Pacific at 6-4.
The Lions will look to continue their strong run in conference play when they take on BYU at home in Gersten Pavilion on Oct. 14 at 7 p.m.
Men's Water Polo (5-10 Overall, 1-0 WWPA)
No. 15 LMU men's water polo took on a pair of ranked opponents over the weekend, splitting the contests with a 16-12 win over No. 17 Air Force on Oct. 9 and a 20-12 loss to No. 4 UC Santa Barbara on Oct. 10.
The win against the Air Force Academy marked the first conference match for the Lions, opening conference play with a statement win against a ranked opponent. Junior attacker David Carrasco led LMU in scoring, netting four goals during the match, with junior and sophomore attackers Blazo Mitrovic and Jonny Rimlinger joining Carrasco as multi goal scorers in the game, adding two goals each of their own.
The next game proved to be more difficult for the Lions, as Santa Barbara as a team had more shots on goal and more assists in the game than LMU did. Mitrovic once again stepped up for LMU, scoring five goals in the match, including one in the early period to give the Lions an early lead before Santa Barbara pulled away. This was the Lions' second time facing Santa Barbara this season, as they played each other in LMU's opening game of the season, which was a 14-7 victory for Santa Barbara.
The Lions' next matchup will be up against Biola University on Oct. 16 in Burns Aquatics Center at 11 a.m.