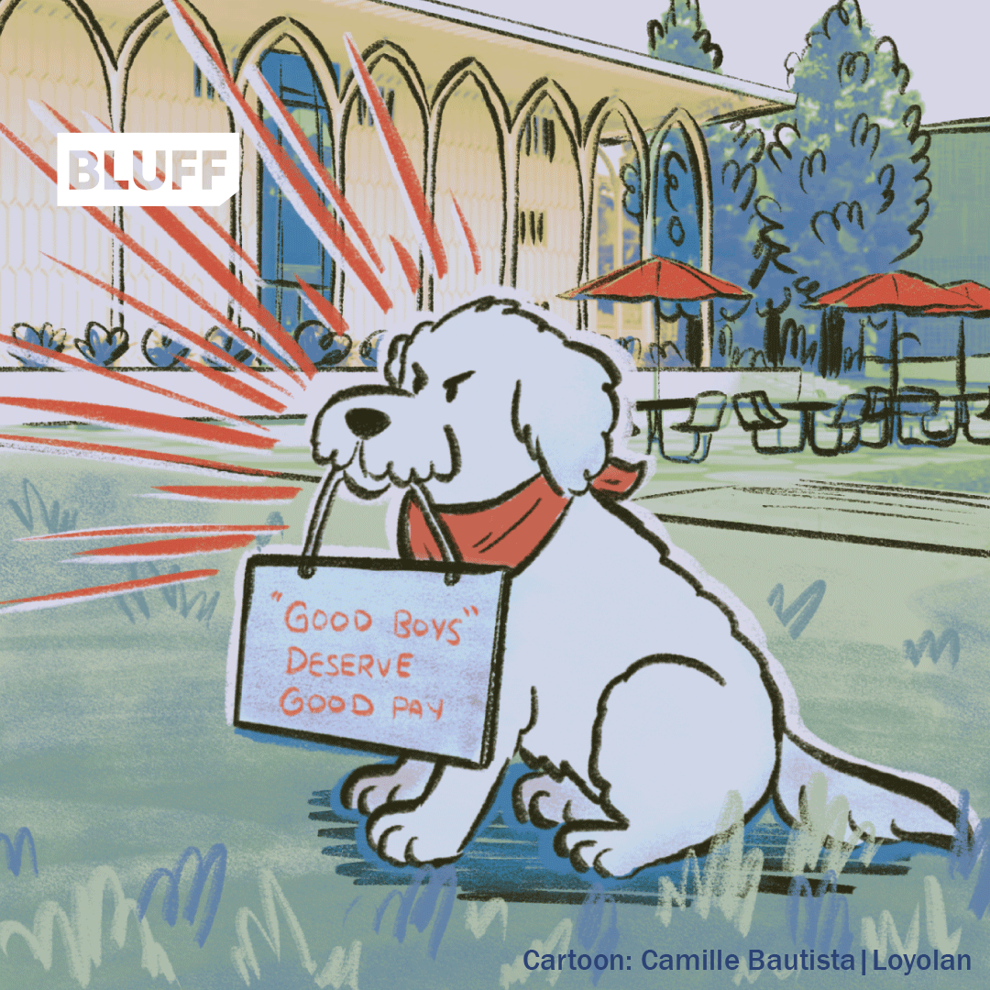 If you work at all in the film industry—or have a friend who will just not quit posting infographics on social media and pretending that's activism—you probably know about the recent strikes and events pertaining to the International Alliance of Theatrical Stage Employees (IATSE), a union that works for the protection and fair treatment of film crew members through all of entertainment. The IATSE's most recent battle for livable wages and longer hours between rigorous film shoots has become highly publicized, reaching the attention of many LMU students.
While many of the LMU attendees vocal about the IATSE have careers in the film industry, one individual has been inspired to fight for the betterment of himself in his own career path. That individual happens to be none other than the LMU's own: Buster the Dog.
Inspired by the IATSE's recent fight for equality in the film industry, Buster has decided to take a stand on his own four paws, fighting for livable wages and shorter working hours within the field of college mascots. LMU's most adorable mascot promises he won't rest until his demands are met… unless it's nap time, where he will take a short break to get some much-needed puppy sleep.
"Buster has been really talking up a storm about his ideas for what can be improved," said Al Pawcino, a junior and LMU's resident dog-whisperer. "He wants a bump-up in his pay and extra time on weekends to finally go 'out on the town, clubbing it up'… his words, not mine." Pawcino has been able to communicate with the mascot-turned-activist, a dog who has made his complaints about his current employment plan quite clear.
"He says that he feels being LMU's mascot is an all-day job. He just wants some free time to focus on his hobbies and better himself outside of work." Pawcino notes that Buster hopes to use his potential free time to learn languages through Duolingo, as well as read the Dune book series, pretend any of the plot made sense, and not shut up about the fact he read them to all of his friends.
"You know, I really respect what Buster's doing," said Iggy the Lion, fellow LMU mascot and a frequent jazzercise participant. "It's serious change that needs to happen for all mascots and, if that change stems from Buster, I'm happy to support him."
Until his demands are met, Buster refuses to be nice to LMU students he runs into on his daily walks, causing malicious chaos rather than the usual positive chaos.
Buster's fight for equal pay within the field of mascot-work is certainly admirable and one that the Bluff can fully support.
The Bluff will update as the situation unfolds, or if Buster ends up biting someone in the name of equal pay.