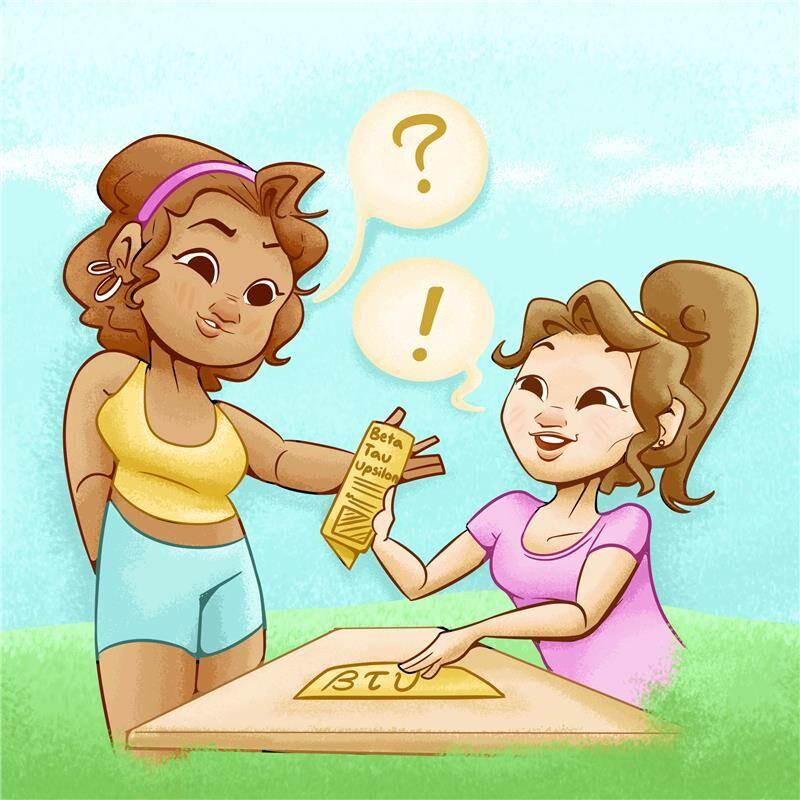 For the first time in three years, Greek life recruitment will be taking place in person. For those registered to participate in Collegiate Panhellenic Council (CPC) recruitment, prepare for four long but exciting days of conversations. From Thursday to Sunday, potential new members will visit all six sororities to learn about each group's sisterhood and philanthropy.
As a senior in Kappa Alpha Theta, I participated in the last in-person recruitment three years ago. I never thought my personality aligned with the stereotypical sorority girl, but I hoped recruitment would be a fun way to get to know more people at LMU. As nervous as I was, the weekend went above and beyond my expectations as I conversed with many amazing women.
5. Take a breath!
It's not every day that you meet hundreds of new people, so it's normal to be nervous. All sorority members have been in your shoes and know firsthand how you are feeling. Also, remember that all the women you speak to have put countless hours into practicing and preparing for recruitment weekend — all out of excitement to meet you.
"Take some time for yourself, enjoy getting to know members of the Panhellenic community and keep an open mind. It's a stressful weekend, so rest, stay hydrated and have fun," said senior studio arts major and Vice President of Recruitment Counselors Isabelle Tate.
4. Keep an open mind
Since recruitment takes place during the spring semester, new members can transition into LMU without sorority affiliation. While this does allow members to get acquainted with LMU, some people become set on one specific sorority after meeting members or hearing about their reputations. Make sure to keep an open mind with each organization, and don't put all your eggs in one basket.
"[Expectations] of where you should be can hinder your experience," said junior political science major and head recruitment counselor Christina Dodd. "Whatever chapter you end up joining doesn't determine your life. I am friends with women across all different sororities. Even if you're uncertain about your decision at first, be confident in the process and trust that as long as you be yourself you will be seen and appreciated in the sorority that is meant for you."
3. Lean on your recruitment counselors
Every potential new member will be placed in a group of about 20, being led by three or four recruitment counselors. These women are active members of sororities but do not share which sorority they are affiliated with so their group members do not feel swayed. They are there to provide unbiased support, love and guidance throughout the weekend.
"When I went through recruitment, which feels like ages ago, my highlight was probably getting to know my lovely recruitment counselors. They were so helpful, kind and just people I looked up to," said Tate.
2. Pack your daily essentials
With such a packed schedule, you'll be out for hours without a break to return to your dorm. When you pack your tote bag for the day, make sure to bring extra water, lip gloss, a jacket, a couple of snacks or anything else you might need. If your heels get uncomfortable, pack a pair of slides for transition time. You'll only have 15 minutes between each round, so prepare to quickly power walk from the Burns Recreation Center to University Hall.
1. Don't be afraid to prepare
If you're like me and live life by your to-do list, it might be helpful to review your weekend schedule. As silly as it may sound, I remember reviewing my own resume, extracurriculars and interests before recruitment to remind myself of good talking points. Although it's difficult to know what to expect, your recruitment counselors should provide you with concrete timing for your first few days. Sunday, also known as preference day, is less structured as you will only be attending one or two sororities and learning about them more in-depth before making your top choice.
Dodd remembers her preference day fondly, saying, "Once I talked to the women of the chapters I had left, I knew exactly where I wanted to be and where I belonged. The preference round made me feel seen and valued after a long weekend of talking to so many different and amazing women."