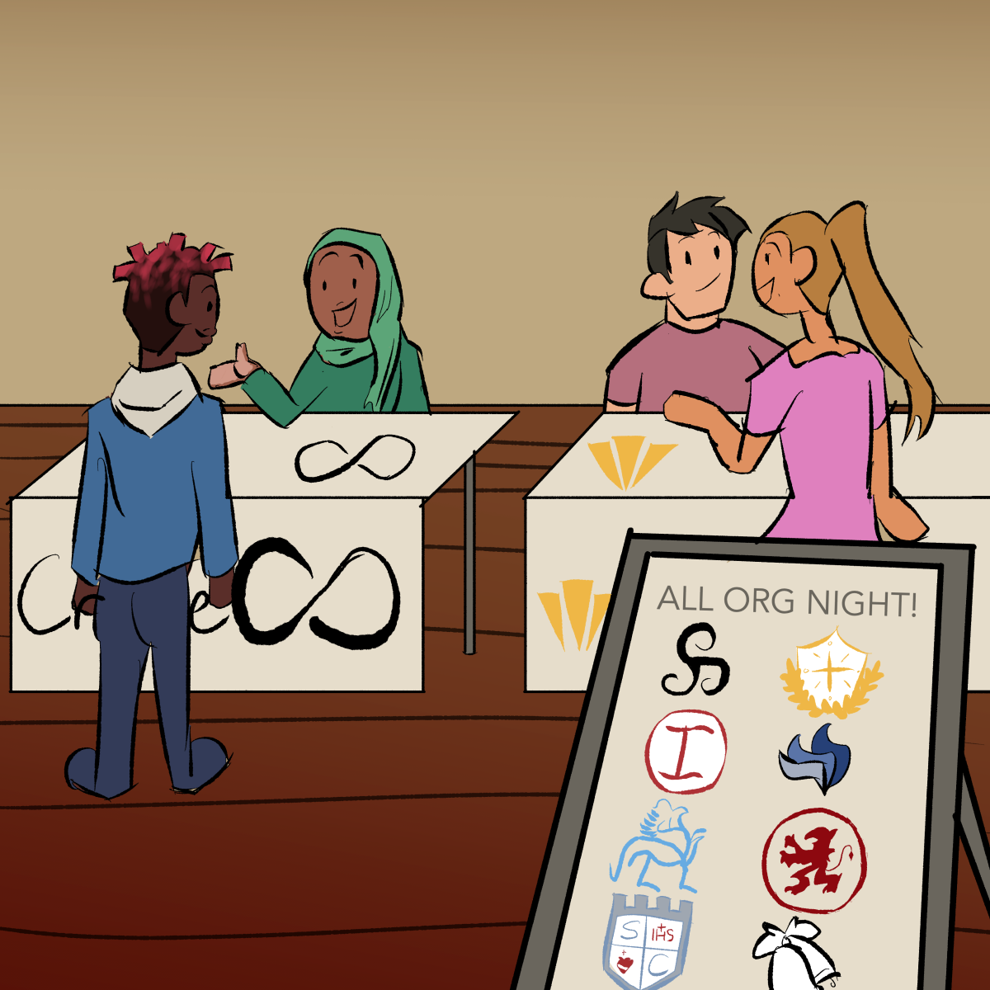 Beginning at the All Org Night held on Jan. 24, over the next couple of weeks, Service Organizations around campus will recruit their newest members. Given that the Service Organization Community (SOC) is relatively unique to LMU, some of you may have heard about it, but might have no idea what it is about, let alone how to join one.
Fear not, because I — as a senior in Ignatians Service Organization — am here to share with you everything there is to know about them and offer advice on recruitment to students thinking about joining one.
The process is as follows: All Org Night, where prospective members are introduced to all 10 organizations, is held on Jan. 24. Between Jan. 24 and Feb. 3, all organizations will hold multiple events — such as a barbecue, escape room or Smash Brothers game night, to name a few — that everyone is encouraged to attend. Simultaneously, the application for the organizations will be opened on Jan. 24 and will be due by Feb. 2. Over the weekends of Feb. 4-5 and Feb. 11-12, each organization will call you back for an individual interview, and finally, decisions will be released on Feb. 21.
As you go through this process, here is some advice I have for you to keep in mind.
4. Do your research
At LMU, there are 10 unique Service Organizations. Some of them are gender-specific, while others are coed, and each are focused on different areas of social justice. Each organization has unique and specific service placements that, as a member, you will be frequenting.
Do your research beforehand about each organization by attending All Org Night, following their Instagram page and asking members about their experience in order to determine which group fits your interest. This research will help you in the recruitment process when you are submitting the application form and going in for an interview for your preferred organizations. Most importantly, it will help you determine which organization is the best fit for you.
"Try to know something about the [Organization] you're interviewing for," said Rachel Meilak, senior mathematics major and former director of finance and former director of records of Gryphon Circle Service Organization, who is on the recruitment board this year. "Even if you haven't been able to go to recruitment events, try to follow the [Organizations'] social media or look up their focus."
3. Keep an open mind and attend as many events as possible
Since there are 10 Service Organizations to choose from, it may seem impossible to decide which one to join. On the other hand, you may know someone in a particular organization or heard about it somewhere and have your heart set on a specific group.
The truth is, there is no way of knowing which organization you will find a home in until you go out and experience it for yourself — an organization that is a perfect fit for your friend may not be what you are looking for.
The fortunate thing about Service Organizations' recruitment process is that it takes place over a month and there are events that are put on by every single organization that you can attend at various points over the next two weeks.
The biggest advice I have for you is to go to as many of these events as possible. Visit multiple different organizations that you may be interested in and interact with members to see if you feel at home in the atmosphere. That is the most surefire way to determine which organization you would like to join. You can find details about the events put on by each organization by following their Instagram page.
Moreover, organization members will remember you if you are frequently coming out to events, engaging in the activity and getting to know the members — which will benefit you in the recruitment process.
"Go in with an open mind and remember that all [Service Organizations] are different in the best way," said Makena Robinson, junior computer science and dance double major and president of Belles Service Organization. "If you're willing to explore all SOCs have to offer, you're bound to find the one that's a fit for you."
"First and foremost, consider all of the [organizations]," added Chelsea Brown, associate director for student engagement for the Center for Service and Action. "Applicants for the SOC don't have to apply to a certain number of [organizations], but we've found that students that applied to three or more organizations were 25% more likely to receive an invitation to join an [organization] compared to students that applied to only one or two."
2. Find a service that you are passionate about
The important thing to remember is that you are joining a Service Organization — and it's called that for a reason. Obviously, you are bound to make amazing friends and find a new social circle in the process, but above everything else, every member in the organization is there to serve others.
As I mentioned earlier, every organization has a specific interest, whether it be children's education, mental health, homelessness or food justice. As you do your research and get to know each of the organizations, consider which mission fits your interest the most. Consider, which social justice issues are you most interested in serving? It is when you are passionate about the communities and issues that you are serving that you can grow and learn the most from being in a Service Organization.
"Join the Organization that has [a service mission] you're passionate about," said Jaryd Veserat, junior history major and Magis Service Organization's vice president of brotherhood. "For service organizations, service will always be their [No. 1] priority so if you dislike one organization's service then look into another organization. It's okay if you like the members of an organization but dislike the service, look at every service organization."
1. Be yourself and be willing to learn
With so many events to go to and things to consider, the recruitment process might be a stressful one — but don't psych yourself out too much.
At the end of the day, you are looking to find an organization that your missions and beliefs align with, so don't forget to be yourself. If you don't know certain things about an organization or a social issue, don't be embarrassed — a big part of being engaged in the Service Organization Community is that you are willing to learn more as you serve.
"Be yourself — I know it's cheesy, but it's true," added Mariana Gonzalez, junior communication studies major and president of Ignatians Service Organization. "Be open to learning, you don't have to be super knowledgeable about social justice or service as long as you are open to learn and grow."
Joining a Service Organization has been one of the best decisions I've made at LMU and it helped me find a welcoming community of individuals who are united in the purpose of service. I urge all of you to consider joining a Service Organization.
To find out more about each organization as well as their events over the next two weeks, check out their Instagram pages here:
This is the opinion of Yukana Inoue, a senior film, television and media studies major from Chiba, Japan. Email comments to editor@theloyolan.com. Follow and tweet comments to @LALoyolan on Twitter, and like the Loyolan on Facebook.