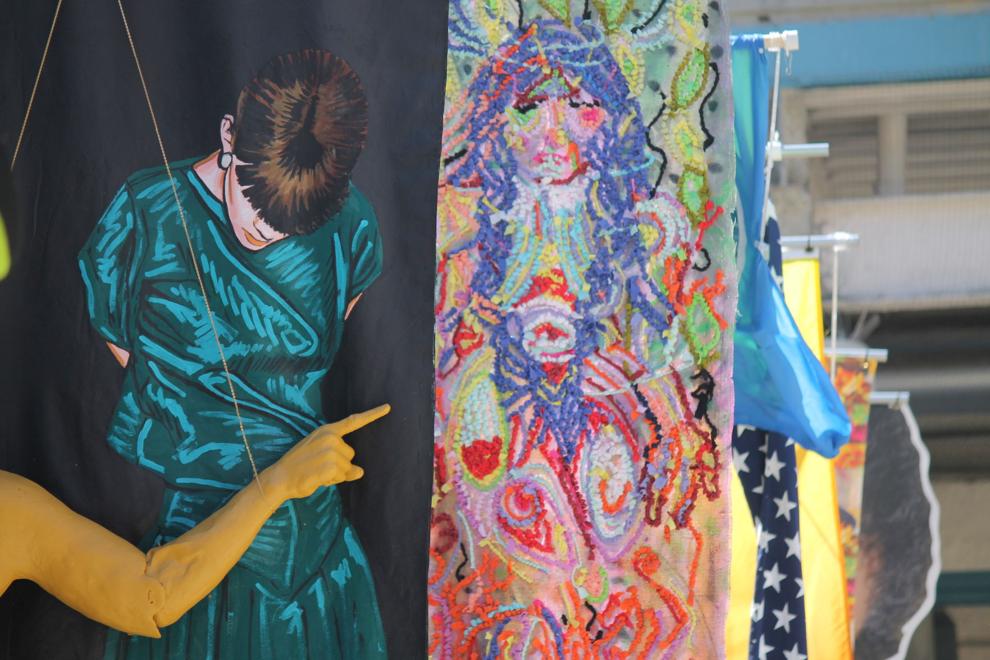 Dream Wavers is an outdoor art installation that features a collection of over 30 unique flag designs made by both LMU students and other invited artists. This outdoor installation can be seen from March 18 to May 12 in the Dunning Courtyard at the entrance of the Laband Art Gallery.
Thirteen graphic design students contributed to this installation after completing Prof. Garland Kirkpatrick's Social Design course last semester. The students featured—Daniel Akavi, Mariam Al Nahedh, Allison Crawford, Jane Estrada, Katherine Ford, Ana Laughrun, Anthony Lopez, Kelli Nagasawa, Brandon Nam, Aurora Occelli, Nicholas Tarricone, Yue Wang and Emily Zech—created double sided flags that explore identities.
Many of the students' work combines a symbol of their nationality, such as a country's flag, with a personal design.
In addition to the students, 22 working artists from all across the country were invited to contribute an original piece. This section of Dream Wavers was organized by curator and artist Sage Dawson and Katie Kirk, an artist and LMU alumna ('10). Dawson is also the founder and director of STNDRD, a nonprofit arts space that partnered with the Laband Art Gallery for this project.
The artists featured in this installation challenge the limitations of vexillography, or flag design, by featuring a variety of colors, shapes, texture and medium. Some of the flags show intricate and colorful pattern work, others have three-dimensional components and a few have giant cut-outs that stray away from the conventional rectangle flag shape. This eclectic collection of shapes, colors and prints highlights each artist's unique interpretation of on the topic of identity.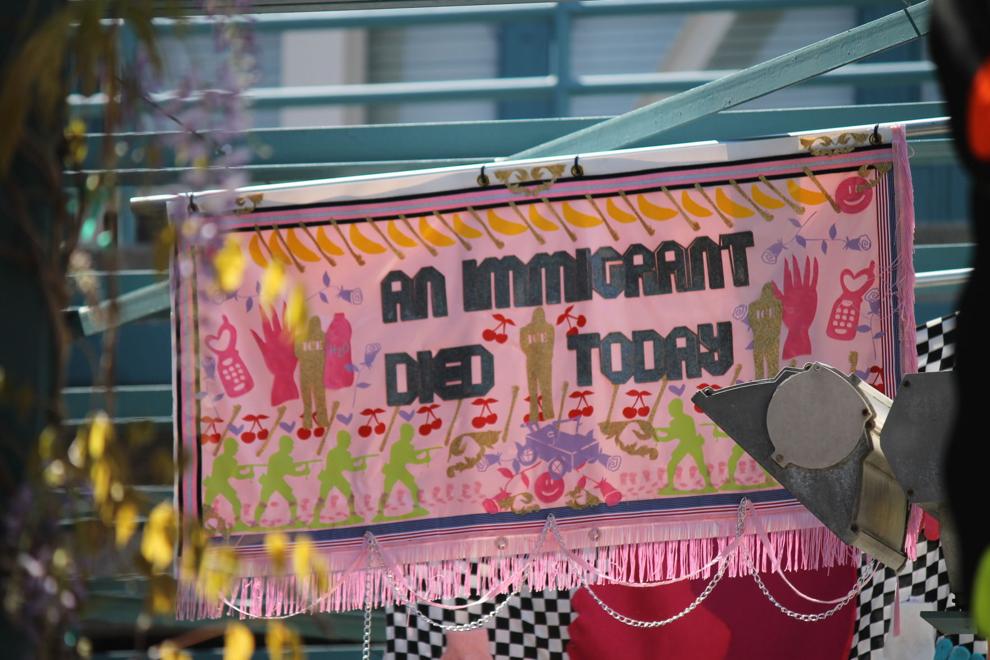 Each artist designed their flag to reflect notions about personal identity within the current political and social context. Many artists tackle issues like urbanism, human rights, political struggles and erased history. Artist Yvette Mayorga's flag, titled "An Immigrant Died Today," features cherries, pink hearts and happy faces that contrast with violent shadows of armed individuals and the striking title in the center. Mayorga's bubblegum pink flag includes vinyl, textile and silver chain.
I visited Dream Wavers this weekend. The idea of representing personal identity and political struggles through hanging flags is powerful and impactful to viewers. And, from a strictly aesthetic viewpoint, this colorful installation is definitely worth seeing. Situated in the Dunning Courtyard right at the entrance to the Laband Art Gallery, this installation perfectly compliments its outdoor location.
The bright designs of the flags contrast beautifully with the blue sky above and blooming purple flowers around the flags. When a slight breeze happens to come through the courtyard, the flags float delicately to perfectly create the quiet and pensive environment you'd hope for in any installation.
While there are a ton of incredible art museums to explore in Los Angeles, we shouldn't forget that there are great opportunities to view contemporary art right on campus, often at any time of the day. Dream Wavers is a perfect example of LMU students getting the opportunity to get engaged with a community of artists on a national level, which is something worth recognizing and supporting.
This is the opinion of Emma Averill, a freshman civil engineering major from Porter Ranch, CA. Tweet comments to @LALoyolan or email comments to aboulas@theloyolan.com.