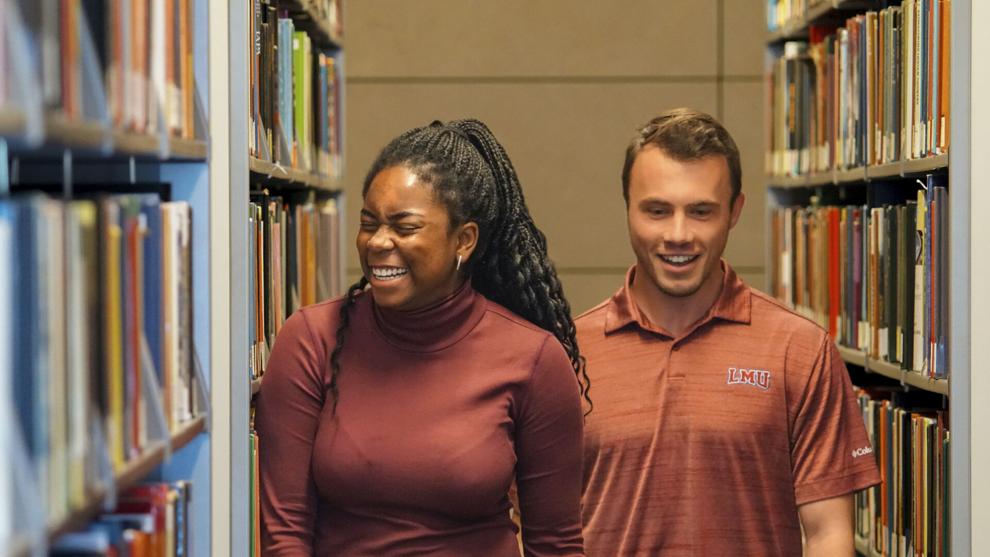 The Loyolan's assistant news editor Julia King sat down with presidential candidate Drew Hartz, junior health and human sciences and political science double major, and executive vice presidential candidate Yinka Akinlade, junior film and television production major, to discuss their platform and campaign.
Your campaign is centered around three pillars: individuality, experience and transparency. How did you determine what qualities you were going to focus on?
Drew Hartz (D.H.): We kind of took a step back and did a bird's-eye view assessment of [LMU] and then went from there.
We've had great experiences at LMU ... and that's partially what is motivating us this next year to serve if elected ... We both work too many jobs, so we're involved with a lot of different people and [we're] hearing what they want to see changed on campus; so that guided what pillars we chose. At the end of the day, while this is our vision we've put on our platform, this is not [the] end-all, be-all … A vision is only as substantial or as important as it receives student backing.
As part of your experience pillar, you promise to bring back traditions that improve students' experience on campus. What traditions are you planning to reestablish, and how did you decide on which ones?
Yinka Akinlade (Y.A.): We decided on them by scrolling to the depths of the ASLMU Instagram ... Every third Thursday of the month, they would do this big thing and bring food trucks and lawn games and have raffles on campus … it's like this reprieve in the middle of the week randomly in the month.
There's also Comedy for a Cause, [where] we bring comedians on campus and have that be a fundraising event for various clubs and organizations … it's overall an event the embodies the mission of ASLMU and LMU as a whole.
How did you transition from co-workers at the tour guide office to running mates?
Y.A.: It was over winter break [when] I got this text from Drew and he said, 'Hey, I think you would be a really great running mate.' I was like, 'I completely agree.' I've wanted to do this for a while, and I've known Drew has wanted to do this for a while; it was kind of a natural pairing. We both have very similar visions and we work well together … we went from being in ASLMU together to being tour guides together, [and] now we're hopefully going to be on ASLMU together again.
This is the first time the president and vice president have run uncontested in at least 10 years. Why do you believe there's been low engagement with running for ASLMU positions this year, and how do you plan to combat it?
D.H.: We've talked to people who were here before COVID-19, and turnout for elections and voting was much more involved; we're hoping to revamp that and reinvigorate that. How we do that speaks to our third pillar, which is transparency, and that [means] making ASLMU a part of daily life … If you can really cultivate a community of excitement — where people are excited about what ASLMU is doing — you'll get a lot more engagement.
There's also this perception that ASLMU is a huge time commitment, and that's probably a burden to people getting involved. But there [are] so many rules .... It's such a big organization — bringing people from all different niche parts of campus — that there really is a spot for everyone to represent students on campus.
In light of Roe v. Wade being overturned and reproductive health being a long-standing hot topic at Catholic universities, do you have plans regarding women's health services on campus?
D.H.: The last administration has done a great job with a sexual assault survivor resource program within Public Safety, and they've created a model of what it could look like going into the future. As well as ... the VP of Student Wellness [Bailey Woinarowicz] has done a great job with the Health and Wellness Fund, which is basically a way to skirt around a lot of the Catholic limitations for reproductive health … We're open and excited about exploring potential ways to continue that work forward, and that includes working with the Jesuit community and Campus Ministry.
Y.A.: Understanding what survivors need, understanding what women on campus want to see. Ages ago, women wanted to see period products in the restrooms, and now we have period products in the restrooms for free … I envision us hosting listening sessions at least once a week. We want to hear from students.
D.H.: That was an ASLMU menstrual hygiene initiative that started in ASLMU and then [we] collaborated on [it] with Facilities Management. Stuff like that is how you make it last past your administration; you pass it on to a more permanent department.
Are there any overlooked resources or programs you hope to highlight while in office?
Y.A.: I have had many people I know who had really subpar experiences with Disability Support Services. Alongside our individuality pillar, we really want to make sure that students feel supported in their education at LMU. I know Claire Davis, who is running for VP of academic affairs, also mentioned getting Disability Support Services up to speed with what students need.
D.H.: There's so many resources, if we could centralize or digitalize them in some way … just to decrease [the] barrier or make it more accessible for students to utilize the resources their tuition dollars go towards.
Both of you are involved in various other jobs and positions on campus. How have you balanced these while running for ASLMU?
D.H.: If elected, we would decrease responsibilities elsewhere; this would obviously be our No. 1 priority. Campaigning does have some funny timing, because I think [I'm] on midterm No. 4 tomorrow within a-week-and-a-half … so it's definitely been a chaotic campaign week, running against others or not. We think it would be irresponsible, even if running unopposed, to not be out there with the students and speaking with students.
Y.A.: Right now, it's a little crazy, but it's definitely been a fun time … We still wanted to share our platforms so people knew what we were about, knew our faces, so we didn't just feel like, 'Oh, well this is the only name of the ballot, so we have to select it.' We're sharing our visions and connecting with clubs and organizations because we want to know you all and we want to see everyone. Balancing has been definitely interesting; delegating has been a lot of it. Big shoutout to Sara Lighthart and Ruth Alcantara, our robust campaign team of four people.
Do you have any messages for the LMU community?
D.H.: We're excited ... Two years ago, [ASLMU] was very much rebound[ing] from COVID-19. Last year, in the context of [protests for Facilities Management] and other things on campus, it was very much [focused] toward advocacy and accessibility ... If elected, we're willing to put everything we have forward and embrace it. Whether you vote for us or not, all students will receive our 100% commitment in best serving them over the next year.
Y.A.: This is something we've both wanted to do for a while. We're so committed to doing the best job we can ... We're just excited to serve the LMU community and to make LMU an amazing place for every single student that attends [the University] … You have a say in your institution, and we're really excited to help in any way we can to help that come to the forefront for everyone.