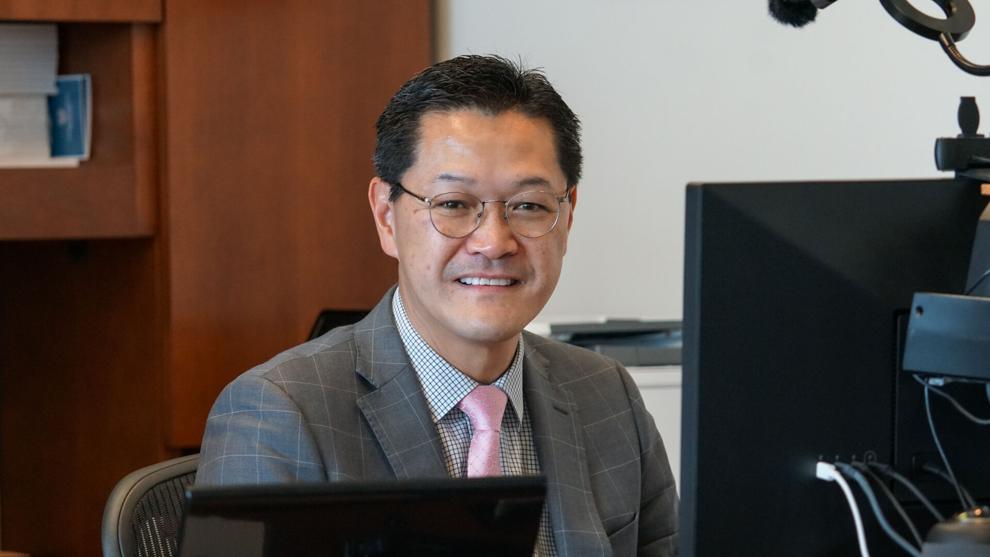 The Loyolan's Assistant News Editor Olivia Silvester sat down with Provost Thomas Poon, Ph.D., to ask eight burning questions on his journey to LMU, goals for the future and musical talents.
When you came into the position, you sent out a survey asking questions such as, "Do you know what the provost does?" In your own experience, what does the provost do?
The provost spends a lot of time answering what the provost does. Not a lot of people know to the full extent, but in short, the provost oversees [and] has ultimate responsibility for student affairs, enrollment management and academic affairs at the University.
Why do you think that the student body generally doesn't know what this job does?
[I think] because it's different at almost every institution. At some institutions, the provost just oversees academics; at some institutions, the provost will have other things … it varies.
What led you to LMU?
I'm Jesuit educated; I graduated from Fairfield University, and I remember my time fondly … I went to college on the East Coast then came out to UCLA [the University of California, Los Angeles] for graduate school, and I really fell in love with California. I fell in love with the diversity, of course, the weather, the opportunities out here … I spent 17 years of my career at the Claremont Colleges, which is a little east of here. I served as a faculty member and in various administrative roles working at these liberal arts colleges. When this opportunity came up, I knew that LMU was strong in the liberal arts, but it also had new challenges, new schools that I had never been involved in … I just thought it was a great next step, and the Jesuit and Marymount charisms of the institution really spoke to me as well.
In your six years as the provost, what have you seen change on campus? Have you noticed any strengths or weaknesses become apparent?
Definitely strengths. We have been very fortunate to grow our student body, and that's because of the strong academics and the great popularity that LMU appears to have now in higher education. We've been able to grow our diversity, which is another strength, and so that is very exciting to me. We have a goal of becoming an HSI, a Hispanic-Serving Institution … We have 24% Hispanic students now on campus … Diversity, I think is a strength. [Diversity, equity and inclusion] is a strength. We have a new campus in Playa Vista, [Los Angeles,] which has really helped grow our profile among the companies down there, and that has helped students get more internships and job opportunities. We have new buildings and structures here on campus which are just game changers … I think that has created some tremendous opportunities for us.
One of your goals has been to unify different disciplines to help people come together more on campus. What are some interests that students might not know that you have?
I like to tinker and invent things. For example, I created that portable chess table that's over there … I created that suction cup desk for the window so I can have nice views during lunch and other kooky inventions. I think people mostly know this, but I love to play the ukulele, and I love to do the Weird Al Yankovic or Adam Sandler-type lyric modifications to popular songs, so that's always a fun outlet to me. I really love binging certain types of shows, and my favorite genre is horror.
How did [the ukulele] become a hobby for you and can you tell us a little more about your on-campus performances?
It became a hobby because I'm a horrible guitar player, but I thought ukulele has fewer strings and fewer frets, and maybe it would be easier to play. I learned that there are so many YouTube videos of how to … learn to play, and then I really fell in love with the sound of the ukulele ... It's just fun to be able to break the ice or not be 100% so serious in a job that is typically very serious.
What is a convocation, and what is the significance of this event for you?
Convocations in academia have been going on since the middle ages, and they are a gathering of the academic and university community to either celebrate a milestone, to share information or to recognize student achievements. The Provost's Convocation is mainly an update on our progress … the overarching theme of this year's convocation is collaboration, and I'm going to highlight how, through collaboration with all different constituencies at the University, students, staff, faculty, even donors … we have achieved so much.
As a person with a high leadership role at LMU, what do you wish that our students and community members knew about you and your job?
I would say that there's a lot that goes on that is sometimes very structured, sometimes very compliance-oriented, … and it's very easy for folks to make assumptions about why the University does certain things. What I would like folks to know is I'm always open to explaining our decisions, especially things that I have purview over. I'm more than happy to talk about why we do things because I think that we always do them in a collaborative way, in a consultative way, but also in a very logical way. I think we always have good reasons for what we do, and we just don't always have the time to share all the many, many things that we do with the community.