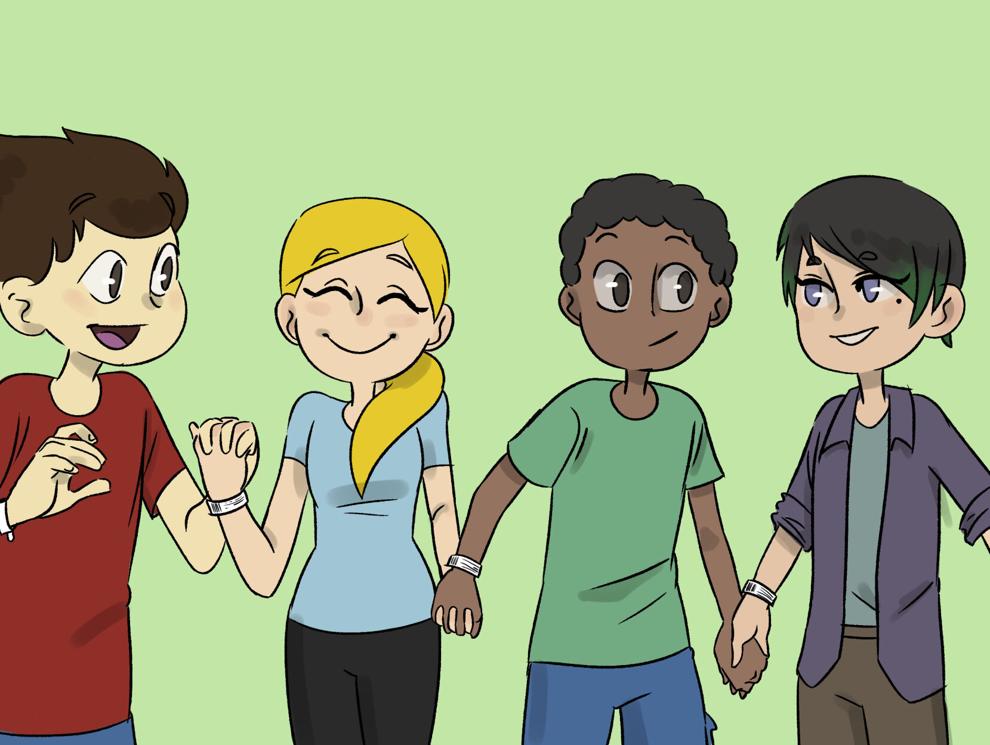 Chronic health conditions are not always immediately visible, yet usually carry a profound impact. This is no less true with college students who must often modify their academic responsibilities to their circumstances. This can often mean a student needs special accommodations or has the added task of managing attendance and other requirements around their health.
The effects of such personal circumstances inspired Student Affairs Resource Coordinator and Resident Minister Lorianne Harrison-Reyes to start the Chronic Illness Group (CIG) alongside then first-year Caitlin Lopez ('14) in 2009. Now an established support group facilitated through the Community of Care, CIG has been an outlet for students with chronic illnesses and disabilities for 13 years.
The group serves as an outlet for students with chronic illnesses and disabilities to reflect on their conditions with other Lions who face similar circumstances. Before the pandemic, the group hosted dinners, games, wellness exercises and socials. CIG has since moved their activities online due to health concerns from the pandemic. Despite this, the group continues to provide an outlet for students with chronic illnesses who seek a safe space outside of their academic lives.
As an undergraduate student, Harrison-Reyes was diagnosed with lupus her first year. "We were just learning about [lupus]. I had all the signs and symptoms, and nobody really knew what I was going through at the time. I wish I had had a support group," she said.
"It's really important to know what are reasonable accommodations you need as a student," she added.
Harrison-Reyes carried these attitudes into her support work at the Community of Care. Since the group's founding, CIG has provided a safe space for students with a variety of illnesses, including, but not limited to, Crohn's disease, Addison's disease, Corticobasal syndrome (CBS) and diabetes.
In addition to being a member of the Gryphon Circle service organization, serving as a resident advisor and writing for the Loyolan, alumna Kimmy Smith ('16) was a student leader with CIG during her time on the Bluff.
She joined the group shortly after being diagnosed with lupus her second year at LMU.
"And so many people, you know, at LMU are involved in so many things, too. Not only are we all living with chronic illnesses and being students, but we all were also involved in a billion things like every student at LMU," said Smith.
"I think just being surrounded by people who get it was really helpful. I think that was the thing that I was struggling with the most because I had a really amazing supportive friends, but I knew that they just didn't really understand," said Smith.
For Smith, there is a critical connection that cannot be replicated among students facing similar health concerns.
When asked about the impact that a Zoom environment has on the group's activities, Harrison-Reyes said, "We're still able to laugh and have fun [over Zoom]. I think that the key piece is that after we would finish everything, people would still hang back and talk unless they had to run to another meeting ... I think that was nice, because they were able to find friends and mentors within each other, and talk about other possibilities."
"I missed that community table piece together. And I think that hopefully we'll be able to get back to that … Right now, we need to be safe," she said.
Harrison-Reyes also shared that individuals with chronic illnesses must have greater visibility. "And I think that that's one of the key things I would say has changed the past couple of years," she said.
Students with chronic disabilities are encouraged to reach out to Lorianne Harrison-Reyes over email (lorianne.harrison-reyes@lmu.edu) for details about the Chronic Illness Group.