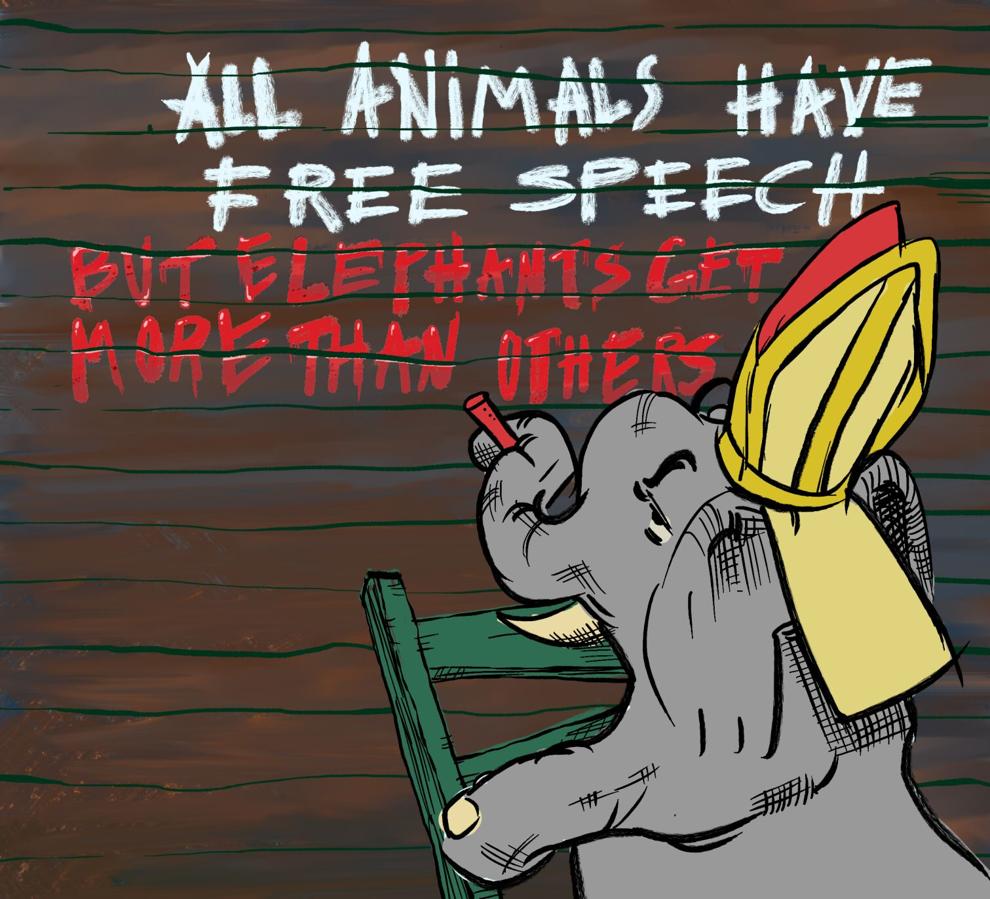 LMU Women in Politics (WiP), a left-wing feminist registered student organization (RSO) on campus, wrapped up their fundraiser for Planned Parenthood held Friday, Nov. 5, which raised over $4,100 for the non-profit.
While the event might be long over, the regressive backlash from off-campus and on-campus pro-lifers might have a damning impact on the already fragile state of free speech on campus.
On Nov. 5, the University released a statement in response to the fundraiser that all but guaranteed top-down viewpoint discrimination and censorship on campus for the foreseeable future.
"LMU regrets the concerns this situation has caused our community members and Catholic partners," reads the statement. "Moving forward, LMU is reexamining and revising its policies and practices regarding student-organized activities to ensure stronger alignment with our mission."
This should send shivers down the spine of anyone who cares about campus free speech. After all, why should the University decide which events can be organized on campus based on viewpoint while still claiming to uphold a Freedom of Expression Policy?
I should clarify some things beforehand. Despite what my past criticisms of anti-abortion activists on campus might suggest, as a confirmed Catholic, I am pro-life. I believe that it is impossible to separate the idea of an abortion with the idea of ending a life, and any policies that work toward lowering the number of abortions should be celebrated.
I also have no reason to believe that having a fundraiser for the country's biggest abortion provider wasn't solely to support the issue of abortion, despite some objections to that claim.
"And it's not even a major percentage of what Planned Parenthood does," said freshman civil engineering major Maya Samarasena, a member of WiP who attended the fundraiser. "It's a small percentage of what Planned Parenthood does, is abortions."
Comparatively, the letter-writing campaign at the event was set up in response to Texas's controversial abortion law, and the only issue that WiP has been vocal about on social media when it comes to uterine healthcare and Planned Parenthood in general is abortions, besides one post about birth control.
That said, I have no sympathy for or allyship with the pro-life protestors, including other students and Campus Ministry, who showed up outside the University on Friday to protest the event. Their constitutionally-protected free speech was not violence and shouldn't be characterized as such, but it was disconcerting to see members of our own community stand alongside far-right, fringe members of my faith.
This included those from Church Militant, effectively a Catholic Breitbart, as well as anti-vaxxers and anti-maskers promoting beliefs that have nothing to do with being pro-life.
"It's crazy to think that our own Campus Ministry is bringing out such violent, hateful speech against people that deserve a choice to do what they need to do," said Samarasena.
To be clear, there's no evidence at all that Campus Ministry participated in any violence or invited the other, more radical groups like Church Militant to the protest on Friday.
"It's irrelevant who's holding [the fundraiser]," said Elvira Still, a protestor at the event with America Needs Fatima. "The fact that it's on the property of a Catholic university is contrary to the teaching of the Catholic university. So why would you permit something contrary to what you are trying to educate and inform your constituents on? Why would you be allowing something that's contrary to what you're teaching?"
"[Women in Politics] [are] trying to promote it more as a free speech kind of situation, but when it comes to it, I think they're more trying to gather fundraisers to promote their propaganda," said Francisco Moreno, a protestor at the event who came with Church Militant. "When it comes to our Catholic values, it's not something we should keep to ourselves, but to share with others."
This weren't just off-the-cuff remarks. This was the stated goal of many University activists: to limit who has the right to free assembly on campus.
RenewLMU, a right-wing blog that's been vocal about the fundraiser, has one of its stated goals to force LMU to adopt "a strict policy and practice of not providing a platform for, or recognition of, those who promote the destruction of the unborn."
This is a free speech policy I would associate more with a dictatorship rather than a university intended for education and exposure to a diversity of ideas.
"It would be one thing to allow a pro-choice speaker on campus—as that would be protected under free speech—but to allow a fundraiser for Planned Parenthood and to give the students a larger space on campus for free is a grave offense we cannot ignore," said California College Republicans (CCR) chairman and senior political science major Will Donahue in a statement filled with lies and exaggerations about the non-profit posted on the LMU CCR chapter's Instagram about the fundraiser on Nov. 1.
In reality, both of these are examples of free expression, since the First Amendment includes the protection of free assembly which this fundraiser clearly was. As detailed in a blog post by the Pacific Legal Foundation, a libertarian law firm, impediments on fundraisers for non-profits would still count as impediments on free speech.
Aside from Donahue taking "grave offense" to this particular fundraiser, there's no legal line separating the two when it comes to speech. Holding a space "for free" for a fundraiser is no different than having a speaker come by to speak their mind in a space "for free," the fundraiser just has money going to a non-profit.
While it is true that the University is a private organization and could ban free assembly of the fundraiser, that would also violate the agreement between students and the University to uphold the Freedom of Expression Policy. It would also violate the spirit of free expression enjoyed by secular, public universities adherent to the First Amendment.
Ironically, CCR set out to silence WiP's freedom of speech through this fundraiser by exercising their own First Amendment rights: mostly peaceful protests and petitions. It was a literal example of "free speech for me, but not for thee."
What the unfortunate outcome of all this might end up being is CCR and RenewLMU getting their wishes come true. If LMU reexamines its policies on what student events can even happen on campus, you'll see a lot less diversity of thought as said events get crammed into a pre-determined Catholic mission.
To any campus conservatives reading this and thinking this won't affect you, consider how the University already put hurdles and obstacles for right-wing speech before this statement, most notably from Ben Shapiro's speech in 2019.
Do you want that same University that's already burdened your speech to have more power about what your RSOs can do, say or think? Do you want to face even the chance of more restrictions on your speech?
Hypothetically, take the campus CCR chapter, which supposedly promotes pro-life values. In a Halloween Instagram post for the statewide College Republicans group, LMU members posed in front of a Mane Entertainment banner with a jack-o-lantern carved with a Punisher skull, a symbol re-appropriated in conservative circles for police vigilantism and killing. It is explicitly a pro-death symbol.
Additionally, the CCR LMU chapter's own Instagram page has a post defending police officer Garrett Rolfe, who killed Rayshard Brooks by shooting him twice in the back and is still charged with felony murder and violation of oath.
"This man did nothing wrong. He is innocent. He followed the book," the post reads.
If LMU is going to truly reexamine and revise their policies and practices to have more Catholic student-organized activities, maybe clubs that look the other way toward killings and vigilantism deserve to be equally condemned alongside those that fundraise for abortions? Otherwise, it'd just be hypocritical on the University's part to not enforce having a consistent life ethic for its RSOs.
The impression that CCR, Campus Ministry, some professors and the University gave off during this fiasco was one of total censorship, where Catholics are unable to engage with contradictory ideas and resort to embracing fanaticism and supporting the silencing of dissent. It feeds into the ugly stereotypes about the University's religion—my faith—as backwards and authoritarian rather than as scientific and inquisitive.
Our campus should be a place where we embrace Catholic values, chief among them liberty. Free speech, as guaranteed everywhere in our country that isn't on university premises, is the best way to hear out the best and worst ideas and learn how to strengthen or reconsider our own opinions.
The University cannot be selective in what gets said on campus to appease its Catholic partners. As a proud Catholic student, I continue to pray that LMU reconsiders its statement and creates an environment that promotes freedom over insecurity.
This is the opinion of Cristobal Spielmann, a senior environmental science major from San Antonio. Email comments to editor@theloyolan.com. Follow and tweet comments to @LALoyolan on Twitter, and like the Loyolan on Facebook.