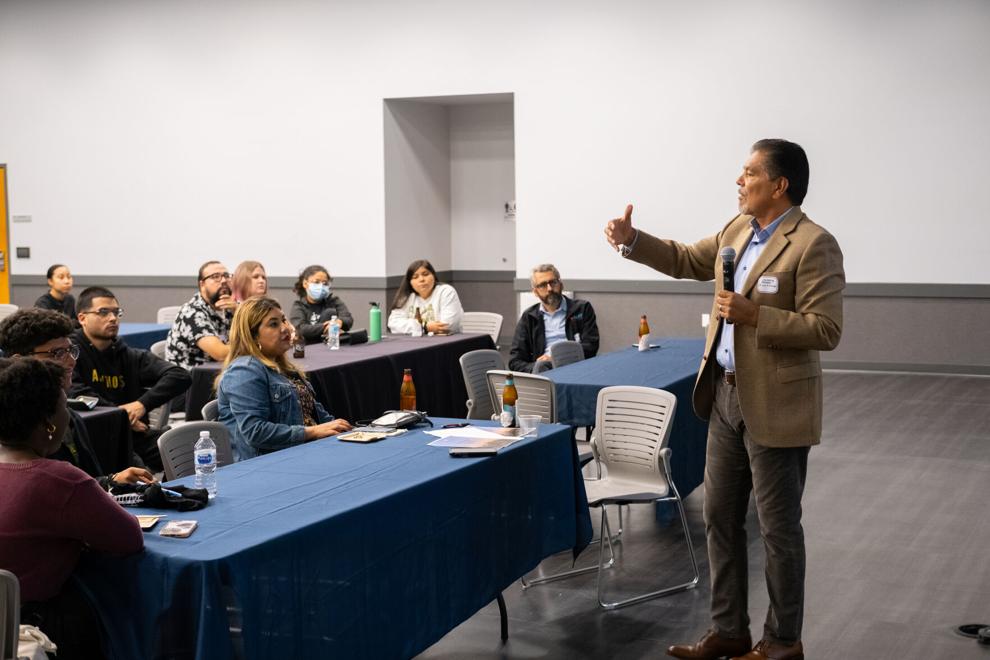 On Oct. 6, Fernando Guerra, professor of political science and Chicana/o Latina/o studies, received a text message from the secretary of state informing him that his vote-by-mail ballot for the state midterm election should be arriving in the mail soon. Before the day's end, he walked to his mailbox, where he found a thick booklet that had the Voter Bill of Rights and a list stating all the propositions in California.
Guerra read through the booklet and highlighted a few things he would later discuss during his civic engagement speech at Justice on Tap, an event advocating for eligible students to register to vote in the elections.
Guerra arrived at St. Robert's Auditorium for the meeting later that day and immediately noticed students registering to vote with assistance from "Listen. Engage. Vote." workers. He caught up with former students, staff and faculty before speaking to everyone. Shortly after, Alejandra Alarcon, communications manager at the Thomas and Dorothy Leavey Center for the Study of Los Angeles (StudyLA), introduced Guerra, who talked about voting and about his perspective on civic engagement.
Guerra has worked at LMU for 38 years and is the founding director of StudyLA, a research institute with an area of focus on local governance and racial and ethnic politics. He enlightened everyone on how LMU students, through StudyLA, have played an important role for major elections in Los Angeles.
StudyLA started conducting LA Votes in 2005, a series of exit polls in Los Angeles. The data collected from their surveys were used in reports that helped bring action and justice to the civic life of Los Angeles.
A couple of decades ago, according to Guerra, LMU students through StudyLA did a research study asking people if they knew their rights to vote. As a result, they found that many Californians were unfamiliar or uneducated on their right to vote. The students wanted to change that, and it led to the state legislator ensuring that the Voter Bill of Rights was accessible to every Californian voter.
"We had a good relationship with the state legislator. She picked it up, put it into law, and now the Voter Bill of Rights must be on every Voter Information Guide from the Secretary of State, at every polling place, and on every website that has to do with voting. The origins of that was right here," expressed Guerra.
"The act of voting and the act of registration is important ... Your job is to get people to vote and to register to vote, but you have to continue to advocate. Voting is powerful. It's part of the whole civic engagement," he said.
Guerra explained that the meaning of civic engagement was broad. Guerra used the bowling league analogy from American political scientist Robert Putnam's, "Bowling Alone: The Collapse and Revival of American Community," to express the downside of civic engagement in terms of voting participation. "What he was saying is that a lot of the civic activities that we see at the educational, social perspective — even religious participation — all of them are declining," said Guerra.
From Putnam's analogy, Guerra mentioned how years ago, many Americans would engage in bowling leagues. Nowadays, most people go bowling for parties rather than for league competitions. Guerra emphasized how the decline of participation in civic activities, such as voting, is similar to the decline of bowling leagues. In addition to that, he focused on the lower voting participation rate from Latinos.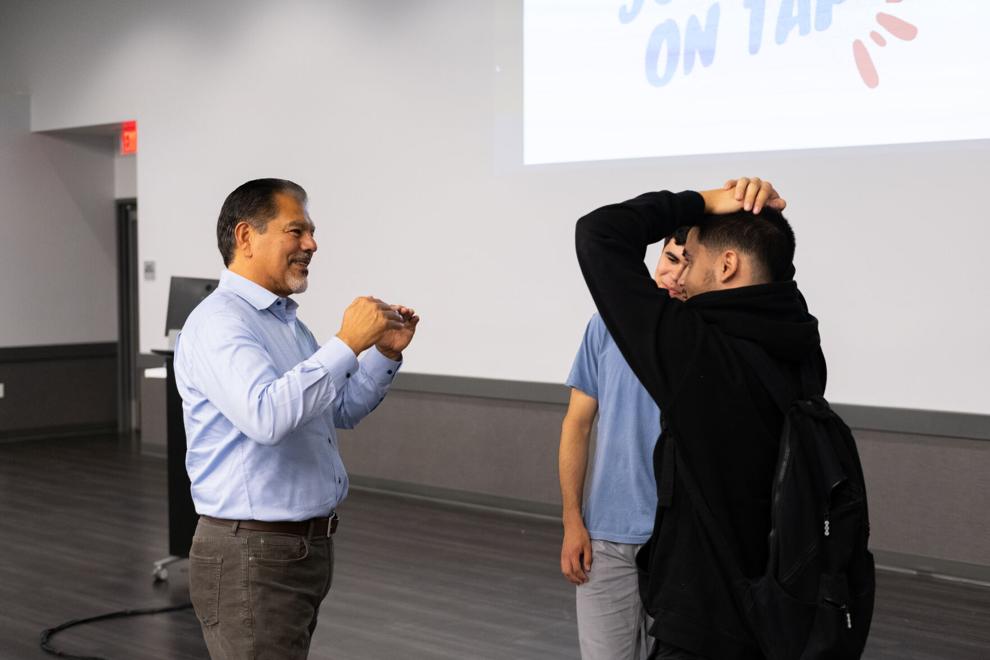 Guerra first asked everyone what they though the reason was for the low voting participation rate among the Latino group. One student posited that the current system is designed to make marginalized communities think that their votes have no power. Guerra expanded on this notion.
"It is the whole system that exists, that continues to perpetuate the alienation that people have. If you believe you can make a difference, you're going to participate. If you believe that it's just worthless and that it makes no difference, you're not going to participate," he urged.
When asked if age factored into the voter turnout, Guerra said that there was overwhelming research showing that the older one gets, the more likely they are to vote.
"What happens when you get older? You have children, you buy a house, and those factors contribute to you voting. Why does it contribute to voting? When you buy a house, it is the number one biggest investment you will ever make in your entire [life]," said Guerra.
Guerra then spoke on Proposition 26, Proposition 27 and Proposition 30 from the California Voter Information Guide. He explained how propositions were once formed by the people to directly recreate the system motivated by their lack of trust in the legislature to make laws.
"Propositions in the initiative were a great idea that arose from the people against the railroads and the dominant economic classes in California," said Guerra. However, he argued that in recent years, propositions have been constantly distorted and controlled by interests that don't serve civic engagement. He demonstrated this by debating on each of the three propositions.
To conclude his speech, Guerra advised that when voting on propositions or election candidates, there must be a goal in mind about justice. He said that if the goal of a proposition or candidate is just the means to use politics to elect certain people or to distort the system so one could become richer, then it could destroy civic engagement. "It's up to people like you who are young and [who are] activists to change that," stated Guerra. "The greatest story is the number of young progressives — I mean radicals. I mean total leftists who are winning and going to win City Council."
For those eligible to participate in the 2022 midterm elections, you can register to vote in California here. The last day to be registered to vote in California is Oct. 24. If that deadline is missed, same-day voter registration will be available during the elections by casting your ballot as a provisional ballot. Then, the voter registration status will be verified.
Students in California who are from out-of-state or living abroad can also vote in the elections. Registered voters can vote on campus on Saturday, Nov. 5 to Tuesday, Nov. 8 at McIntosh Center, which is serving as an official voting location for the 2022 midterms.
Follow the Loyolan for more coverage on the 2022 midterm elections.