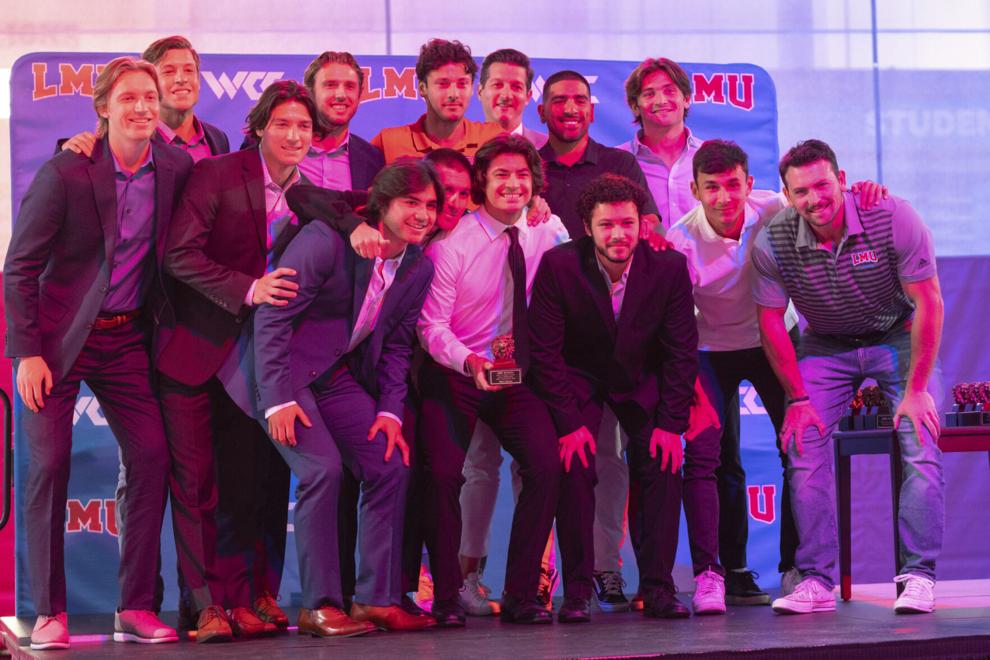 On Monday, April 25, the Student-Athlete Advisory Committee (SAAC) held their annual Iggy Awards for the first time in person since 2019.
Men's junior soccer player, Noel Caliskan, won the awards for Male Athlete of the Year and Male Scholar of the Year. He attributed his success to his team, coaches and athletic advisor.
"It's a team sport. I don't play tennis. I don't play golf. It's a team game," Caliskan explained. "My teammates and coaches put me in this spot. They challenge me every single day."
With the men's soccer team placing third in the West Coast Conference for the 2021-2022 season, Caliskan has high hopes in regards to the team finishing higher for the 2022-2023 season, but he is proud of how far the program has come as a whole. In 2021, the team was ranked No. 17 in the United Soccer Coaches preseason national poll.
"The whole men's soccer program is in a transition to establish themselves as a top 30, top 25 team in the nation," he noted. "We've done this the past few years, and I think now we can take the next step into establishing us to be [top 25] every year."
Caliskan is confident about what he contributes to the team. "I just think I'm the motor for the team," he said. "The position I play is the engine. I think I've done my job pretty well."
As an international athlete, Caliskan has had to work hard to adapt to the American way of soccer versus his German background.
"The college game is way more physical," he said. "We lift more, which results in everyone being stronger, faster, just more athletic overall. There's less of a focus on tactics."
Even with these differences, Caliskan has adapted to the U.S. collegiate style of play and has found success at LMU.
Senior women's beach volleyball player, Reka Orsi Toth, won the award for Female Athlete of the Year.
She attributed her overall success to her teammates. "I just don't think I would be able to get this award without my team challenging me everyday at practice," she said. "We all go for it at practice. We try to better ourselves. We challenge each other. It's a competitive environment but we all support each other."
The team culture is one that is full of competitiveness. "I'm not any different than any other person on the team but I'm just very honored and grateful that I was the one to win [Female Athlete of the Year] … it's a product of the entire team."
In regards to her own success, Toth says she throws everything she has into the sport. "I'm just so committed to the sport and I just put my entire body and soul into this," she said.
As an international student, Toth has also had to adapt to the U.S.'s way of play compared to the way she played in Italy.
"I think the U.S. is way more focused on competing and playing," she said. "They just put you in and say 'go play,' and you learn as you compete. The European style is way more focused on technique ... there's definitely value in both ways and I'm happy I get to play the best of both worlds."
It's clear Toth's team is successful. The beach volleyball team was ranked No. 4 in the preseason polls and hold a 26-7 overall record for this season so far, but they don't let numbers affect their play.
"I think we worked a lot on not letting the past results from the previous year dictate how we play this year," Toth said. "There's a lot that we are still trying to figure out as we go into our national championship and conference championship this weekend ... it's a ranking but anything can happen."
As the team is beginning to wrap up their season, Toth wants the team dynamic to stay, even after she graduates.
"I just hope that they keep challenging me and they keep this environment of trying to better each other each practice," Toth said. "I hope that after I leave this is going to keep going for many many years."