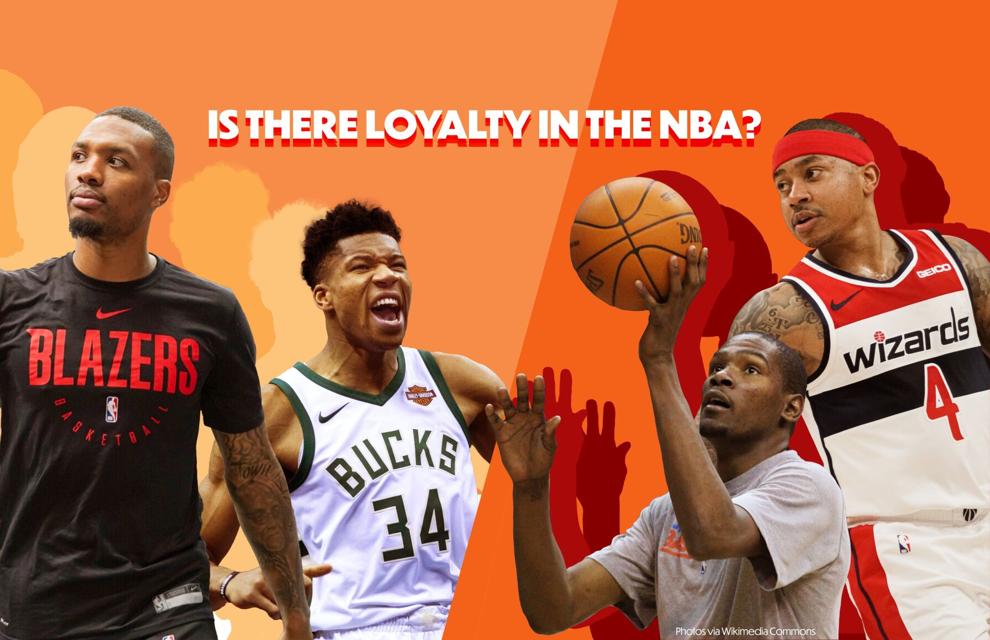 In recent years, loyalty in the professional sports world has become a prevalent thought among fans, athletes and an organization's front office. With star movement among teams becoming more common over the past decade, it begs the question of whether fidelity exists between organizations and players. Player empowerment in the NBA is beginning to surge, and with players dictating their future, it is leading to tensions between players and front offices.
Los Angeles Lakers star LeBron James' decision in 2010 to leave his long-time franchise and hometown of Cleveland paved the way for player empowerment. Prior to gaining authority in the league, players in the 90s and 2000s committed to a single franchise regardless of whether they were generational talents or not. Yes, in ways, I miss the version of the league where parity was significant among stars, but this newly found power that players have allows them to set their own future.
Ownership and front offices before player empowerment had all the leverage in trades, free agency and personnel. Both players and teams are trying to do what's best, but when players are ridiculed for their loyalty after demanding a trade, it seems improper that an organization can turn their back on a player and nothing gets said. Players have families and other off-the-court circumstances that get significantly affected when they have to move to a different organization not on their own terms.
When the Boston Celtics traded their star guard Isaiah Thomas in 2017, it was another instance of an organization turning their back on a player. Thomas voiced openly how committed and happy he was with the organization, but when All-Star Kyrie Irving was available for trade by the Cleveland Cavaliers, the Celtics showed no signs of loyalty to a player who poured his blood, sweat and tears to the organization.
On the flip side, when a player decides to request a trade or leave a franchise at the end of their contract, they are deemed as disloyal or treacherous. NBA players are expected to be loyal to a franchise that at any point can turn their back on them. This double standard hurts the league more than it helps it. Players are the foundation of the NBA, and now that franchise stars have realized the power they hold, they can fundamentally change the directory of the league.
Stars like Kawhi Leonard, Anthony Davis and James Harden are prime examples of this shift of power LeBron James influenced today. Leonard, Davis and Harden opted to sit out of games until they were traded to a different team. Looking at it through the lens of a fan, yes it could be seen as unfair that players can dictate their future at the expense of the team, but these are generational talents that who are wasting their primes on an organization that isn't helping them win.
The Ben Simmons saga is a different scenario, on the other hand. Leonard, Davis and Harden sat out until their trade demands were met by the front office because they were franchise talents who were failed by their team. Ben Simmons is an underperforming All-Star who is trying to force his way out of Philadelphia, despite the organization doing everything they can to build a roster best-suited for him. I'm all for player empowerment, but it has its limits. Players who have not done anything to show growth and are running from the grind don't hold the power to be able to dictate their future, hence why Ben Simmons has not been traded to his preferred destination.
Fans fear that player empowerment will ruin parity in the NBA, which we have seen signs of in recent years, but that doesn't reflect the current landscape of the league. Being a Portland Trail Blazers fan, I have experienced the epitome of star loyalty through Damian Lillard. Year after year, the Portland Trail Blazers fail to create a title-contending roster surrounding Lillard. Even though Lillard has the ability to request a trade to a title-contending team, he decides to stay loyal to the franchise that gave him a chance in the 2012 NBA Draft.
Players like Damian Lillard and Giannis Antetokounmpo mirror players in the 90s and 2000s — remaining with their respective team their whole career and devoted to winning a championship for them. With Antetokounmpo leading the Milwaukee Bucks to an NBA championship this past summer, it will encourage stars to remain loyal to their teams and silence any parity concerns with the league.
The NBA is a business at the end of the day. One party can remain loyal, then the next second a trade request or deal has been made. But, ultimately, fans bear the responsibility of how loyal a franchise or player is — which is ironic judging how many bandwagon fans there are.
This is the opinion of Khassim Diakhate, a freshman Journalism major from Seattle. Email comments to mthomas@theloyolan.com. Tweet comments to
and like
on Facebook.